Important Changes to the 2024 McCall Winter Carnival
To our valued community members and visitors:
Our goal as a Chamber is not simply to promote tourism in the McCall area, but rather, to support our business community through all of the various challenges it may face.
In recent years, it's become clear that the current format of Winter Carnival is no longer working for many of our service and hospitality businesses. The Chamber uses city lodging tax revenues to assess visitation trends. These statistics show that visitation during the months of January and February has skyrocketed, rising 201.5% over the past 10 years. Hidden in this large number is an even more interesting statistic: January/February occupancy rose by 22.66% from FY20 to FY21, the year that Winter Carnival was cancelled due to COVID-19. The following year, when Carnival was reinstated, those collections continued rising, but by a smaller percentage, just 3.7%.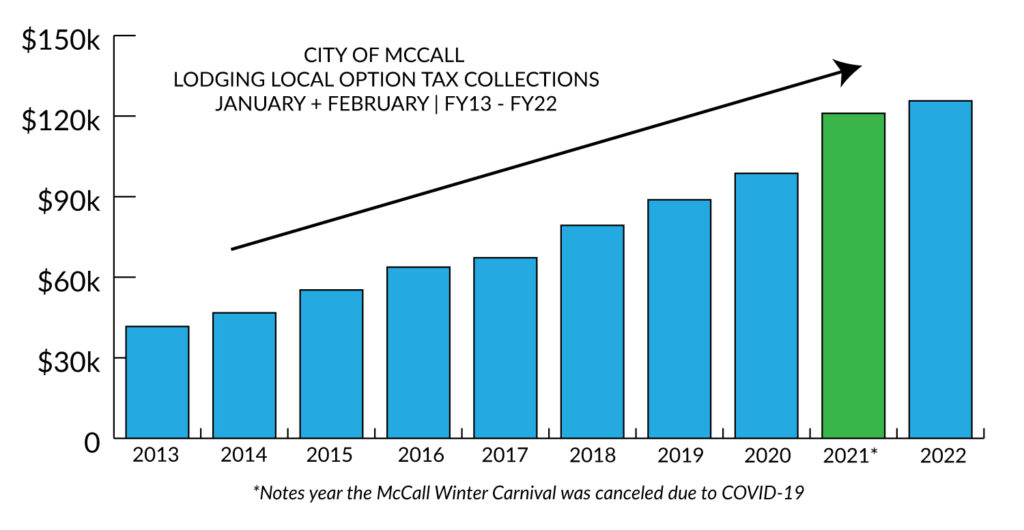 Additionally, a Chamber survey of McCall area businesses conducted at the end of the 2021 Winter season showed:
82.5% reported that canceling Winter Carnival had no negative impact on their business
80% reported winter business was UP during the winter when there was no Winter Carnival (2021)
70% of businesses supported either shortening Carnival to one weekend or moving it later in the winter, only 30% voted for no change
When Winter Carnival was launched back in 1964, McCall was a sleepy town with a new ski area (Brundage Mountain) that was looking to draw attention and visitation during what was, back then, the slow part of winter. The first Winter Carnival was a single weekend event, held in late February, that focused on outdoor winter sports. Over the next six decades, the format and timing of the event would change and evolve to meet the needs of the community. It was in the mid 1990's that the event began to span two weekends and settle into its current spot on the calendar, starting the last weekend in January and ending the first weekend in February.
With our community facing a housing shortage and businesses facing ongoing staffing challenges, the current set up of Winter Carnival no longer meets the needs of our business community. Several cornerstone downtown businesses have felt the need to shut their doors completely during Winter Carnival, on two peak winter weekends that would otherwise be profitable and manageable.
These factors, along with feedback from our business and community members, have prompted us to search for solutions.
We are planning significant changes to the 2024 event in an effort to hold on to the treasured traditions of Winter Carnival while mitigating negative impacts during the peak of winter recreation season.
2024 Changes:
Consolidating Winter Carnival to a single weekend (three-day event)
Moving Winter Carnival to the last weekend in February for 2024 and beyond
While many members have expressed support in moving Carnival into the month of March, we felt moving it to the end of February was a good place to start, as we want to be careful not to jeopardize the construction and maintenance of snow sculptures.
As you can see on the graph at the bottom of this page, there is little difference in temperature and snowfall between January and February, but the variances get larger during the month of March. (Fun fact: McCall actually averages MORE rain during January than February).
Your Chamber will continue to help businesses promote offerings and events throughout the winter season and during Winter Carnival. We will also continue to seek feedback on these changes and suggestions from our business and community members on ways to better balance the competing interests of tradition, sustainability and positive community impacts.
Please feel free to reach out with any questions,
Your McCall Area Chamber of Commerce Team
Read the Full Press Release