Cabin Fever: Solace in Art
April 21 @ 11:30 am

-

12:30 pm

|

Recurring Event

(See all)

One event on April 28, 2023 at 11:30 am

$30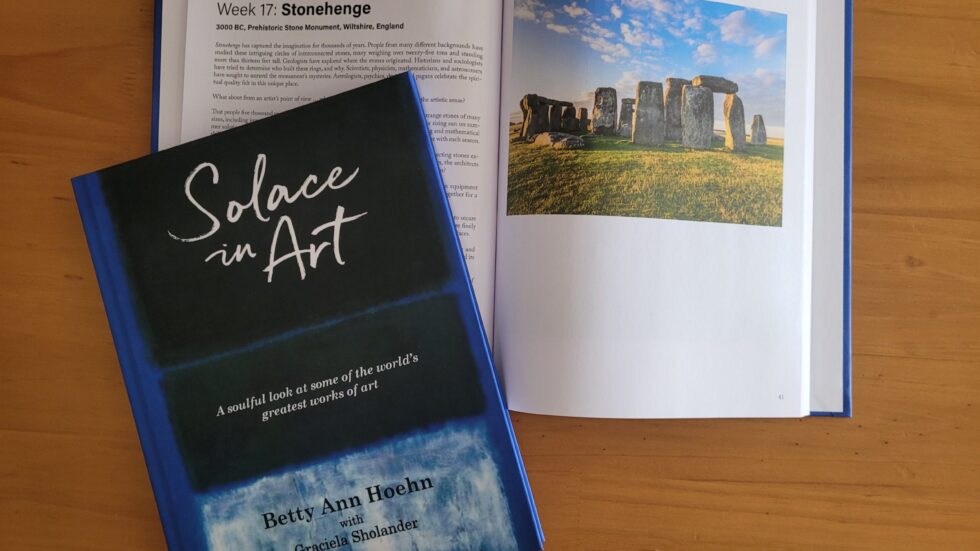 McCall Arts and Humanities Council presents Cabin Fever: Solace in Art with Betty Ann Hoehn on Friday, April 21st and 28th from 11:30 am – 12:30 pm
Location: McCall College Conference Room A, 106 Park St.  RM #119, McCall $30 Book included, can be picked up early.
During this two day course Betty Ann will be sharing her book "Solace in Art".  Focusing on a handful of the 52 works of art included within the book and what comfort or consolation they provide.  Book included in the course.
Betty Ann Hoehn, M.A., has been an art educator for thirty years. She taught Art History at two universities in San Diego, and served as Curator of Adult Education at two museums in San Diego. Today she continues to give lectures independently, as well as being an author. "Solace in Art" is her second book.
"Writing "Solace in Art" has been a labor of love. In my travels over the years, first as an art novice, then an art history professor, and most often simply a lover of art, I have seen works of art – paintings, sculptures, architecture – that have touched me to my very core. They've taught me about God and His grace, the plight of humanity, and the unending search of the soul for meaning in this world.
The purpose of this book is to take you on a remarkable journey into your heart. Through the works of art presented here, my hope is that you will be confronted with such beauty and such pain that serve as a reflection of your own life journey. You will see how great geniuses throughout history are simply human beings, like you and me.
"Solace in Art" is for everyone, from the novice who knows little about art, to art lovers and connois- seurs, and even to art historians. It is meant for anyone of any faith, as well as for those who don't subscribe to the idea of a supreme being.
Ultimately, it's my wish that the works I've chosen to include here will uplift you, make you think, and make you look deeply into your soul to find the answers you may not have ever thought you'd find."-Betty Ann
Related Events