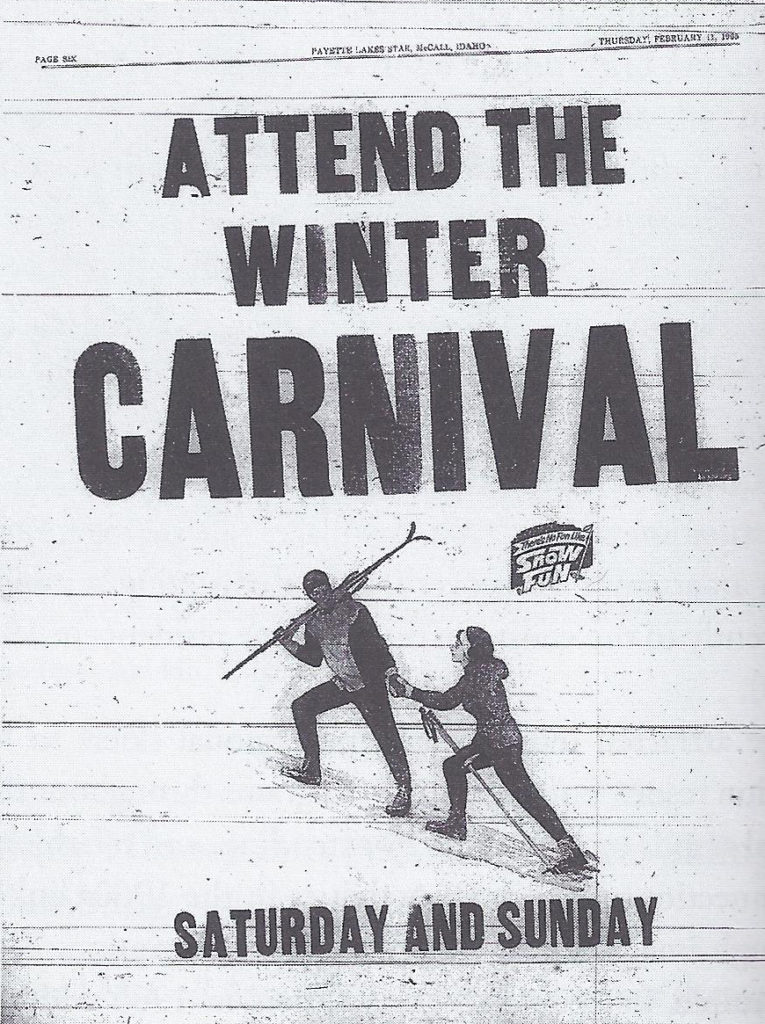 You may not know it, but the inspiration for Winter Carnival actually dates back to 1924 when the town created the Payette Lakes Sports Carnival to beat the winter doldrums. Events included dog and snowshoe races, ski jumping, horse ski-jouring, and a tug-o-war where the prize was a box of oranges. In addition to these events, visitors could also take an exhilarating ride across the lake ice on a motor sleigh, a standard sleigh outfitted with and airplane motor for power.
As guest lodging was limited in the 1920s in McCall, the overflow of visitors were housed by residents who opened their homes for the event. In addition, a special train with sleeper cars attached was positioned at the train station and reduced rates were offered as another form of accommodation for visitors. The first Sports Carnival was attended by approximately 2,000 people, including then Idaho Governor C. Moore.
The Payette Lakes Sports Carnival lasted several years, but began to fade out as organized clubs and the development of permanent facilities such as the Little Ski Hill made sporting competitions more formal and the need for festivals to hold such competitions were not needed. The Sports Carnival eventually evolved into an "Ice Break-Up Contest." A person could purchase a ticket and enter a guess as to what day, hour, and minute the ice on Payette Lake would break up in the spring. The last contest was held in 1941 and ended as gambling became illegal.
In 1965, the community rallied to bring back a winter festival to McCall motivated by a desire to promote skiing in the area. Brundage Mountain Resort had opened a few years earlier, in 1961, and the first official Winter Carnival was held on the same weekend as the University of Idaho Ski Invitational at Brundage which included events such as slalom racing, cross-country skiing, ski jumping, and snowshoe races, snowcat races. The first Winter Carnival in 1965 was a two-day event that drew regional visitors to the area.
Since that time, the McCall Winter Carnival has continued to grow and expand into the 10-day festival we know today.