Sometimes we just can't wait to get back on the trail after a long winter. If you are itching to get out and explore, we rounded up a few options for early season adventures. As with any early season recreation, keep an eye on the weather and postpone your hike if trails are muddy.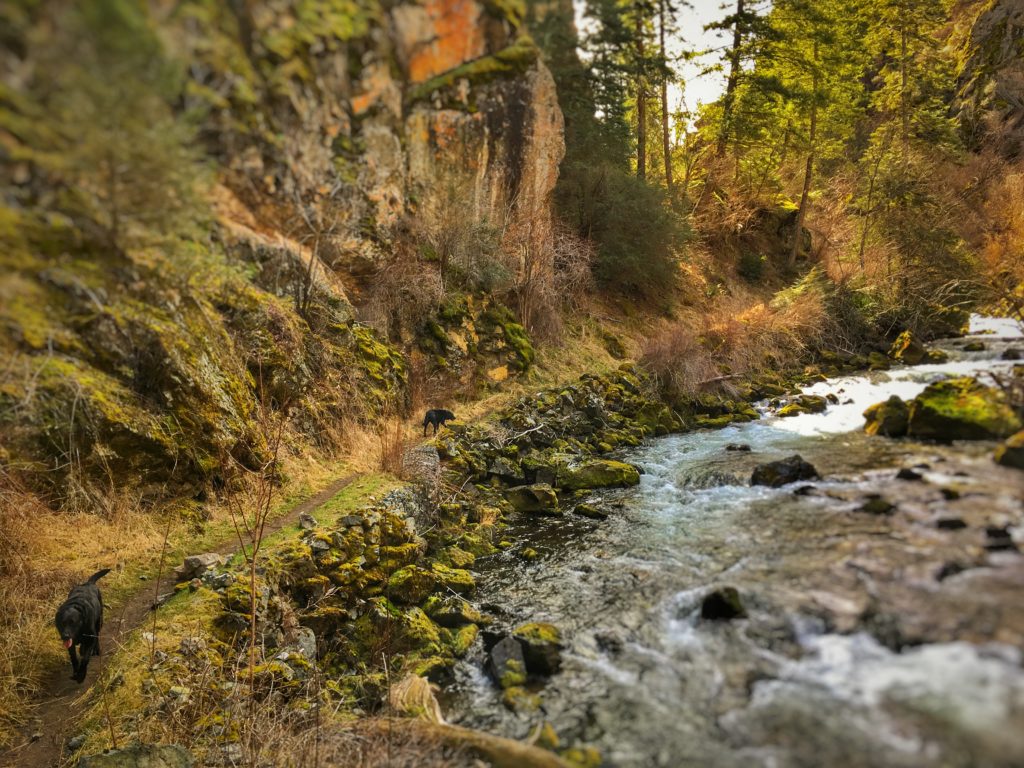 Rapid River Trail – March
This lovely trail is technically accessible year-round, but we like to hike this in early spring when everything starts to green up and the flowers start to bloom. Most of this hike is spent down at the water level, but it does start out along a steep hillside – be sure to watch small children and pets in this first area. Make this hike as long or as short as you want. Most people hike to the second bridge at about 4 miles in, but the trail extends well beyond this point to Potter's Flat (another 5 miles) or McCrea Place (3 miles beyond Potter's Flat). Trailhead Directions: Follow US 95 from New Meadows 30 miles toward Riggins. Turn left onto Rapid River Road (look for the Hatchery sign) and continue 3 miles to the parking area.
Hazard Creek Falls – late April
If you are chasing early-season waterfalls, Hazard Creek is a great option. During the spring runoff, this creek rages and a rocky overlook three miles up the trail is your destination for views of the area and the falls. Trailhead Directions: From New Meadows, travel north on US 95 15.5 miles to Hazard Creek Road. Turn right on this road (also known as FR 287) and travel about a mile, taking the left fork in the road. The unsigned trailhead is about a half mile up on the right. 
Cow Camp Trail – May
This little-used spring trail is great for an amble through the forest after a long winter. The trail traverses some steep hillsides, gaining 1,600 feet in elevation before reaching its destination: Squirrel Creek. This spot is a great place to sit and relax or dangle your feet over the bridge. The trail does continue on from the bridge another three miles to connect to other trails in the area. Trailhead Directions: From New Meadows, drive north on US 95 for 12 miles and turn left onto Smokey Boulder Road. Follow the road 2.3 miles then take the right fork and travel another 4 miles to a bridge across Boulder Creek. The signed trailhead is just beyond the bridge.
Vulcan Hot Springs – mid-May
This short hike is great for a little exercise that ends with a soak in a hot spring. The trail winds through Stolle Meadows and along Tyndall Creek. About a mile in, you will see a large soaking pool that converges with the creek – a necessary mixture as the hot springs can reach a temperature of 190 degrees. Trailhead Directions: From Cascade, turn right onto Warm Lake Road. Typically you can take FR 474 in Stolle Meadows, however this road is currently being reconstructed. We recommend driving to the Warm Lake Lodge and following the road around the west side of the lake to connect to FR 427. This road will connect back to FR 474. About 4 miles from this junction, look for a large parking lot on the left side of the road. The trailhead is across the road from the parking lot.
Goose Creek Falls (from Last Chance) – June
There are actually three ways to get to Goose Creek Falls, one from the Gordan Titus parking lot along Brundage Mountain-Goose Creek Road, one from Brundage Reservoir, and one from Last Chance Campground. Due to its lower elevation, the trail from Last Chance Campground is typically accessible earlier and, in our opinion, offers the more scenic route. Wind through a thick canopy of trees while crisscrossing several small creeks and bridge crossings to get to a scenic overlook of Goose Creek Falls. Be sure to look for morels along the way as well! Trailhead Directions: From McCall, drive north on Highway 55. Past the Brundage Mountain turn, you will wind through a canyon. At the bottom of the canyon, look to the right for Last Chance Road. Take this road 2 miles and turn into Last Chance Campground. The trailhead is located near the back of the campground.