So join us!
Show your love for McCall and sign on the virtual dotted line. Leave this place better than you found it…and win sweet prizes along the way! We will draw one winner in July and one winner in December for a weekend retreat.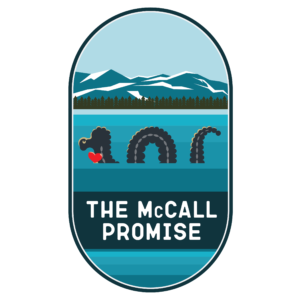 I will avoid left-hand turns during high traffic times to preserve my own sanity and that of the cars behind me.
I will brake for pedestrians and bikes and town deer (even when they forget to carry the bright green flags provided at crosswalks).
I will not invent my own trail while seeking the trail less traveled.
I will say please and thank you like my parents taught me and remember to tip my servers.
I will not get freaked out when someone tips a hat or waves in passing on a back road – locals are just a friendly bunch.
I will stand in awe of the local wildlife, but not stand too close…even in pursuit of the perfect photo.
I will plan for several seasons of weather to happen in one day and pack clothing accordingly.
I will take my lead from Smokey Bear and drown my campfire.
I will soak in the fresh mountain air and small-town charm.
I will be kind and courteous, even when hangry.
I will respect the natural wonders that make this place so special and do my part to keep the water and the land as I found it.
I will respect no wake zones in the summer and avalanche reports in the winter.
I will adhere to Leave No Trace practices and take my trash with me (and any I may find along the way).
I will keep a keen eye out for Sharlie.
Sign the McCall Promise