Sometimes a destination is simply too beautiful to leave. If spending a few hours at an alpine lake just isn't long enough, try one of these great lakes for an overnight campout. Each offers secluded campsites along the shore for a magical night in the forest.
East Fork of Lake Fork Creek
Most overnight destinations take you to an alpine lake, but this hike is a bit different. The trail winds for six miles along the scenic creek and ends in a stunning meadow. You can choose to camp here or at any of the prime campsites along the way. Along the way, the creek offers pools to take a dip in and plenty of wildflowers to keep your attention focused on the forest floor.
Trailhead Directions: Take Lick Creek Road about 7 miles past the fork and turn right immediately after crossing the bridge. You will follow a short road to a parking area.
Twenty Mile Lakes
Twenty Mile Lakes are one of the most popular backpacking destinations in the McCall area. This area boasts four alpine lakes, each just a half-mile from one another, with campsites available at each lake. Spend a night or two exploring each lake (North, South, East and Long) and soaking in the night sky. The hike is about 6 miles in and while this area was partially burned in a fire, plenty of green forest remains. Trailhead Directions: Follow Warren Wagon Road for 17 miles and look to the right for a large parking area and trailhead sign for Twenty Mile Lakes.
Loon Lake
The best way to experience Loon Lake is to make a loop of the two routes, although it does not matter which direction you follow the loop. In either direction, you will get to hike through wildflowers and along the Secesh River canyon to reach the half-mile long Loon Lake. Perhaps best known for the B-23 Dragon Bomber that crashed in 1943, Loon Lake offers a piece of history paired with some excellent backcountry camping options. Trailhead Directions:  Follow Warren Wagon Road and pass the Burgdorf Junction. Stay on Warren Wagon Road for another 6.5 miles past the junction until you reach the Chinook Campground. Turn right into the campground and follow the single-lane road 1.2 miles to the parking area.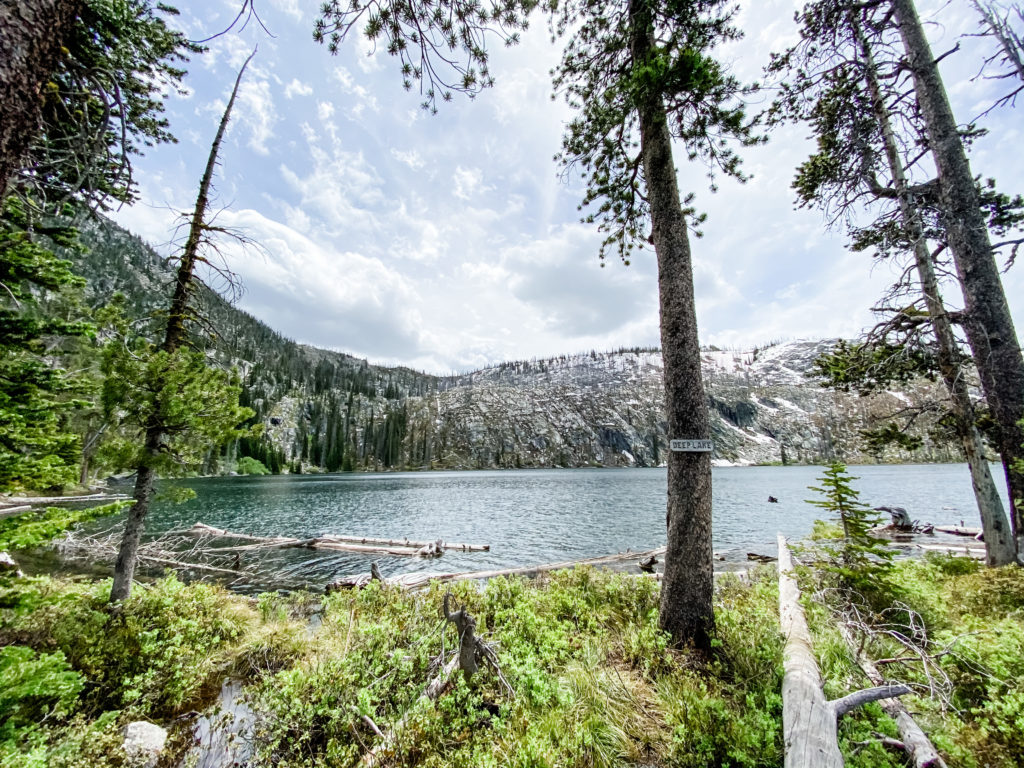 Deep Lake (easy with kids)
This short hike is great for a first overnight trip with younger kids. The hike in is beautiful with sweeping views of the surrounding mountains, but short and sweet at just under one mile. The lake is stunning and several well-established camp sites are nestled along the water's edge. Once there, you can also explore nearby Trail and Frog Lakes if you are up for a bit of off-trail hiking. Trailhead Directions: Follow Warren Wagon Road 21 miles and turn right onto Forest Service Road 431. Follow this dirt road about 2 miles to its end at a small parking lot.
Curtis Lake
If you are looking for solitude, Curtis Lake is a solid choice. This lesser-known lake sees less traffic than some of its counterparts and while the trail is still easy enough to follow, colored tape helps with route-finding as well. After a three-mile hike in and 1,400 feet of elevation gain, you are rewarded with this scenic little alpine lake and plenty of campsites to enjoy. Trailhead Directions: From Cascade, turn right onto Warm Lake Road and continue 6 miles to Horsetheif Reservoir Road. Turn right and drive about one mile to Lost Basin Road. Turn left and continue along, veering left at the fork in the road at 3 miles and follow another 7 miles (keeping left at the second fork) to the