Sweat equity can make the view at the top so much sweeter. These hikes are some of our favorite uphill treks that pay dividends both along the trail and at your destination. Higher elevation means wildflowers bloom a bit later, the landscape is lush, and the views are nothing short of spectacular.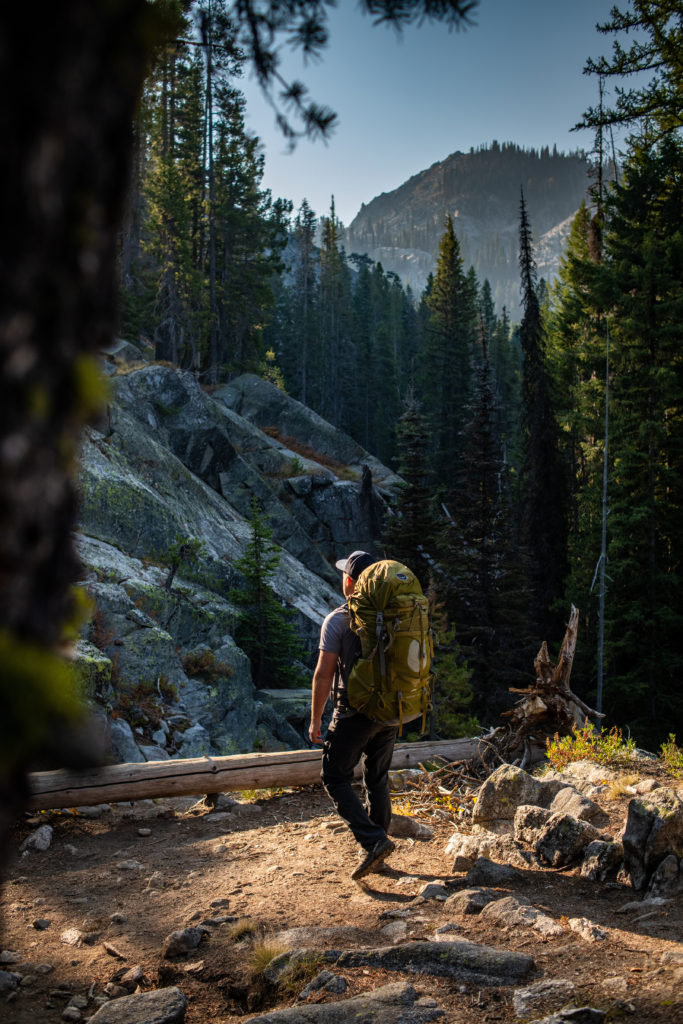 Snowslide Lake/Maki Lake
This is a leg-burner any way you cut it. For a shorter uphill session, you can stop at Snowslide Lake. That still gets you 1,300 feet in elevation gain and impressive views along the way. For those wanting to continue the burn, Maki Lake is another mile and another 1,300 feet higher. Both lakes offer some spectacular wildflower blooms starting in mid-July. Trailhead Directions: From McCall, turn onto Lick Creek Road. From the fork, continue on Lick Creek and drive 11.5 miles to the parking area. Look for the East Fork Lake Fork Trail sign on the right. To start this hike, you must immediately cross the North Fork of Lake Fork Creek before starting your ascent. 
Needles Summit
The primary benefit to gaining elevation is gaining panoramic views and the trek to Needles Summit does not disappoint. This trail typically sees less traffic and offers a secluded trail to have all to yourself. This hike is an impressive 11 miles out and back with an elevation gain of 2,400 feet along the way. On a clear day, you can see for miles into the surrounding Salmon River Mountains. Trailhead Directions: From McCall, drive south on Highway 55 and turn left onto Paddy Flat Road. Cross Farm to Market and continue on Paddy Flat Road to the Summit junction at 5 miles. Take the left fork and continue on to the Kennally Creek Campground. Follow the trail to the signed junction (about 2 miles in) for Blackmare and Needles Summit, turning right. 
Granite Peak/Tripod Lookout
Any time you can hike to a lookout you know the view will be spectacular. At the end of this 3 mile hike are 360 degree views of Long and Round Valleys. There are two routes to the top, one a shorter scramble up a less maintained trail, the other a bit longer in length but following a maintained trail to the Lookout. Either way, you won't be disappointed with the views or the workout as you climb 1,600 feet. Trailhead Directions: From Cascade drive south on Highway 55 and turn right onto Cabarton Road, following for 2.5 miles before turning left onto Snowbank Road. Follow this for an about 9.5 miles and turn left onto an unnamed road. At the end of this road is the trailhead and parking for a few vehicles. 
Crystal Lake and Fall Creek Saddle
When the hike is said and done, this steep trek will gain 2,200 feet in elevation along the 5 mile out-and-back trail with plenty of scenery to soak in along the way. You are welcome to cut this hike a bit short and make Crystal Lake your final destination or continue another quarter mile on o Fall Creek Saddle and take the short footpath to a stunning overlook of the lake below. Trailhead Directions: From McCall take Lick Creek Road, taking the right fork. From the fork, drive 10 miles and look on the left for the Fall Creek Trail sign. 
Lake Rock Lake
This short hike doesn't waste time gaining 1,500 feet in elevation. The solitude and lake often see local fishermen and women traverse this trail, but it is not well maintained so expect to encounter a lot of deadfall. One of this trail's most loveable features is a boulder field near the outlet creek that is home to an abundant colony of whistle pigs. Listening to these marmots whistle back and forth is quite an experience! Trailhead Directions: Follow Warren Wagon Road for 25.5 miles. The trailhead is not marked, but there is a small parking area on the right side of the road and the trailhead is located right along the tree line.