Spring Break starts next week and not a moment too soon! A full week of play is just what the doctor ordered…and we have loads of fun, sun, and snow ready and waiting in McCall. With so many ways to spend your week of freedom, we have rounded up the best-of-the-best McCall has to offer and taken the stress out of planning your vacation. Here are six days of action-packed Spring Break adventures you won't want to miss.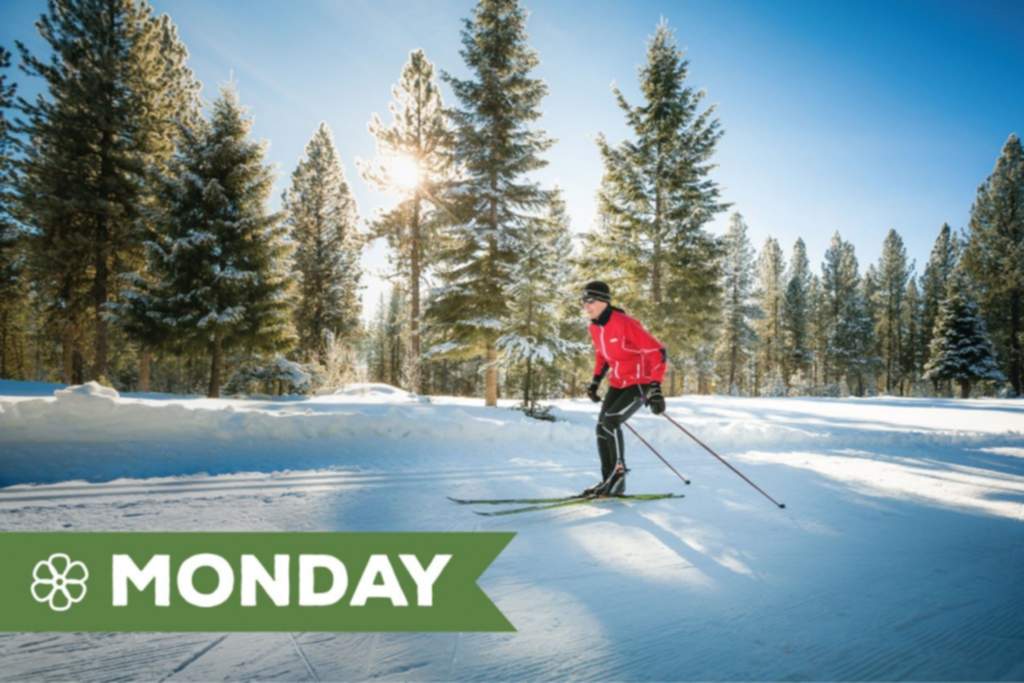 Monday :: Explore on Nordic Skis or Snowshoes
Kick off your vacation by with a caffeine boost at Mountain Java. Pair your coffee with an on-the-go breakfast like one of their delicious scones or pastries and you will be fueled up for a day of trekking. After breakfast, head to one of five area Nordic centers. Choose from Bear Basin, Ponderosa State Park, the Activity Barn, Jug Mountain Ranch, or Tamarack Resort. Be sure to check the grooming report at mccallnordic.com for the most current trail conditions. Looking to get off the beaten path? A pair of snowshoes can get you just about anywhere! Start from any of the Nordic areas or explore on your own.
When you are ready for lunch, we recommend Pueblo Lindo for some authentic Mexican dishes. Fast, friendly service with a budget-friendly menu (not to mention the amazing food) make this a must-do on your Spring Break itinerary. If you have some extra time in the afternoon, wander through downtown McCall. Our local shops, boutiques, and art galleries are bursting with amazing wares. Set your treasures down for a bit and stop in at Rupert's at Hotel McCall for Martini Monday…then stay for the Chef's Tasting Menu! Chef Gary Kucy showcases his talent with the Monday specials. You can also order off of the regular menu as well!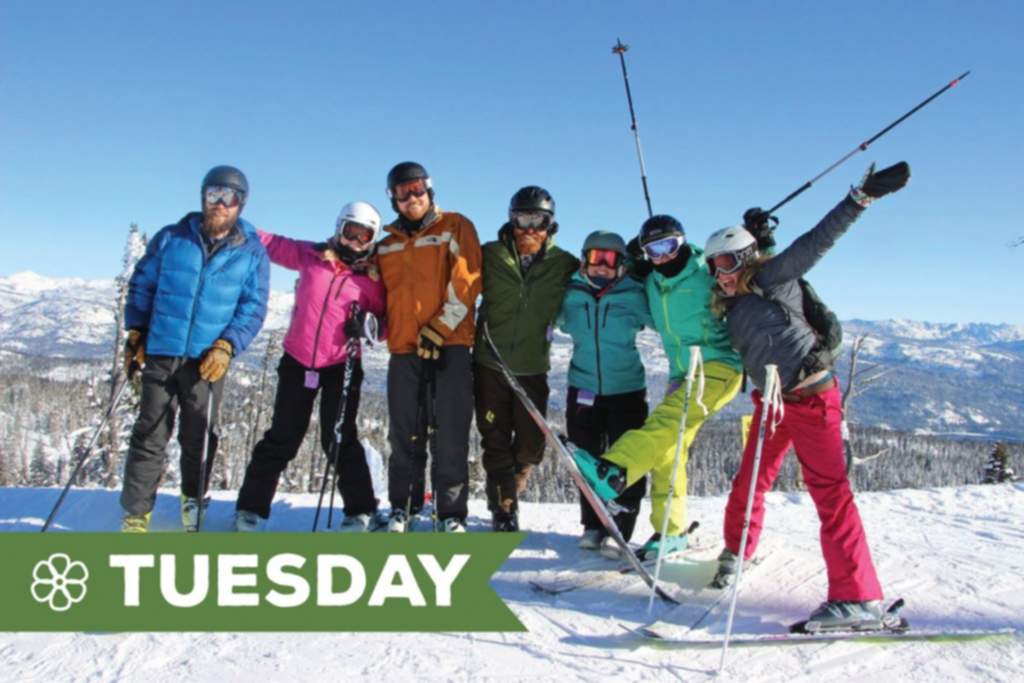 Tuesday :: Hit the Slopes at Brundage
Before you head up the mountain for a fabulous day of skiing, you will definitely want to stop at Ruby's Kitchen. The breakfasts are seriously to die for. We love the Bonsai Bowl and homemade doughnuts. Looking for something lighter? Try one of the tasty breakfast smoothies! This stop is a crucial one…the whole family will want lots of energy to make the most of some spectacular deals Brundage is offering during Spring Break. For families, try the Family Fun Pack Spring Break Savings deal. It includes full-day Bear Chair lift tickets and rental gear for the entire family for just $149 (for up to four people – add on additional family members for $30 each). Looking for access to the entire mountain? Kids under 17 ski FREE with the purchase of any full-price adult lift ticket from March 27 – March 31, 2017!
After a full day of slopeside bliss, head back to town and partake in some of the best BBQ around. The Intersection BBQ in New Meadows has it all. You can't go wrong with the slow smoked wings, pulled pork, or brisket (add a side of mac and cheese and you will be in heaven!). If you aren't ready to call it a night, head over to Forester's Club for Two Step Tuesdays and get your country on from 6pm to 8pm.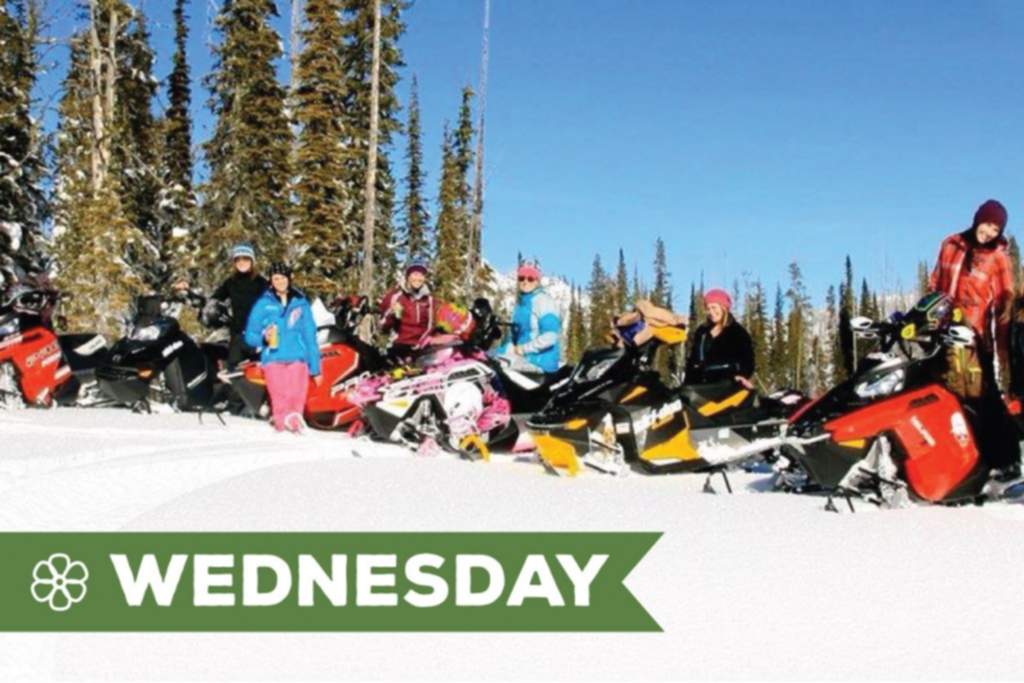 Wednesday :: Snowmobile Adventures
You simply cannot come to McCall without a stop at the Pancake House. Get ready for a mammoth-sized breakfast. The menu is huge and offers everything from pancakes to omelets to country-fried steak. Just remember to save room for the famous cinnamon roll!
When you are ready to start snowmobiling, explore two ways to ride: (1) self-guided snowmobile rentals or (2) guided tours. With a snowmobile rental from Cheap Thrills Rentals, CM Backcountry Rentals, or Brundage, create your own adventure! Rentals are delivered to the trailhead and your group can strike out for a ride to Burgdorf Hot Springs, Warren and Secesh, or a trip to one of the many alpine lakes in the area. New to snowmobiling and want to go with a guide? Try a brand new guided snowmobile trip at Brundage Mountain Resort or CM Backcountry Rentals. Their seasoned guides can take you to scenic destinations including Clow Point, Granite Lake, Brundage Reservoir, Hazard Lake, Warren, the Brundage Mountain Lookout, and Burgdorf Hot Springs, among others.
After a day of high-marking, take some time to enjoy dinner. Lardo Grill and Saloon has a rustic charm and a tasty menu where you can eat, drink, and catch the game on one of the many big screens. We also love The Mill. Enjoy a cocktail around the open fireplace before dinner then dive into a famous prime rib. Looking for great seafood? Steamer's Steak and Seafood is the just the ticket! Try the Idaho Ruby Rainbow Trout or the Crab and Shrimp Stuffed Halibut.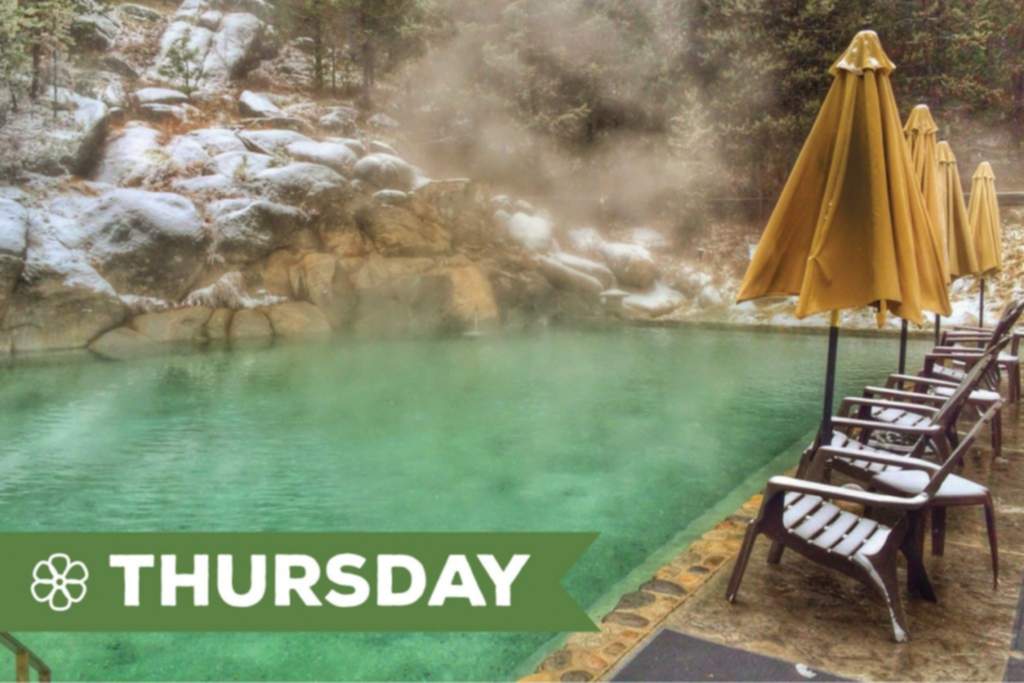 Thursday :: Soak Your Cares Away
After three days of big adventure, give the family some time relax and rejuvenate. Start the day with a casual breakfast and a piping hot java at Fogglifter Cafe. Bob's Benedicts are a local favorite (choose from a traditional, veggie, or avocado and bacon benedict) and the Boulder Breakfast Sandwich will please even the pickiest eater. Order an extra cup of joe to go and jump in the car to head out to Gold Fork Hot Springs. This geothermal gem is about 30 minutes from McCall, just look for the signs south of Donnelly and follow the maintained dirt road to the entrance.
Once at the hot springs, check in at the yurt. Heated changing rooms are available as well as lockers to secure your belongings while you soak. Golf Fork is comprised of six pools that vary in temperature. We like to start out in the main pool (also the largest). If you have kids, the sandy bottom pool is a great option. The water is shallow and slightly cooler than the main pool with a delightful waterfall to play in. Remember to pack a lunch and snacks! Patio tables line the edge of each pool and make a perfect home base for an afternoon at the hot springs. Gold Fork opens at noon (closed Tuesdays).
Dinner on Thursday in McCall means Burger Night at the Cutwater at Shore Lodge. After dinner, sample the local music scene with live music at Southside Grill, the Anchor, or the Yacht Club.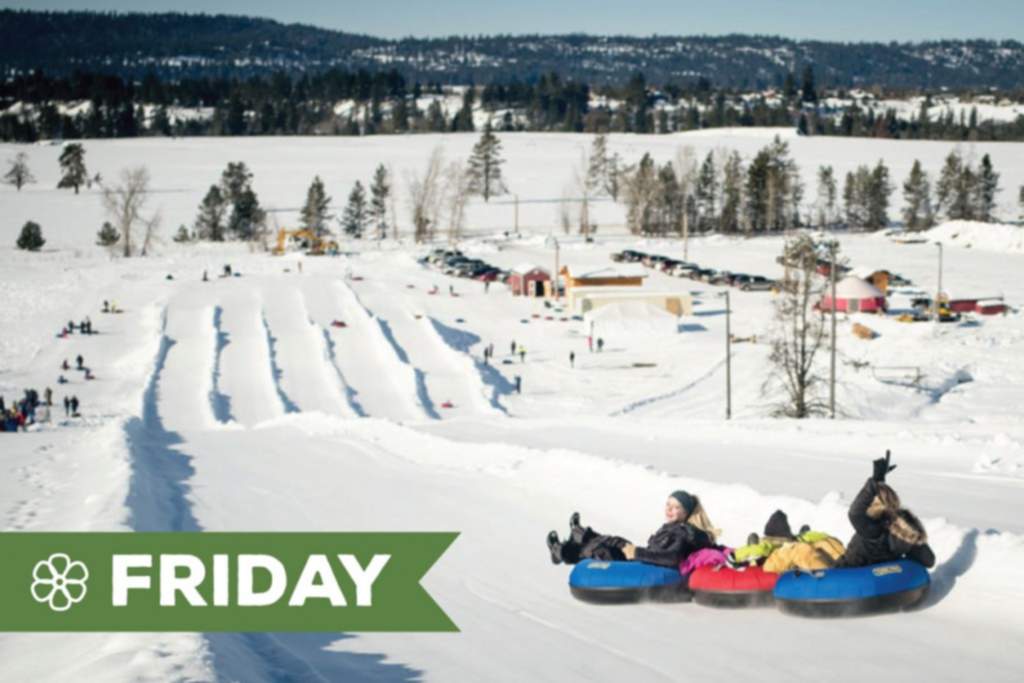 Friday :: Family Fun
Rise and shine! Feed the troops on family fun day with a breakfast pizza from Growler's. The "Big Adventure" breakfast pizza includes scrambled egg, chorizo, red onion on a white garlic sauce. Trust us…one taste and you will wonder why you aren't eating pizza for breakfast every day! Growler's also offers classics like biscuits and gravy, french toast, and breakfast sandwiches.
Kick off a day of play with a trip to the Activity Barn. During Spring Break, take advantage of a great BOGO deal – buy one two-hour tubing session and get the second FREE. Pick out your tube at the bottom of the hill then jump on the "magic carpet" type lift for a ride to the top. Once there, take in the views and stare down the massive 800 foot long chutes. The wonderful staff at the Activity Barn will help make sure you're all set then send you off! If you need a place to warm your toes, head to the yurt. There you can also pick up a quick snack or sip on some hot chocolate.
After tubing, grab lunch at My Father's Place. The mile high milkshakes and sweet potato fries will be a hit with kids and adults alike. Next up, ice skating. The Manchester Ice and Event Center is a cornerstone in the community offering ice skating, hockey leagues, curling, stunning ice shows, and is home to the Idaho Junior Steelheads. Stop in for public skate between noon and 5pm. Ice skate rentals are available and TJ's Cutting Edge Cafe is perfect for a hot drink or a snack. After open skate, plan to come back for the Friday Idaho Junior Steelheads game at 7pm. These fast-paced, hard-hitting hockey games are a great way to spend an evening in McCall cheering on the home-town team.
Need to squeeze in dinner? Head to Salmon River Brewery or McCall Brewing. Mom and dad can enjoy local handcrafted beer and everyone can find something to love on the menu!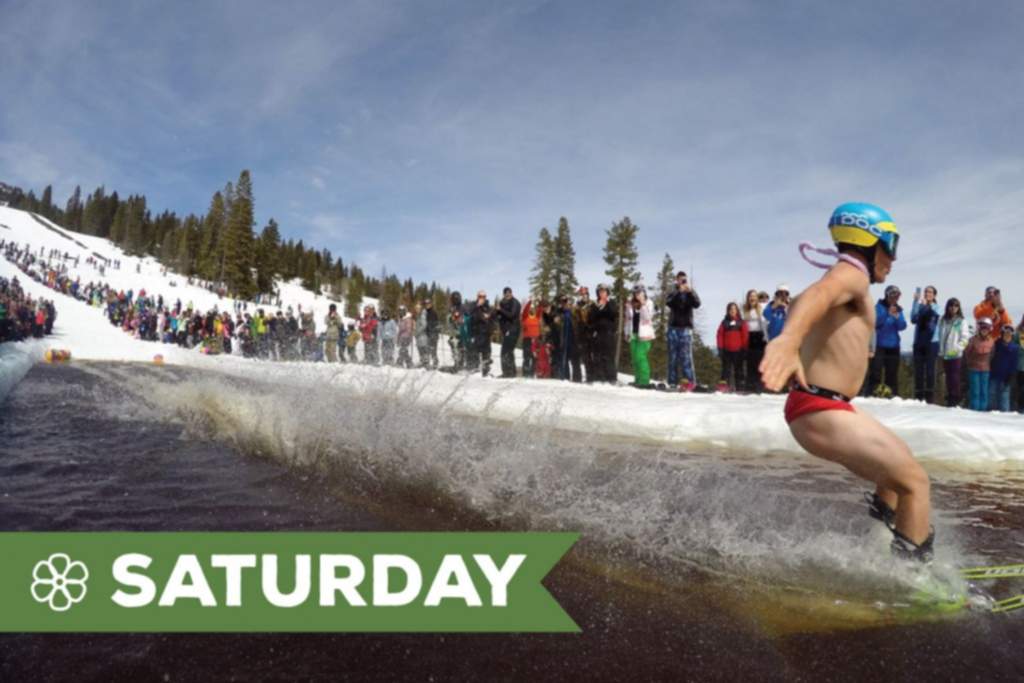 Saturday :: Ski and Skim at Tamarack Resort
Get ready for an epic Saturday. Stop at KBs Burritos for a Steak and Egg Breakfast Burrito or swing into the Old Town Station for a made-to-order breakfast sandwich like the "Moose Toast."
Ski or ride on the uncrowded slopes at Tamarack Resort and enjoy the stunning views of Lake Cascade below. On Saturday, take a break from the carvable groomers and watch the Idaho Pond Skimming Championships. This wacky, daring event is open to all brave skiers and riders (limit of 100 competitors) who will be judged on (1) distance and creativity, (2) outfit, and (3) crowd hype. Participate as a competitor or watch from the gallery and cheer on the skimmers! The competition starts at 2:30pm, giving you plenty of time to get in some laps before watching the fun.
For your last night of fun, you can't go wrong with dinner at Cougar Dave's. Located in downtown Donnelly, this casual hot spot is making a name for itself. Choose from a large menu of delicious sandwiches and burgers or opt for one of the house specialties like Blackened Prawns, Spaghetti and Spicy Meatballs, or the Double R Ranch Prime Rib.
Now that is an action-packed Spring Break!