The McCall area has always been a haven for snow seekers. From ski jumping competitions held at Blackwell Ranch in the 1920s to the development of three ski areas – the Little Ski Hill in 1937, Brundage Mountain Resort in 1961 and Tamarack Resort in 2004 – a love of winter sports has always been at the heart of the McCall community. Having so many winter playgrounds to choose from means that there is a perfect place to find whatever terrain is beckoning.
We rounded up our favorite experiences at the Little Ski Hill, Brundage Mountain Resort and Tamarack Resort to celebrate the big offerings of this little ski town.
Best Family Ski Experience
BEARTOPIA at Brundage Mountain
For families just starting out on their alpine adventures, the Beartopia Fun Zone at Brundage Mountain can't be beat. Newbies start on the gentle terrain surrounding the Easy Rider Conveyor, then step up to the Easy Street Triple Chair which allows them to practice skills and build confidence on any of five short beginner runs. The best part? Both the Easy Rider Conveyor and the Easy Street Triple Chair are absolutely free. Once a skier or boarder can stop and turn consistently, the next step is the Bear Chair. This opens up a world of adventure on 100 acres of terrain featuring four mid-length beginner runs, two freestyle runs with terrain park features and a sampling of intermediate/advanced runs.
Beartopia even has its own eatery. The Bear's Den is open Fridays through Sundays and holidays and features hearty fare like meatball sandwiches, chicken and waffles and mac and cheese. Bear Chair lift tickets are less than half the price of a full-mountain ticket, so not only is this learning environment ideal, it is also incredibly affordable.
Best Way to Catch Some Air
Little Ski Hill's Outback Terrain Park
If big air is on your bucket list, the Little Ski Hill's Outback Terrain Park is the place to go. Close to one-third of the ski area is devoted to this park's table top jumps, spines, volcanoes and rails. Features are constantly changing to give you an exciting ride from top to bottom. A fleet of more than 20 rails is mixed into those changing lines and creates a second rail garden at the base of the mountain so there is always something new to explore. On top of all this, the Little Ski Hill puts its terrain park on display every year with a number of free ride events including Rail Jams, Slopestyles, Big Airs and, the local favorite, Banked Slalom.
Best Top-to-Bottom Run
Bliss at Tamarack Resort
If you're a fan of the lactic acid burn and jaw-dropping view corridors, Bliss is your run. Technically separated into Upper Bliss and Lower Bliss, when combined together it is one of the longest runs on the mountain – clocking in at just under 2 miles with more than 2200 feet of vertical.  The undulating run also provides plenty of spots to take a breather and enjoy views over snow-covered Lake Cascade and the valley floor.
Best Place to Ski Under the Stars
Little Ski Hill
When the sun goes down, the skiing heats up. There is something special about hitting the slopes under the stars. A quiet settles in, the temperature drops and the same runs you took during the day take on a whole new look. The Little Ski Hill is McCall's only area for night skiing (and the third oldest ski area in Idaho!) and the experience is one you won't forget. Jump on the T -bar for a lift to the top then head down one of the trails lit with floodlights. At the bottom, warm up in the Lodge with a bite and a beer. Night skiing is open until 8pm Tuesday through Thursday and 9pm on Friday and Saturday.
Best Place to Ski Powder for the First Time
Front Side of Brundage Mountain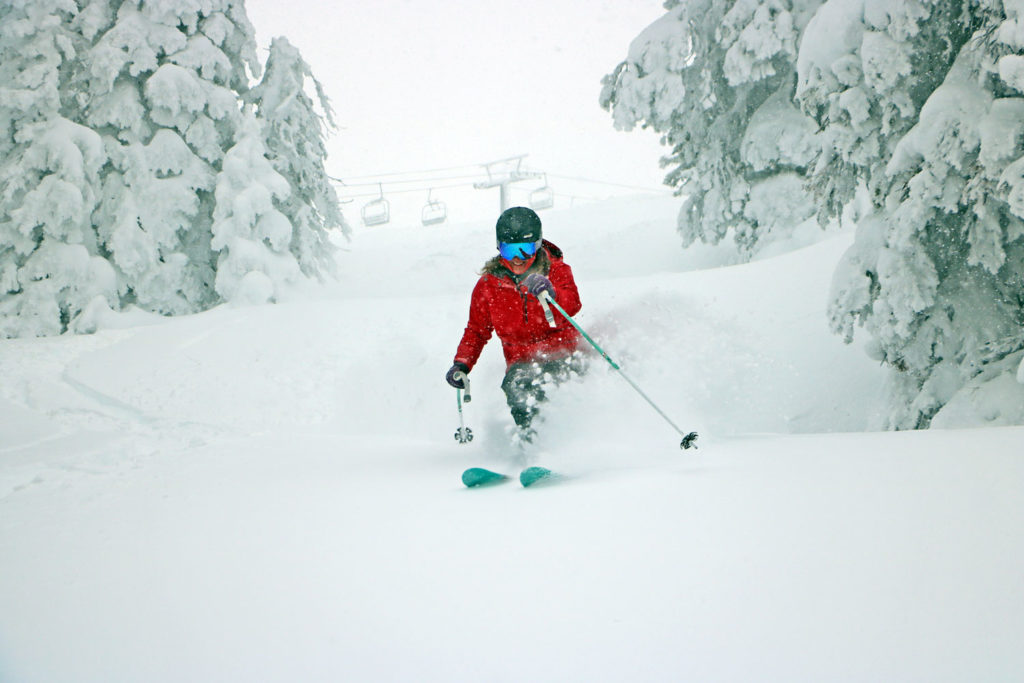 By now, you've ripped down some of the ridiculously wide top to bottom groomers. You think you're ready to try the powder, but what's the best approach? This is where the front side of Brundage Mountain truly shines. Off to the side of any of the main groomed runs – North, Main Street, Alpine, Engen, 45th Parallel – you'll find a generous swath of ungroomed snow. Frequent storms refresh Brundage Mountain with some of the softest, most forgiving snow you'll find anywhere in the Northwest. Fresh snow and easy access make it a breeze to 'dip in' for a few low-angle powder turns to work on your technique – without getting committed to a path with no easy exit. While expert powder skiers swear by 'the trees', there are plenty of open slopes that appeal to those still building their off-piste confidence. And if you're worried your gear won't keep up with your ambitions, look no further than the Fall Line Shop. Demo packages with 'unlimited switchouts' are available and affordable, so you can push yourself in the powder in the morning and finish the day carving up the groomed runs with the perfect set of boards to fit either adventure.
Best Tree Skiing
"The Grove" at Tamarack Resort
When you look up at West Mountain in the fall from Highway 55, it's hard to miss resort's namesake. On the resort's northern edge grows a large grove of Western Larch, also known as tamaracks, which turn a brilliant gold as temperatures drop. As one of the few deciduous conifers, the tamaracks then drop their needles and leave behind a glade of pines with striking view lines for skiers and riders. With no pine needles to obscure your view, stellar visibility creates better lines for tree skiing. No pine boughs mean little to no tree wells. When crowds tear up the powder elsewhere on the mountain, the gladed terrain off Wildwood holds on longer for the ultimate tree skiing experience.
Best Photo Op
Brundage Mountain's Lakeview Bowl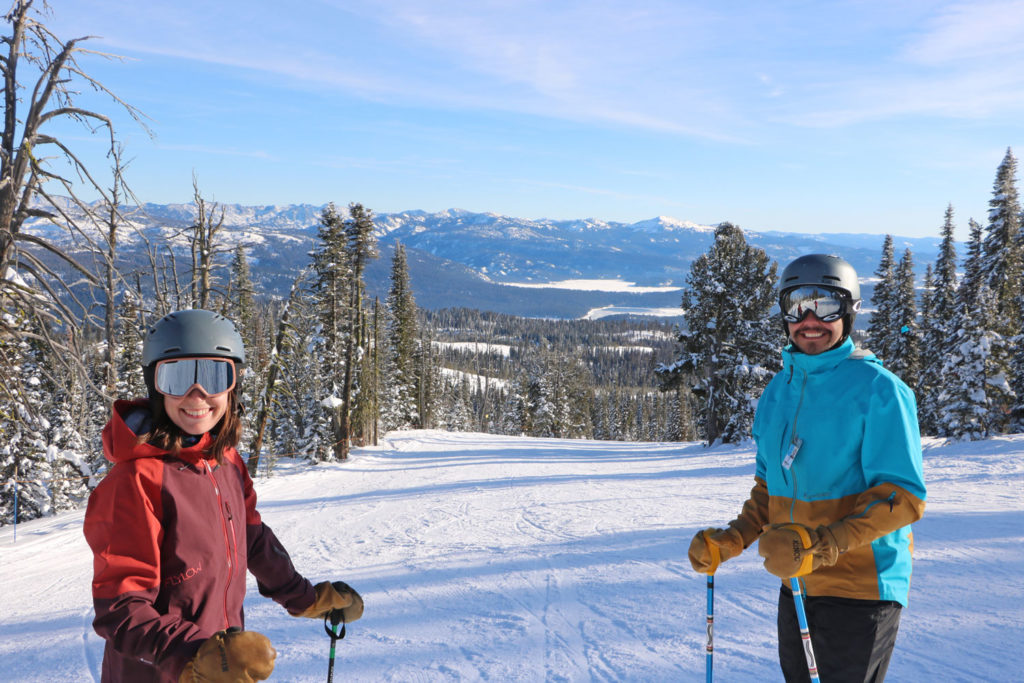 By the time you reach the 7,640 foot summit at the top of the BlueBird Express, you'll already be overwhelmed with nearly 360-degrees of stunning Rocky Mountain views. But frequent visitors to Brundage Mountain know there's another special spot where the beauty of the surrounding mountains and lakes can knock you out of your ski boots. Head South from the summit toward the Lakeview Bowl and you'll be greeted by an army of "Snow Ghosts" – pine and fir trees dressed in a uniform of pure white. Take some leisurely turns down the pristine Kickback corduroy or a more direct shot down Dropline and watch the gorgeous Payette Lake, McCall and Long Valley landscapes unfold right in front of your eyes. The trip back up the Lakeview Triple is equally as satisfying. This nearly untouched playground looks like a real-life snow globe each time storms dish up a new serving of the Best Snow in Idaho™ and is definitely worthy of a photo op stop.
Best Way to Mix It Up
Nordic Lessons at Bear Basin
The Little Ski Hill is steeped in McCall ski heritage. When the area originally opened in 1937, ski jumping and cross-country trails were the main attractions. It wasn't until later that the alpine runs we know today were built. While a run through the Outback Terrain Park is a great way to pay homage to the ski jumping history of the hill, the Nordic trails at Bear Basin, part of the Payette Lakes Club that includes the Nordic area and the Little Ski Hill, offer a traditional way to get out and enjoy the snow. If you haven't ever swapped your alpine skis for cross-country ones, Bear Basin has you covered. Saturdays in the winter are the perfect time to mix it up and try your hand on the Nordic trails. Group lessons for beginner to intermediate skiers run each Saturday with an 11am session for classic skiing and a 1pm session for skate skiing. If you drop in for instruction, plan to bring your own equipment (several retailers in town offer rental packages). Each session costs $25, is open to all ages and abilities, and includes one hour of instruction along with a day pass to Bear Basin so you can practice your new skills. Private lessons are also offered by reservation.
Best Ski-In, Ski-Out Lodging
Tamarack Resort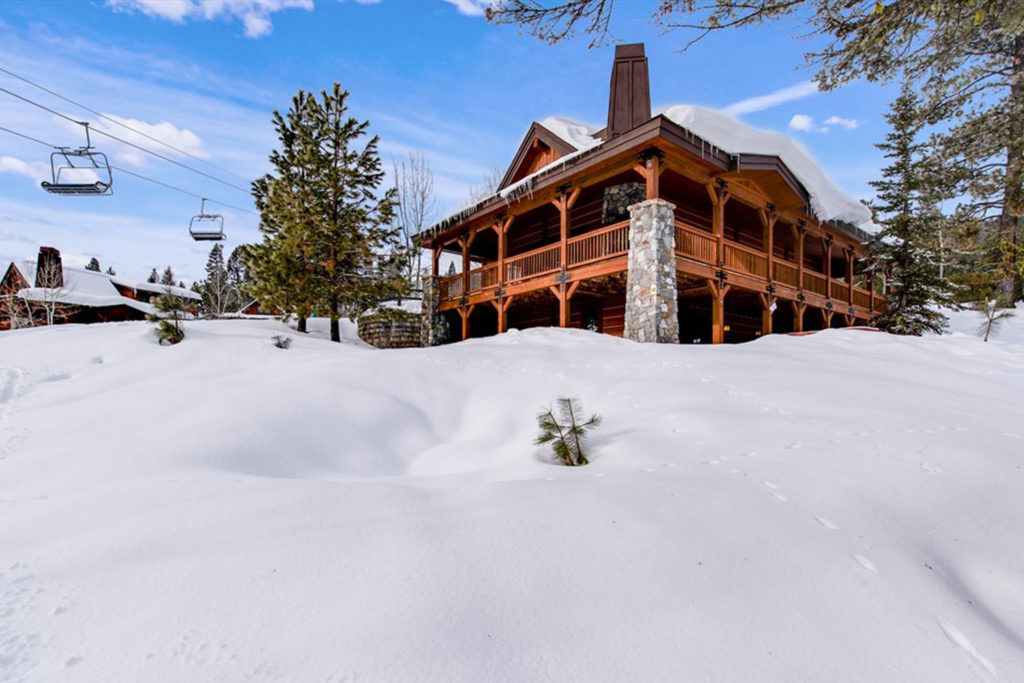 Grabbing first tracks or that mid-afternoon pick-me-up comes a bit easier at Tamarack thanks to the state's largest offering of ski-in ski-out lodging. And the options for staying slopeside will increase exponentially this winter with the opening of the first phase of The Village at Tamarack with studio to 3-bedroom condominiums. Whether you're looking for a hotel room, cottage, chalet, townhome or estate home large enough for a family retreat – the resort has options to fit all shapes and sizes of winter getaways. With Village amenities just a stroll, skate or slide away – apres lasts just a bit longer at the resort's slopeside bars and restaurants.