McCall puts a bold spin on dinner. Pairing a rustic setting with elegant fare, the Bear's Den Dinner After Dark and the Blue Moon Yurt offer an unforgettable adventure for your taste buds.
Bear's Den Dinner After Dark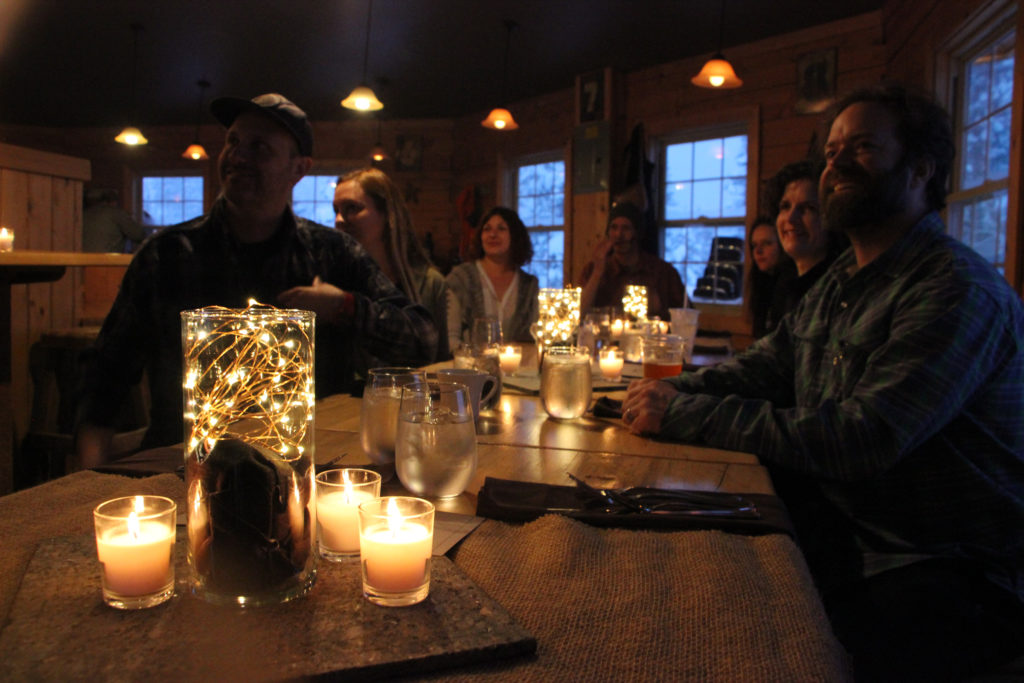 Brundage Mountain has transformed their mid-mountain outpost, the Bear's Den, into a cozy venue for a spectacular four-course meal after the lifts stop turning. The journey begins by stepping aboard a SnowCat at the base area. The Cat whisks dinner-goers on a short uphill trek to the Bears Den where a warm welcome awaits.
Upon arrival, enjoy a complimentary drink (like mulled wine with cardamom-crema) and settle in for a four-course meal featuring seasonal dishes prepared by Executive Chef Devin and team. A wine pairing is included with the meal and there is also a full selection of craft brews, wine, and after-dinner sippers available for purchase.
Plan to enjoy the Bear's Den After Dark at one of several public dinners throughout the season or book a private event if you have 12 or more in your group! Please visit brundage.com for upcoming public reservation dates.
Cost: $145 per person (includes tax and gratuity)
Arrival Procedure:  Arrive at the Brundage Lodge at 5:30pm. The first SnowCat departs at 6:00pm and dinner service begins at 7:00pm
Reservations: Call (208) 315-3080 or email reservations@brundage.com
Private Events: Private reservations for groups of 12 or more are available Monday – Thursday during ski season. To book a private event, call Michael at (360) 620-7100 or email michael@brundage.com for available dates and menu options. Shuttle transportation can also be arranged.
Blue Moon Yurt
The Blue Moon Yurt has a brand new home at Jug Mountain Ranch and is a must-do for foodies and families alike. Guests trek along a trail lit by tiki-torches on cross-country skis or snowshoes and arrive at a cozy yurt tucked into the trees and situated on a platform overlooking the valley.
Once inside, the candle-lit tables and lanterns set the scene for a delicious multi-course meal that borrows flavors from a variety of ethnic delights. Start the night with family style appetizers and a sip of mulled wine from the stove before sitting down to plated courses. Guests at the Yurt can pack in their own beverages of choice for the evening.
Cost: $135 per person
Arrival Procedure:  Arrive at the Jug Mountain Ranch Clubhouse parking area and gear up for your trek to the Yurt.
Reservations: Call (208) 634-3111 or visit bluemoonyurt.com