It is no secret that there is something special about putting one foot in front of the other along a dirt path. From Pythagoras and Hippocrates to Muir, Longfellow and Thoreau, philosophers, writers, and scientists alike love to wax poetic about this simple outdoor activity.  And for good reason. There are about a million benefits to hiking – from the stunning scenery to the cardio boost of an uphill climb – but the underlying appeal, and the thing we always come back to, is that a walk in the woods has a magical way of bringing calm and connection.
While the appeal of hiking is not in question, which trail to take is. The McCall area has a huge variety of trails – many leading to one of the area's 300 alpine lakes, historic lookouts, or high mountain peaks. For new hikers, the extent of options can be overwhelming. For seasoned hikers, it is easy to overlook a new option in favor of tried-and-true routes.
We all have a few secret favorites around here. Those hikes that never disappoint on the scenery, the solitude, or the experience. We went directly to our resident hiking experts to get the inside scoop on the hikes that earn top marks in their book.
Roger Phillips: Upper Hazard and Hard Creek Lake
"Goldilocks destinations"
Roger Phillips lived in McCall for six years in the 1990s and continues to hike, bike and hunt McCall's vast backcountry. He lives in Boise, remains a part-time McCall resident and is one lottery ticket away from returning as a year-rounder.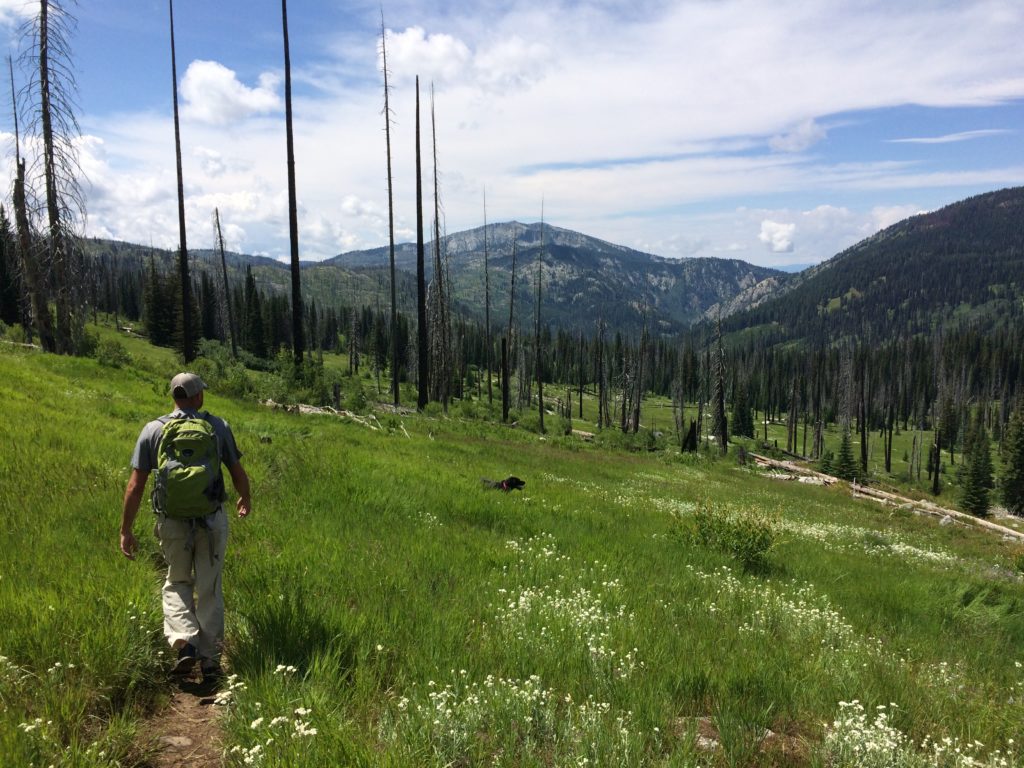 Many McCall mountain lakes share similar traits – they're shimmering mirrors in rocky basins or verdant meadows and kind of a pain in the butt to reach. You often face a bone-rattling drive followed by a lung-searing hike with ascents that make your quads feel like pineapples and descents that make your knees feel like battering rams. The payoff is scenery that can make you question if it's real or hypoxia-induced delirium.
I'm exaggerating, but spend much time hiking to McCall's mountain lakes and you might say "well, yeah, sort of."
But then there are the "Goldilocks lakes," where the drive is enjoyable and the hike requires just enough energy that when you arrive it won't be as crowded as Payette Lake on the Fourth of July.
I will cut this long-winded preamble short and skip to the spoiler alert: If you want a reasonable backcountry drive and a nice hike to drop-dead gorgeous lakes then plan a trip to Upper Hazard Lake and Hard Creek Lake.
Your trip begins on Goose Lake Road, which is suitable for most vehicles, but beware the road can be a bit bouncy. Go about 8 miles to Hazard Lake Campground on the lake of the same name, which is not to be confused with Big Hazard Lake, a little farther down the road (and also worth checking out).
There's a campground at Hazard Lake if you want to, you know, camp. Be careful picking your campsite because you might get so mesmerized staring at the sparkling blue water that you forget about your destination upstream.
Here's how to coax yourself out of your camp chair to check it out. It's a leisurely 2 mile hike up a well-maintained trail with barely enough elevation gain (about 350 vertical feet) to make water run downhill.
Upper Hazard Lake is about 40 acres of surface area with more sparkling blue water and Bruin Mountain rising to about 8,600 feet from its south shoreline. Bruin's north face holds snow well into summer, which makes the scenery look like it was poached from the Alps. Still not enough? Hike another quarter mile up and over a ridge and you're at Hard Creek Lake, another scenic gem that's about 8 acres and shaped like a peanut shell.
In case you're curious, both lakes have trout, so don't forget your fishing rod.
Getting There: From McCall, drive north on Highway 55 and turn right on the Brundage Mountain-Goose Lake Road. Keep left at the junction toward Hazard Lake and 21 miles after the junction, look for a sign on the right for "Upper Hazard Creek Trail." Turn right down a short road that leads to a parking lot and the trailhead.
Scott Marchant: Granite Mountain, Box Lake, Lava Butte Lakes
"Wildflower Pilgrimages"
Scott Marchant is a Boise-based guidebook author and landscape photographer. He is the author of The Hiker's Guide McCall & Cascade and the recently released —The Hiker's Guide Exploring Greater Boise. All of his products are available at hikingidaho.com.
The rugged mountains surrounding McCall offer an array of hiking destinations, but the best treks for me are wildflower pilgrimages. There is nothing like a wildflower-filled meadow to stir my heart. For wildflower lovers, here are three of the best trails near McCall to experience a sensational wildflower hike.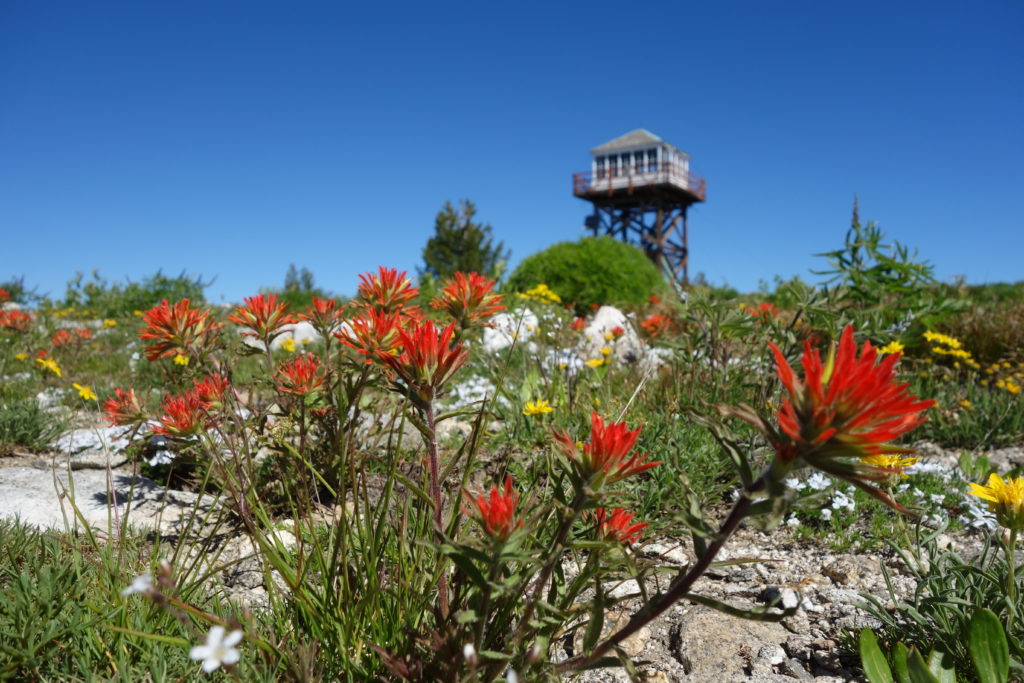 GRANITE MOUNTAIN
It is not often that I find a spectacular wildflower hike that is married with postcard views. The 2.3-mile hike (one-way) to the 8,479-foot Granite Mountain captures both themes. From the grassy meadow near the trailhead to the lofty destination, colorful wildflowers and neck-bending vistas are a constant. The eye-popping view extending over the two-mile long Goose Lake is one of the highlights along the first segment of the hike.
The last stretch of the outing climbs along steep hillsides covered with sheep sorrel, wildflowers and granite benches. The final destination, having gained 1,800 feet from the trailhead, is atop the nearly half-mile wide Granite Mountain where phlox, arnica, lupine and Indian paintbrush color the treeless mountaintop. The stunning panoramic views from the appropriately named mountain extend more than 30 miles in every direction.
Wildflowers begin their bloom in early July and usually peak towards the end of the month. Not surprisingly, there is an active fire lookout atop Granite Mountain, so please respect the occupant's privacy.
GETTING THERE: West of McCall, head north on Brundage Mountain–Goose Lake Road for 6.1 miles to a Y-junction. Bear left (FR 257) towards Hazard Lake. Continue another 7 miles and turn left for the signed Granite Mountain/Twin Lake Trailhead.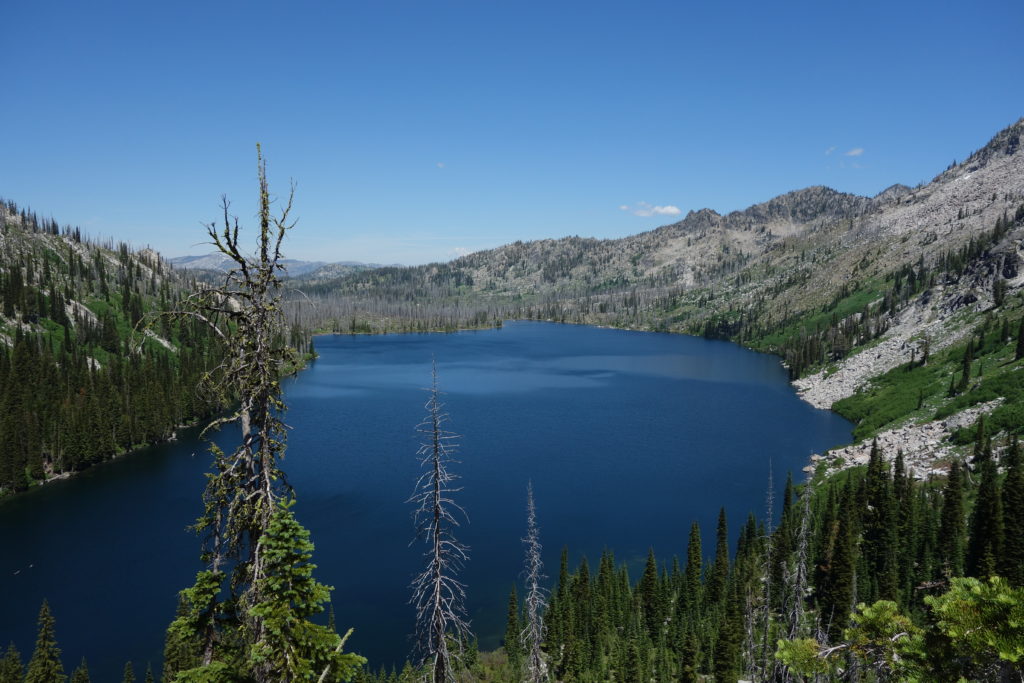 BOX LAKE
The hike to the nearly mile long Box Lake is unquestionably the epitome of wildflower hikes near McCall. Even though I have hiked this trail no less than a dozen times, I'm always amazed at the variety of colorful wildflowers including lupine, penstemon, cinquefoil, sego lily, Indian paintbrush, scarlet gilia, beargrass and a slew of others. Although the trail is steep, the trailside scenery changes frequently and always keeps me anticipating what is around the next bend. The wildflower bloom is best in mid-July, but many wildflowers linger well into August.
There is a grassy meadow bordered by steep granite slopes near the end of the hike—just before descending to Box Lake—that always takes my breath away. Pink mountain heather, lavender shooting stars and the droopy, yellow, glacier lily makes me feel like I have stumbled on paradise. Beyond the meadow, before the trail descends 400 feet, there is a spectacular vista overlooking the nearly mile-long Box Lake.
Of the three hikes, Box Lake is by far the most strenuous. It is 6 miles out-and-back with a total elevation gain of 2,200 feet. Nearly half of the elevation gain occurs in the first mile, and beyond this point, the wildflower journey is in full-bloom.
GETTING THERE: From Davis Avenue near Ponderosa State Park, turn right onto Lick Creek Road. Follow Lick Creek Road for 14.1 miles (the road turns to a dirt surface at 6.5 miles) to the signed trailhead on the west side of the road.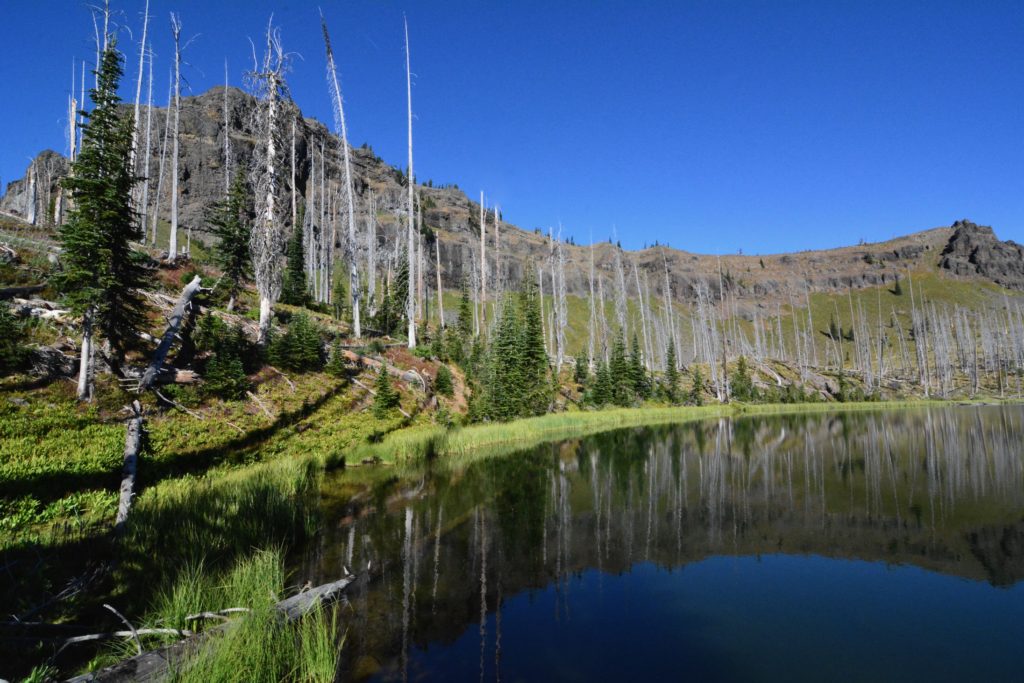 LAVA BUTTE LAKES (From Big Dave Trailhead)
Whenever I am looking for solitude, gobs of wildflowers, an opportunity to see wildlife and a stunning lake basin, I always head to the Lava Butte Lakes. Several trailheads lead to the lakes with the east Clayburn Trailhead (there is a west Clayburn Trailhead too) seeing the least amount of recreationists. It is a long drive—nearly 30 miles on a dirt-surfaced road—but the scenery alone makes this a worthy outing.
I try to time the 2.3-mile, one-way hike the last week of July or the first week of August when wildflowers are in full bloom. The narrow trail is one of my favorites for it wanders through fragrant, old-growth forest, past several creek-laced meadows and to a flower-filled knoll overlooking the lake basin. The three Lava Butte Lakes at the end of the hike are framed by grassy hillsides and gray cliffs. Total elevation gain for the hike is 850 feet.
GETTING THERE: West of McCall, head north on Brundage Mountain–Goose Lake Road for 6.1 miles to a Y-junction. Bear left (FR 257), continue north another 18.7 miles and turn right towards Elk Meadows. Continue along this road another 8.5 miles to the signed trailhead on the left side of the road.
Steve Stuebner: Bear Pete Trail
"It's all about the view"
Steve Stuebner is an avid outdoor adventurer, author, writer and Dad. He's been a part-time resident of McCall for 20 years. See more outdoor ideas on his blog, https://stuebysoutdoorjournal.blogspot.com.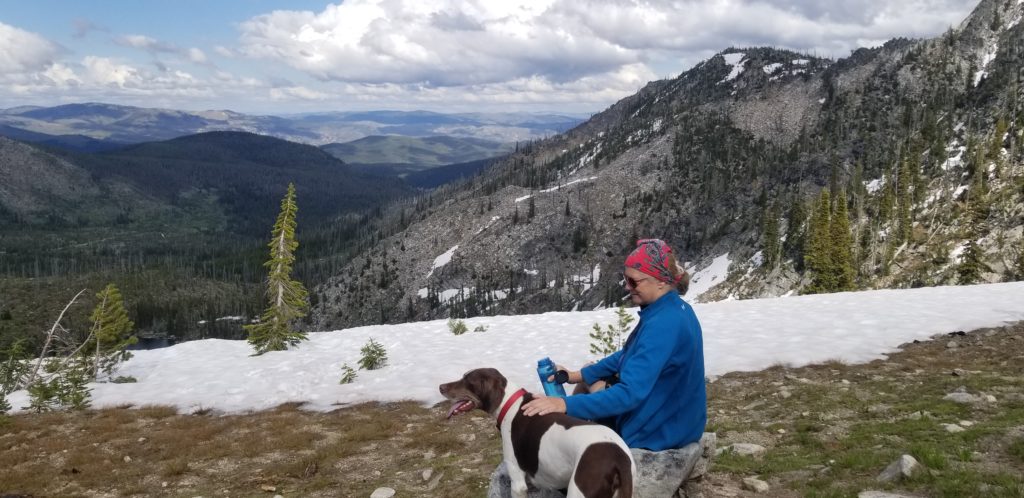 I discovered Bear Pete Trail over 25 years ago while canvassing the Payette National Forest for potential mountain bike rides. Bear Pete is known as a super-strenuous, day-long ride, but starting from Cloochman Saddle, Bear Pete Trail is actually a delightful 5.5-mile out-and-back hike to a prominent rocky peak overlooking Josephine Lake and the surrounding countryside.
Simply put, hiking is a much easier way to enjoy the trail.
In fact, the Bear Pete hike to the un-named 8,000-foot peak overlooking the lake has some of the best open views of the Payette National Forest and Frank Church-River of No Return Wilderness that you'll find anywhere in the greater McCall region. And the wildflowers are utterly spectacular. You'll feel like you're walking through a rainbow of colors on the way up and the way down.
That's part of what makes this hike so special. It features almost 2,000 feet of vertical climbing from Cloochman Saddle to the peak over 2.75 miles away, but the scenic views of the surrounding mountains go on forever on a clear day, and the wildflowers are so pretty it's hard to even notice that you're sweating.
Be sure to pack plenty of water and a lunch to enjoy the views overlooking the lake. Kids over 8 years old will enjoy this trail, and they'll probably beat you to the top.
If you catch the trail during the spring wildflower bloom in early June, you'll see white bear grass bulbs in the first mile, and then when you're climbing the open ridge on a series of switchbacks, you'll see a variety of flowers like red Indian paintbrush, white and pink phlox, and blue/purple penstemon. Often times, we encounter a few bands of deep snow on the ridge walk. That's a welcome sight for our dog, who can eat snow for a quick drink and roll in it to stay cool.
It's also a good idea to bring a pair of binoculars in case you might see a herd of elk or other critters off in the distance.
Off to the West, you'll see the forested headwaters of French Creek tumble down toward the Salmon River, the Seven Devils peaks looming above, and to the east, the Payette Crest rises impressively with snow-smothered peaks lording over the Salmon River Country. Looking back toward McCall, you'll feel like you've gone to heaven in that mountain paradise around Bear Pete.
Bear Pete was named for Pete Brockenau, according to Idaho author Tom Lopez. Brockenau was apparently famous for his bear-hunting stories.
Getting There: Take Warren Wagon Road north from McCall over 20 miles to the north. After you pass by Upper Payette Lake, watch for a signed left-hand turn for Cloochman Saddle. A higher-clearance vehicle is best for this dirt road (SUVs should be fine). Go several miles to a saddle where the road ends. The trailhead is located at the saddle by the trees.