By April Thomas Whitney
"There is no winter without snow, no spring without sunshine, and no happiness without companions."– Korean Proverb
The greater McCall area boasts an impressive 500 miles of groomed snowmobile trails, which provide access to some of the most beautiful backcountry in the world.
For some, the trails and the views are the reward. For others, groomed trails are merely an avenue to arrive at the real prize: off-trail powder in terrain that varies from meadows and frozen lakes to high-country bowls and gnarly alpine lines.
No matter which avenue one takes, being prepared is crucial. Beyond the gear and training needed to hit the trails, there's one more ingredient to an epic snowmobile adventure: your crew.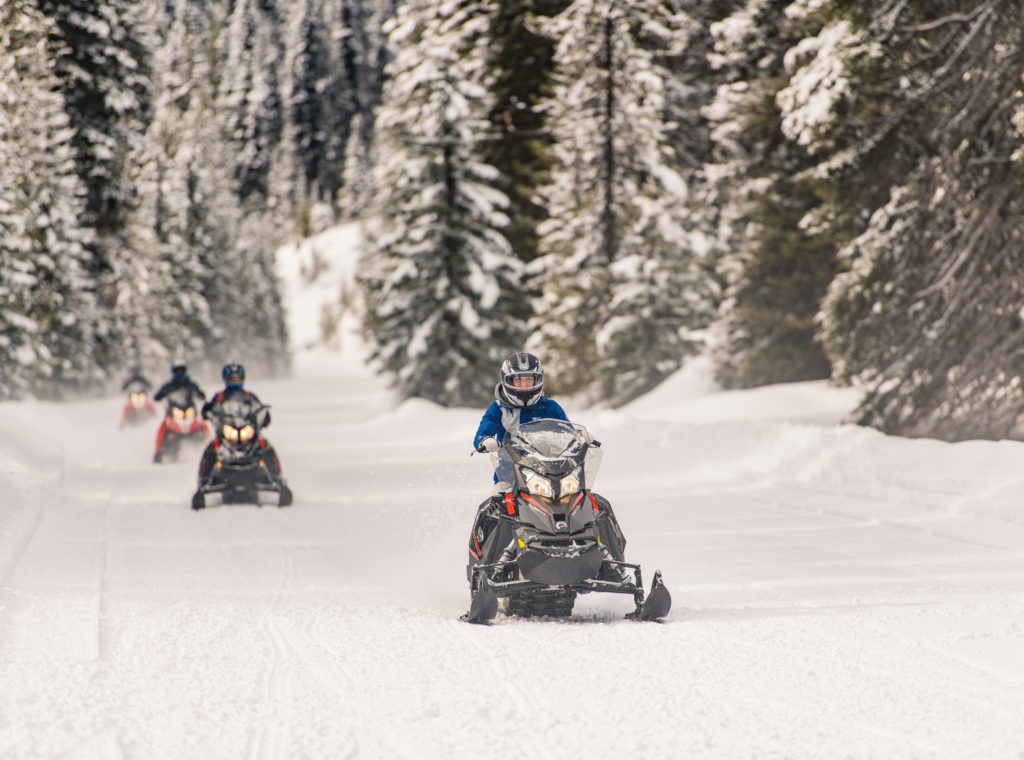 Jill Morris Chapman and Tammy McCloud spend nearly every weekend and holiday on their sleds, (not to mention a solid amount of mid-week powder chasing). The pair rides with different groups of people, but when the snow falls deep and soft, they prefer to set out with their small, core group of lady sledders who share their same goals; feed their hunger for powder, get the adrenaline flowing, but don't take any stupid chances in the backcountry.
"When we get to the parking lot, we do a beacon check and we talk about the avalanche conditions," says McCloud. "And what's everybody's comfort level?"
These sled sisters come prepared to ride hard: avalanche safety beacon, shovel and probe, plus chest protectors and shin guards. They pack enough food, water and supplies to spend the night in the backcountry, even though they've never gotten stuck past dark – yet.
Even with all the right preparations, when you're razor-focused on chasing down the freshest, fluffiest lines, it can be easy to let the pursuit of powder get in the way of good decision making.
That's why communication and trust among fellow riders is so crucial.
"Sometimes your day may start out well and then you just get into a spot that doesn't feel right," says McCloud. "You know on paper it doesn't look like it should be a bad spot, but all of a sudden the hair on the back of your neck stands up and we're like, we need to NOT be here."
"So we talk about it," says Chapman.
Maybe the visibility is bad, or the snow and slope conditions feel sketchy. Or maybe one of their friends has simply lost their mojo.
"And we'll call our friends out on it," adds McCloud. "And if someone is not feeling good, then somebody always says, 'I'll hang back or I'll take you back.'"
It took time to develop that level of confidence in their decision-making. Chapman says when she was first starting out in the sport more than a decade ago, she would just follow along with what the group was doing, even if her intuition was telling her not to.
"But now, I know what I can do, and I know what I can't do, and I have total confidence to say, 'No, I'm out.'"
Where did they get that confidence? Surprisingly, it wasn't from the guys who first introduced them to the sport.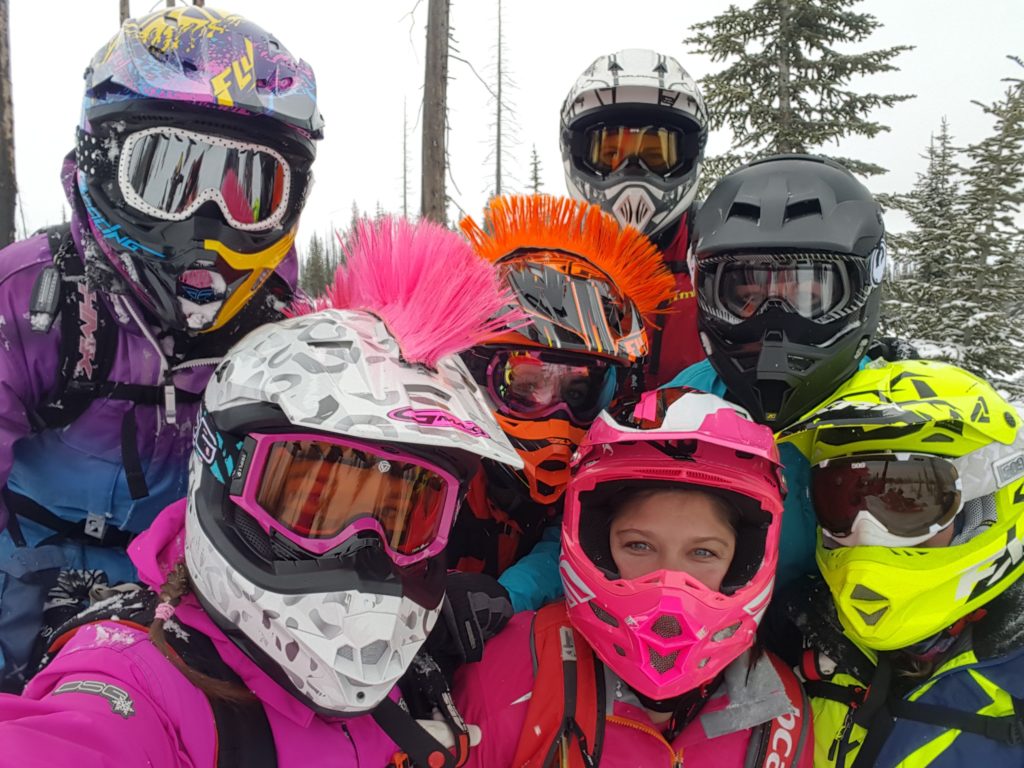 Back then, Tammy was just dating her now-husband, who asked, "How would you like to go to Halfway, Oregon for the weekend with 50 women?"
Her reaction? "That sounds like my idea of hell," says McCloud.
At that point, McCloud was GREEN. Before leaving on the trip, she needed to learn to start her own snowmobile and get the cap off to check her oil. She had never loaded her own sled into the trailer. She was reluctant, but she put herself out there and:
"It was FABULOUS."
"You gain the confidence of driving to the event knowing you can load and pull a trailer, unload by yourself, but with the support of all these wonderful women, and then learning how to check the oil, how to change a belt, how to change a spark plug," added Chapman. "We help each other do that and really support each other as women and becoming women riders and you establish this confidence that carries into your entire life."
They also learned about the importance of having the right gear, how their comfort could improve with outerwear that fit their shape, and how their riding could improve on a sled set up specifically for their size and weight.
Most importantly, the other women riders helped them learn how to RIDE like women. Women have lower centers of gravity with strength concentrated in their legs and core. Different techniques can help them use the dynamics of the female body more effectively.
"I will push the weight through from my shoulder, through my hip, down through my foot." Chapman explains. "And then turn the skis and use the motor and use the track to help turn the sled. Because if I try to muscle it all day long, I'm going to be exhausted by noon."
McCloud felt comfortable pushing herself in the supportive environment of her first women's ride. She learned new things on the snow, and she loaded her own sled into the trailer.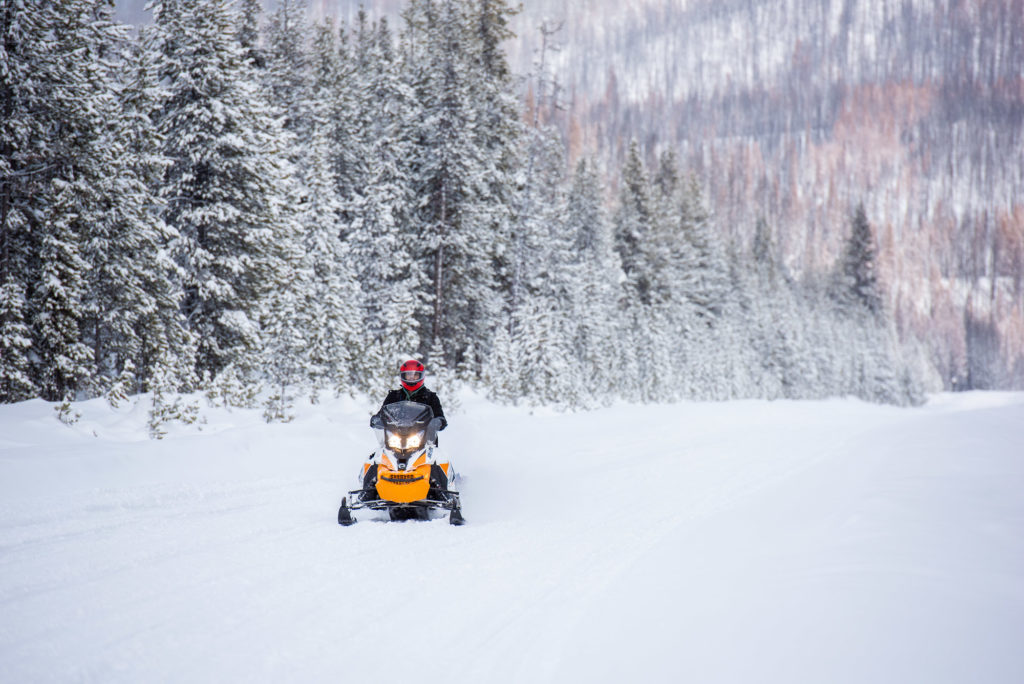 "These women were just so helpful and nobody was judgy and there was no drama and I felt incredibly empowered and confident to keep doing this sport," said McCloud.
"We have male friends that will come up and it's fabulous to ride with them because they take all the work out of it," says Chapman. "They'll just grab the rear bumper and lift it out of the hole and so and off you go."
But for women, a more deliberate, mindful approach can be more effective. Chapman and McCloud have reached expert status at a skill they call 'marmoting'. The rider sits in the snow in front of the sled, scoots under the front end and clears out, then packs down the snow with their feet and legs.
Then, they use multiple people — and their favorite accessory — to get the sled loose.
"Yeah, we absolutely use the pink straps for everything," says Chapman.
Including rescuing fellow riders they might find stuck in the snow.
"We pull out our pink straps and get to work and they're like, 'we don't get it,'" says McCloud. "And we say, 'No, no, just let us show you. Let us do what we can do.'"
Chapman says helping others is part of their tribe's code, and it extends to all experienced sledders they come across. They can't imagine not offering help when strangers need it, and they ride into the backcountry knowing other sledders would do the same.
"And when we rescue a guy, which we do all the time," adds Chapman, smiling and nodding. "We make sure to give them a pink strap."
—-
HOW TO:
Try the Sport for the First Time
Interested in snowmobiling but not sure you're ready to strike out on your own? McCall is the perfect place to start your engines with a Guided Snowmobile Tour. Two local outfitters offer guided tours. They provide the gear and experienced guides to help you explore the terrain while you learn basic skills.
Brundage Mountain Snowmobile Adventures
www.brundage.com/snowmobile – 208-315-3080
CM Backcountry
www.cmbackcountryrentals.com – 208-634-0017
HOW TO:
Level Up
Ready to build your skills and explore bigger terrain? Sounds like it's time for a riding clinic!
One of the first steps is to make sure you fully understand how to safely travel in avalanche terrain. Step two is to build your riding skills.
Avalanche Courses:
AIARE – American Institute for Avalanche Research & Education
www.avtraining.org
Payette Powder Guides
www.payettepowderguides.com/avalanche-courses – 208-634-6793
CM Backcountry
www.cmbackcountryrentals.com/riding-avy-clinics – 208-634-0017
Riding Clinics:
CM Backcountry
www.cmbackcountryrentals.com – 208-634-0017
HOW TO:
Find YOUR Pack
Join a Local Snowmobile Club:
Snowmobile clubs are a great way for trail riders to find friends and riding buddies.
McCall Area Snowmobile Club – www.snowmobilemccall.net
Donnelly Snowmobile Club – www.donnellysnowmobileclub.com
West Mountain Snowmobile Club – www.facebook.com/West-Mountain-Snowmobile-Club-188471334528612/
Cougar Mountain Snowmobile Club – www.cougarmt.com
More Club Info:
ridemccall.com/mccall-area-information/clubs-organizations
Go to Snowmobile Shows:
SnoWest has several across the west, including a Boise-area show each November
www.snowest.com/snowshows/home
Join Online Communities:
www.ridemccall.com/
www.throttlechix.com
Snowmobile Dealerships:
Walk in and ask the owners/employees (they know people!) – OR – attend a dealership Open House event
Mile High Power Sports – www.mhpsmccall.com
RedLine Recreational Toys – www.redlinerectoys.com