Payette Lake is a showstopper. More than 10,000 years ago this centerpiece in downtown McCall was carved by a glacier that left 5,330 acres of pristine water with 22 miles of shoreline. At its deepest point, Payette Lake is 392 feet deep…a perfect home for the famous (and friendly) lake monster, Sharlie. And while this stunning alpine lake can be enjoyed from a beach or dock, we also love getting out on the water for a new perspective – and new appreciation – of all this lake has to offer.
McCall Lake Cruises
Like the lake it calls home, McCall Lake Cruises' signature vessel, The Idaho, commands attention. Built in 1982, this 62-foot vessel weighs just under 50,000 pounds, earning it the award for largest vessel on Payette Lake. "We can notch that bad boy up to about five miles per hour," says Steven Lee, co-owner. "But it is definitely faster if you go downhill." Wink, wink.
The Idaho offers a unique way to get out on the water. A lake cruise is all about kicking back and soaking in the views, the people around you, and the local lore. "It is such a different experience cruising on the boat than standing on the shore," says Kelsey Parke, co-owner. That was one of the things that drew owners Kyle and Jade Enzler, Steven and AJ Lee, and Ryan and Kelsey Parke to the business. Having taken the reigns of McCall Lake Cruises from Brett and Doris Armacost in 2022, they are excited to continue the legacy built by the Armacosts and make seeing Payette Lake from the water accessible to all.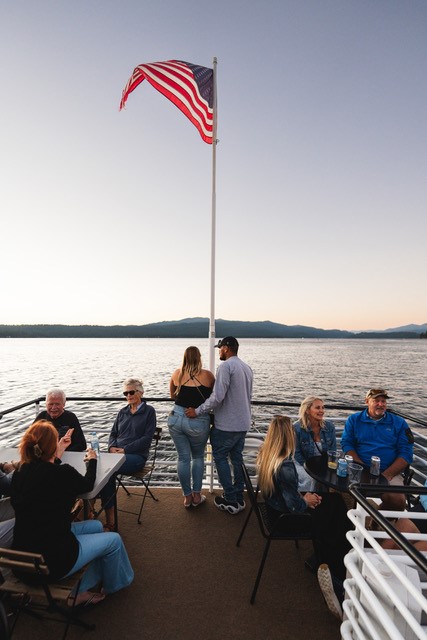 "We love the easy access a lake cruise offers to the water," says Ryan. "You may not want to rent and drive your own boat or have the time to commit to a full day on the lake." This is when a lake cruise is a perfect choice. "It is great for all ages," he says. "It is low risk, it is low impact, it is relaxed, and it is fun!"
Each cruise lasts about 90 minutes and can accommodate up to 65 people. "We do two or three cruises seven days a week from May until about the middle of September, depending on water levels," says Steven. Midday cruises are full of local history and fun facts as told by the experienced staff. Sunset cruises often have music – sometimes live music – and more of a happy hour vibe. "One of the best things we see happen no matter what time of day you cruise is watching people get on the boat as strangers and leave as friends," says AJ.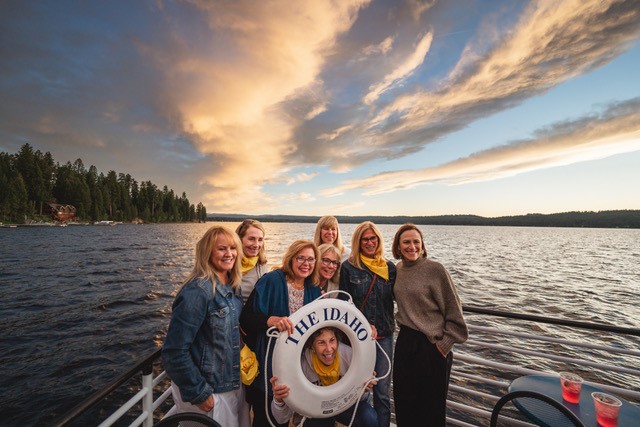 In addition to daily public cruises, McCall Lake Cruises also offers private charters for weddings, graduation parties, retirement parties, birthday parties, business events, and more. "It makes a great venue," says AJ. "The scenery, the camaraderie of a group experiencing something fun and new together really makes it unique."
McCall Lake Cruises offers a full bar onboard as well as local and domestic beer and wine selections. Snacks are also available for purchase. Private charters can work with local catering companies and restaurants to host more robust food offerings. Guests at the Scandia Inn, Nordic Inn, or JASK rental properties can enjoy 15 percent off cruise tickets. To book a cruise or reserve a private charter, visit mccalllakecruises.com.  
Payette Pedal Party
If you have spent any time in McCall in the summer, you know that there is just something special about being around the water. The lake makes memories that last a lifetime. For Sarah Lenda, owner of Payette Pedal Party, that feeling you get on the water is something that has stuck with her. "Growing up here, I worked at a lot of places in McCall, but I loved working summers at Mile High Marina," she says. "There is just something really special about McCall in the summertime. This is where my heart is and I never want to spend the summer months anywhere else."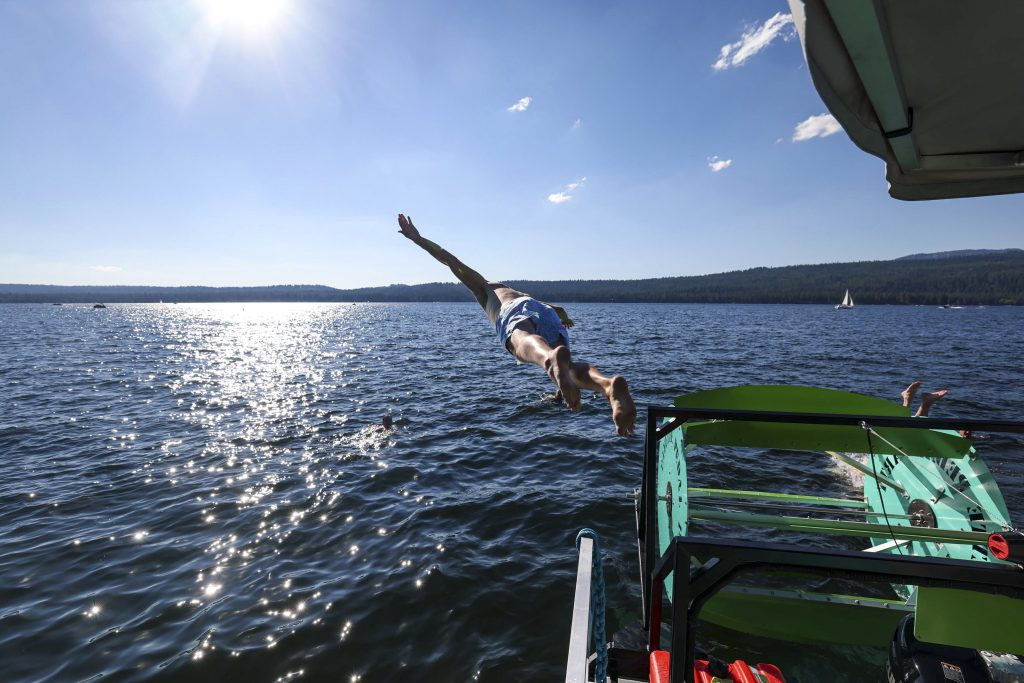 After college, Lenda was on a trip with some friends when they went on a pedal boat. "We just had the best time," she says, "and afterwards that experience really got me thinking about how great this could be on Payette Lake." She knew there weren't a lot of charter options on the lake and felt that a pedal boat would be a great addition to add to the mix. "I am really offering something a little bit more intimate," she says, "but with a Jimmy Buffet kind of vibe."
So, she commissioned a boat, got her captain's license, and launched the Payette Pedal Party in the summer of 2022. Each tour is two hours long and can take up to 15 guests. Ten pedal stations with comfy beach cruiser seats surround a bar top and there is space up front to sit and lounge if you just want to relax and enjoy the ride. "Pedaling is fun, for sure," says Lenda, "but we have a motor on the boat to help you out when needed."
Payette Pedal Party runs public cruises daily, but you can also charter the entire boat. Both options give guests the freedom to choose what they want to do while on the water. "Some people just want to do an easy cruise," says Lenda. "Others really want to stop at a public dock and jump in the water." And both are possible! And however you choose to pedal party, the experience is one-of-a-kind. "It can be a booze cruise with a designated driver, a fun family outing." she says. "You get to make each cruise your own." And do it together. "It is great because there is also an element of teamwork. It is a lot of laughs and a lot of joy."
With Bluetooth on board, ice for bring-your-own beverages and food, and an experienced crew to take you around the lake, the only thing left is to sit back and enjoy. "It is a really unique way for friends, family, perfect strangers to get together and just enjoy each other's company," says Lenda. "It's something different, and whether you are a kid or an adult, it's a kind of activity that everyone can do." And as a bonus, if you have a home or are renting a home on the lake with a dock and charter the entire boat, the Pedal Party can pick you up!
This summer look for fun events like beer and wine tasting along with the regular line-up of public cruises and private charters. Visit payettepedalparty.com to make a reservation and see what events are in the works.
The Payette Pedal Party is currently the only pedal boat of its kind in Idaho and operates from Memorial weekend through Labor Day weekend. "My hope is that this becomes something that is an engrained part of McCall's summer culture," says Lenda. "If you are in town, the pedal boat is just something you have to do before the summer ends."
Valley Wake Charters
Kerry Lofy has been on the water most of his life. From waterskiing and wakeboarding growing up in Wisconsin, to surfing in California during his college years, to teaching wake surfing on Lake Tahoe, there isn't much water he hasn't mastered. And now Lofy and his wife call Donnelly home, bringing their knowledge and expertise to Idaho to share their love of watersports with Valley Wake Charters.
"There is something really cool about surfing in the middle of land-locked Idaho," says Lofy. "To get a surfing experience without having to be in an ocean, battling other people and sharks and cold and swells is pretty amazing." In 2022, he and his wife started Valley Wake Charters, offering not just surfing lessons but waterski and wakeboard lessons, as well as an option to book a chartered trip for anyone wanting to get out on the lake with an experienced boat driver.
"We have a lot of people who want to get out on the water and learn to surf," says Lofy, "but we have just as many people who simply want a chartered boat for a sunset cocktail cruise." And Valley Wake Charters does it all. Two-hour, four-hour, sunset, sunrise…any hour on the lake is an hour well spent. They are also able to provide charters on both Payette Lake and Lake Cascade.
This season they are hoping to expand by offering teen wakeboard and wake surf camps. They also offer a "Women's Wednesday" open to only the ladies. "My wife drives the boat, and it is great because it feels less intimidating," he says. "It is a great way to enjoy the sport in a relaxed atmosphere."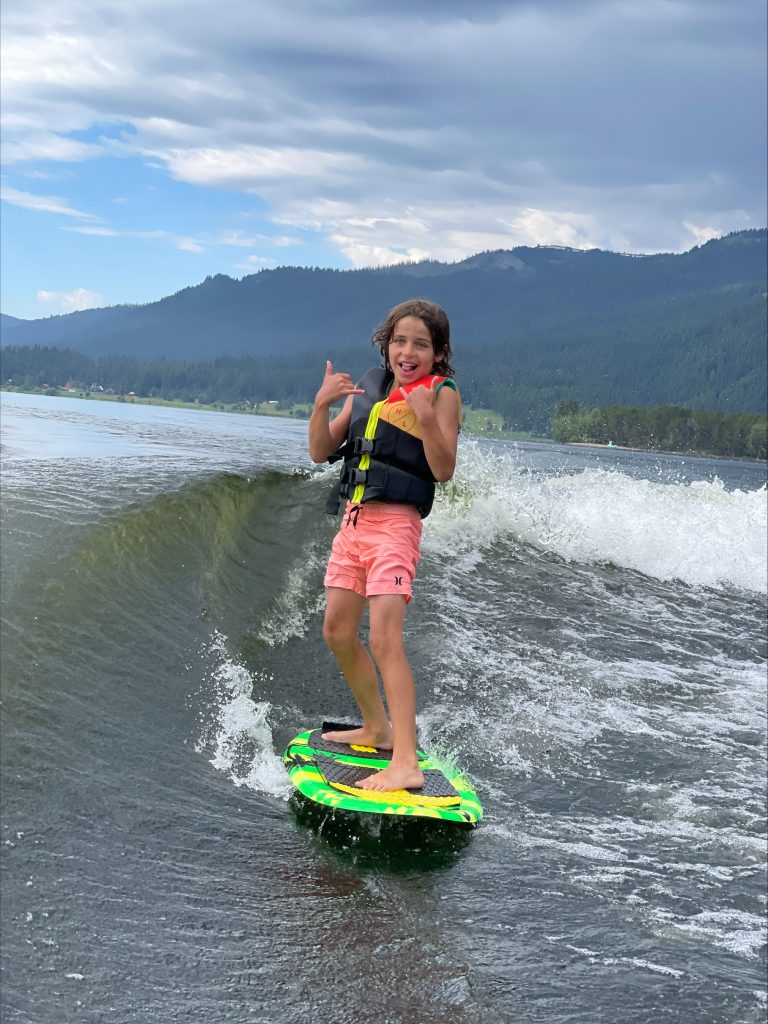 Whether they are teaching lessons or just cruising the water, the one thing that is always top-of-mind is respect for the lake. "We know there is a stigma about wake surfing," says Lofy, "and we take our responsibility as educators and experienced recreationalists seriously." Lofy has his captain's license from the U.S. Coast Guard and has certifications in boater safety. "Part of what we do is demonstrate how to responsibly enjoy these fun activities," he says. "We know the local rules and regulations, we know where the no-wake zones are, we surf in the middle of the lake rather than close to shorelines and docks." Lofy says on top of people wanting watersports lessons, he also works with clients to show them how to operate their private boats safely on the water.
One of the best things about booking a lesson or charter is that everything is included. Lofy says they provide all of the top-of-the-line equipment and lifejackets, plus your very own boat and driver. "Just come with your swimsuit ready to have a great day on the water."
To book a session with Valley Wake Charters, visit their website at valleywakecharters.com.