"It is a completely different perspective," says Morgan Fuller, Director of Guest and Recreational Services at Tamarack Resort. "Seeing the mountain, the valley, everything from above is so different than what you get from the ground."
The Zip Line Tour at Tamarack Resort is a unique opportunity you won't find just anywhere. "There is something about trusting the line to hold you," says Fuller. "It sounds a little dramatic, but it really is a way of 'letting go' and giving yourself over to the experience."
Tamarack's thrilling, action-packed zipline tour includes eight zip lines and two suspension bridges covering 3,500 feet of stunning mountain terrain. Fly over creeks, canyons, and forest while enjoying stunning views of Lake Cascade and the valley below.
Each tour starts at the Services Building where you get to meet your knowledgeable guides and other members of the group tour. Up to eight guests go on each tour and Tamarack runs about six tours per day.
After orientation is complete and the gear is distributed, the group jumps on the Tamarack Express to start the tour. While some zip line tours are just that, zip lines only, Tamarack's tour includes almost two miles of trail hiking. "The great part is that it is all downhill," says Fuller. "Sometimes it is just 100 yards between lines, but in other sections there is a good half mile between zips."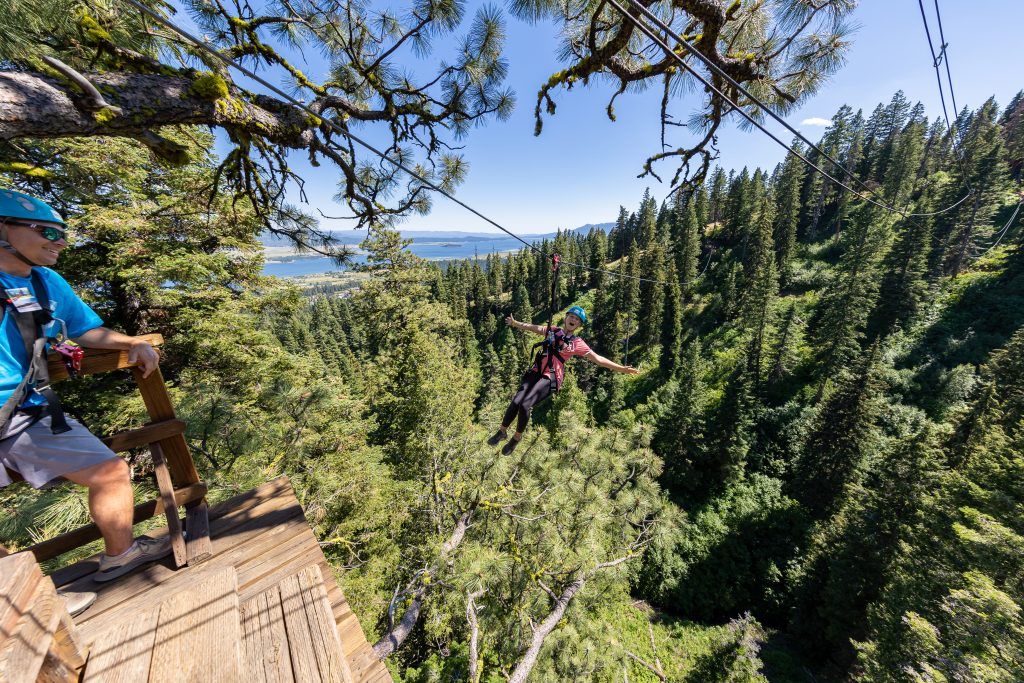 Lines one and two are designed to get guests comfortable with ziplining and run a bit lower and slower than their subsequent counterparts. The third line starts on a platform and ends on a platform. "This tends to be the first true test of wills, says Fuller. "There is the great, suspenseful build-up before stepping off a ledge and letting the line zip you across the mountain."
Lines four, five, and six are the longest with incredible views as you traverse over Serenity Canyon. Line five is especially scenic, landing you at the top of a Ponderosa Pine. "That one is always a thrill," says Fuller. "It doesn't matter how many times you do it!" Line seven is the fastest topping out at speeds of 30 to 35 miles per hour before taking you to the idyllic eighth line. For the last zip, guests start along a suspension bridge that leads to a platform. The line takes you over a creek with little waterfalls before landing on another suspension bridge.
And along the entire tour are wonderful, experienced guides to entertain you (and keep you safe) along the way. "This isn't an impersonal tour where we just help you off a platform," says Fuller. "Our guides make it a true experience and for a few hours, everyone is immersed in the tour…and terrible guide jokes." Tamarack's zip line guides aren't just knowledgeable when it comes to the equipment and infrastructure, they also offer a wealth of knowledge on local flora, fauna, and recreation. "We are usually picking berries along the way, smelling Ponderosa Pines (they smell like vanilla or butterscotch depending on who you ask), talking about what everyone is going to do later that day or later that week and offering local tips and recommendations," says Fuller. But underneath all the fun is a solid serious side that puts safety first. "In between jokes," says Fuller, "our job is to help people. Not just with equipment, but a lot of what we do is help people push past their fear and really have fun doing something new."
Fuller says there is not much better than seeing a guest start out a bit timid or unsure about going on the first zip to hooting and hollering down the mountain having the time of their life. "There is a lot of teamwork, a lot of camaraderie, and some relationship building happening on every tour," she says. "I've seen friendships cultivated on a tour, people overcome their fears on a tour…it is really an amazingly fun job."
Want to book a tour? Visit tamarackidaho.com to make your reservation. Tours tend to fill up fast on the weekend, but Tamarack runs their zip line tours from the last week in May (weather dependent) until the snow flies in the late fall so there is ample time to find a tour that works with your schedule. One note: the zip lines do have a pretty precise height and weight requirement. Guests must be between 85 and 260 pounds and clock in at under 6 foot 10 inches tall. For questions, you can call the Resort at (208) 325-1000 or visit tamarackidaho.com.