There are not many things better than a hot, hearty bowl of soup after a day in the snow. Except, perhaps, a soup that includes our delicious hand-crafted beer. We asked our three local breweries for a soup recipe to warm us up on a cold winter day…and a craft brew pairing to enjoy along with it.
Broken Horn Brewing's Jalapeño Chowder
Beer Pairing: Hells Canyon Jalapeño Beer – 5.5% AVB, 25 IBU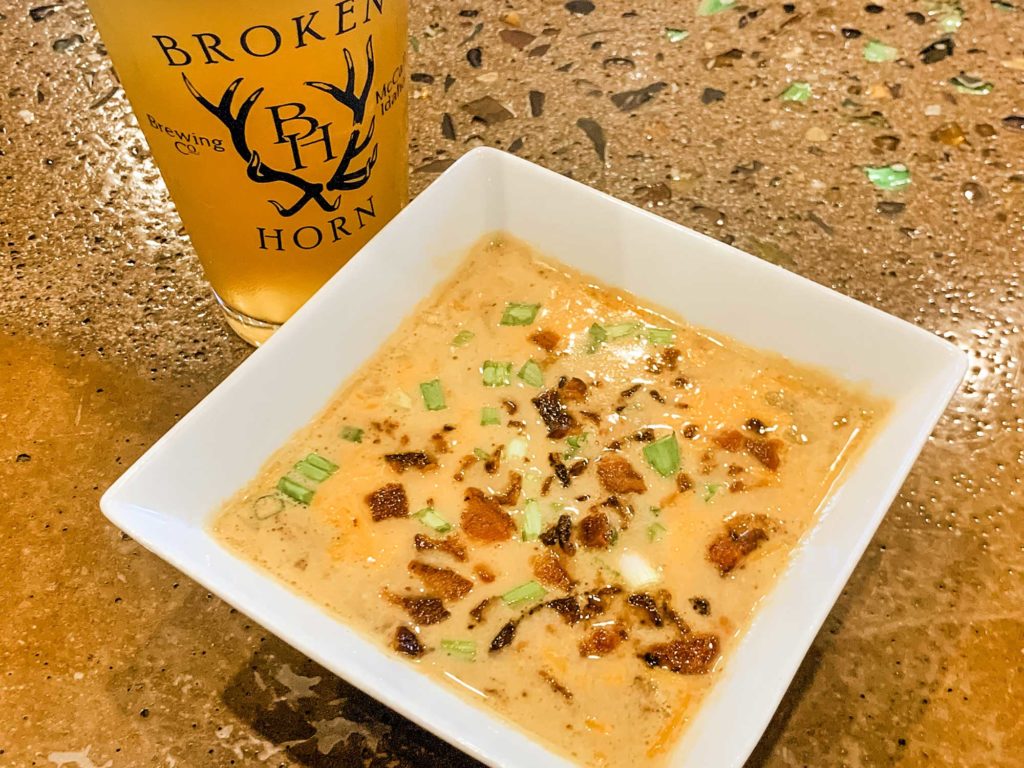 Ingredients:
1lb bacon, cooked and crumbled
1 small onion, diced
1 cup celery, diced
1/2 cup carrot, diced
1/2 cup mushrooms, thinly sliced
1/4 jalapeño, finely diced (more for added heat)
2 cups red or yellow potatoes, cubed
1 can corn
2 cups whole milk
½ of a 750ml can Hells Canyon Jalapeño Beer
32 oz chicken broth
1/2 cup green onion sliced
1 cup shredded cheddar cheese
Directions:
Fry bacon until crispy. Crumble and set aside. Keep 3 tablespoons of bacon grease. Add bacon grease to large stock pot and sauté over medium heat onion, celery, carrot & mushrooms. Once onion is translucent add chicken broth and beer. To that add potatoes and jalapeños. Simmer until potatoes soften. Mash some of the potatoes into the broth using a potato masher. Next add corn and milk and simmer on low until hot. Serve topped with shredded cheddar, green onions and bacon crumbles.
Salmon River Brewery's Hearty Chili
Beer Pairing: Night Beaver – 6.5% ABV, 28 IBU, Chocolate Oatmeal Stout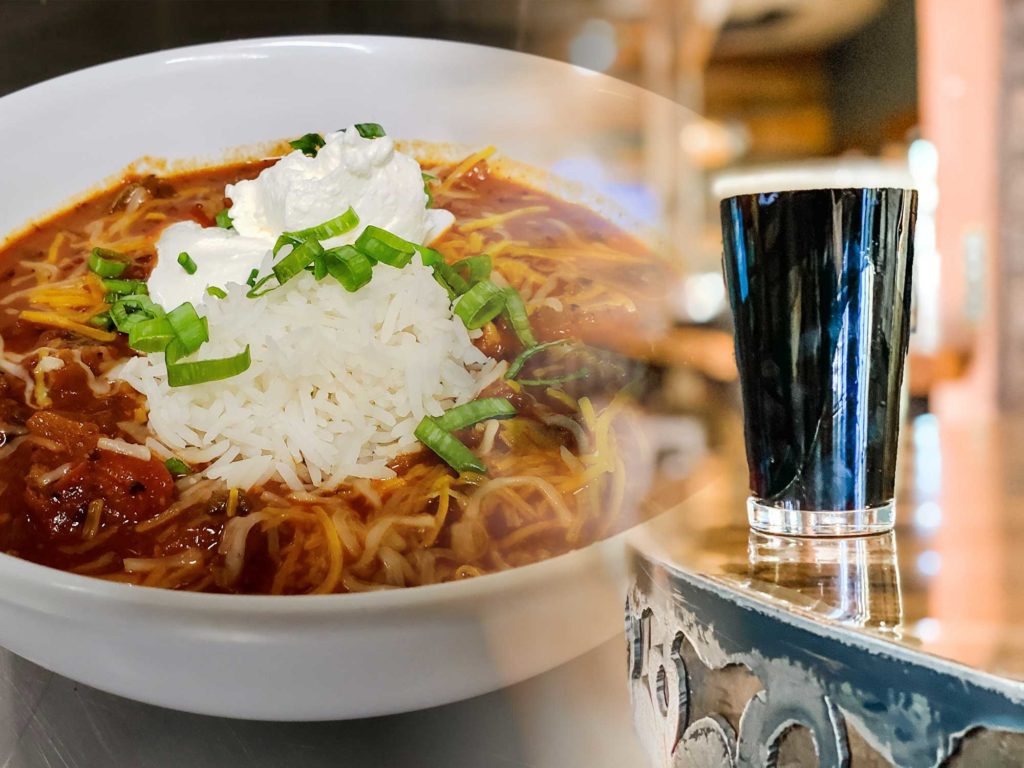 Chili Ingredients:
¼ cup bacon fat
2 lb elk (ground or stew meat)
2 lb bison (ground or stew meat)
2 lb beef (ground or stew meat)
2 each onion,  diced
¾ lb poblano chilis, seeded and diced
2 jalapenos, minced
3 Tbsp garlic, minced
3 Tbsp chili powder
3 Tbsp paprika
1 Tbsp cumin ground
1 Tbsp dry mustard
1 tsp cayenne pepper
1 Tbsp oregano
2 tsp black pepper
1 Tbsp salt
2 tsp tabasco
7 x 28 oz cans peeled tomatoes
1½ cup guajillo chili sauce (recipe below)
16 oz Udaho Gold
2 qt chicken stock
1 pt black bean puree (recipe below)
Guajillo Chili Sauce Ingredients:
4 each guajillo chilis, stems removed
4 each corn tortillas fried
1 Tbsp chopped shallots
1 Tbsp chopped garlic
1 qt chicken stock
1 tsp oil
salt & pepper to taste
Black Bean Puree Ingredients:
2 each 15 oz cans black beans
1 small onion, diced
1 Tbsp garlic, chopped
1 Tbsp shallot, chopped
2 stalks celery, chopped
½ lb bacon, chopped
salt and pepper to taste
Directions:
Prepare the Guajillo Chili Sauce:
Sweat garlic and shallots. Add chilis, sauté 10 minutes. Add chicken stock, bring to boil, reduce to simmer. Cut or tear tortillas, deep fry crisp, add to sauce. Simmer 45 minutes or until chilis turn bright color. Blend in blender or food processor until very smooth. Pass thru large mesh strainer. Set aside.
Prepare the Black Bean Puree:
Brown bacon in a large pan. Add shallots, garlic, onion and celery, sweat until soft. Add beans (with liquid in can). Bring to a boil, lower the heat and simmer 30 minutes. Puree in blender then set aside.
Prepare Chili:
Brown meats in oven. Sautee onions, garlic, chilies, and jalapeños in fat until tender. Add dry spices, hot sauce and tomatoes, cook 20 minutes. Add chicken stock, beer, guajillo sauce, black bean puree, and meat. Simmer 90 minutes until meat is tender. Dish into bowls and serve with your favorite toppings (cheese, sour cream, green onions, rice, etc.).
McCall Brewing Company's Beer Cheese Soup*
Beer Pairing: Wobbily Man Smoked Scotch Ale – 7.2% AVB, 30 IBU, Traditional Scotch Ale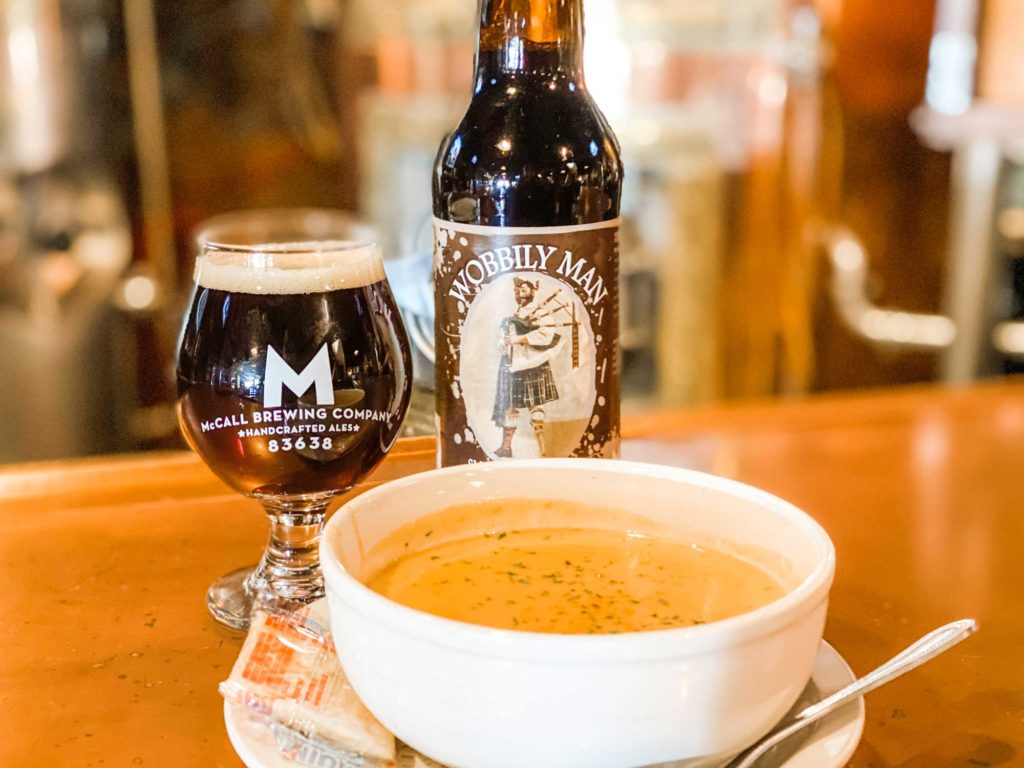 Ingredients:
1 large onion, peeled and chopped
2 cloves garlic, minced
1 Tbsp butter, or bacon grease
24 oz beer (for a lighter soup, try the Kilowatt Kolsch or for a deeper flavor, try the Wobbily Man Smoked Scotch Ale)
32 oz chicken broth
14 oz shredded cheese (sharp cheddar, smoked gouda – anything will work!)
14 oz low-fat cream cheese, cut into cubes
2 Tbsp cornstarch, or arrowroot powder
2 Tbsp Dijon mustard
2 tsp Worcestershire sauce
Garnishes: crumbled bacon, and chives
Directions:
Set a large sauce pot over medium heat. Add the butter, onions, and garlic, and sauté for 3-5 minutes. Scoop the softened onions into the food processor (or blender) and add one cup chicken broth. Puree the onions and broth until completely smooth.
Pour the onion mixture back into the sauce pot and add the remaining broth and beer. Bring to a boil, then lower the heat.
Toss the shredded cheese with cornstarch. Add the shredded cheese, cream cheese, Dijon mustard and Worcestershire to the broth. Whisk to melt the cheese and break up the cream cheese cubes. Whisk until the soup is completely smooth and slightly thickened, about 10 minutes. (Do not boil the cheese! Lower the heat if needed.)
Taste, then salt and pepper as needed. Serve as-is, or garnish with bacon and chives if desired.
*This recipe will get you close to the delicious beer cheese soup at McCall Brewing, but it is not the exact recipe. Some secrets must remain safe!