The big kahuna. Hands down, learning to ski as an adult is met with the most resistance. Watching little kids fly down the hill with no fear certainly doesn't help lessen the intimidation factor. A 5-year-old definitely isn't thinking about insurance premiums as they bomb through the trees. But getting the nerve to step into a pair of skis pays dividends in the winter fun department.
Colleen Morishita is the Assistance Snowsports Director at Brundage Mountain Resort and while instructing is now her full-time job, she didn't learn to ski until she was 30. "I wanted to learn just to keep up with my kids, but because of taking that chance and learning to ski, I completely changed my life," she says. After one lesson she says she was hooked, and it was all downhill from there (pun intended). The next year she joined the ski school and traded in her office job and high heels for ski boots and instructing.
So how did she take that initial leap and face the bunny hill at 30 years old? "First of all," Morishita says, "there is no shame in the bunny hill!" It is where everyone learns. And after years of instructing, she has found that the key to overcoming first-time skier nerves is all about falling. "You have to know that you are going to fall and be okay with that," says Morishita. Which is hard. "As adults we tend to avoid falling at all costs but with something like skiing, falling is unavoidable and that can be hard to adjust to," she says. Just know that you won't be alone. Between 30 and 40 percent of lessons given at Brundage are for adults. And lessons really are the best way to learn.
"I had a great instructor once tell me that there really is no wrong way to ski," says Morishita, "but there are techniques we teach that help people ski more efficiently and that usually means they can ski longer and have a lot of fun doing it." Private lessons are a great way to get introduced to alpine skiing. Instructors start with the basics – from getting your equipment on an off to pro tips like not tucking your pants into ski boots – then progress at the pace of the student.  "One of the very first skills we work on is stopping," says Morishita. "Being able to stop gives you so much confidence!" From there it is building one skill after another until what was intimidating feels easy.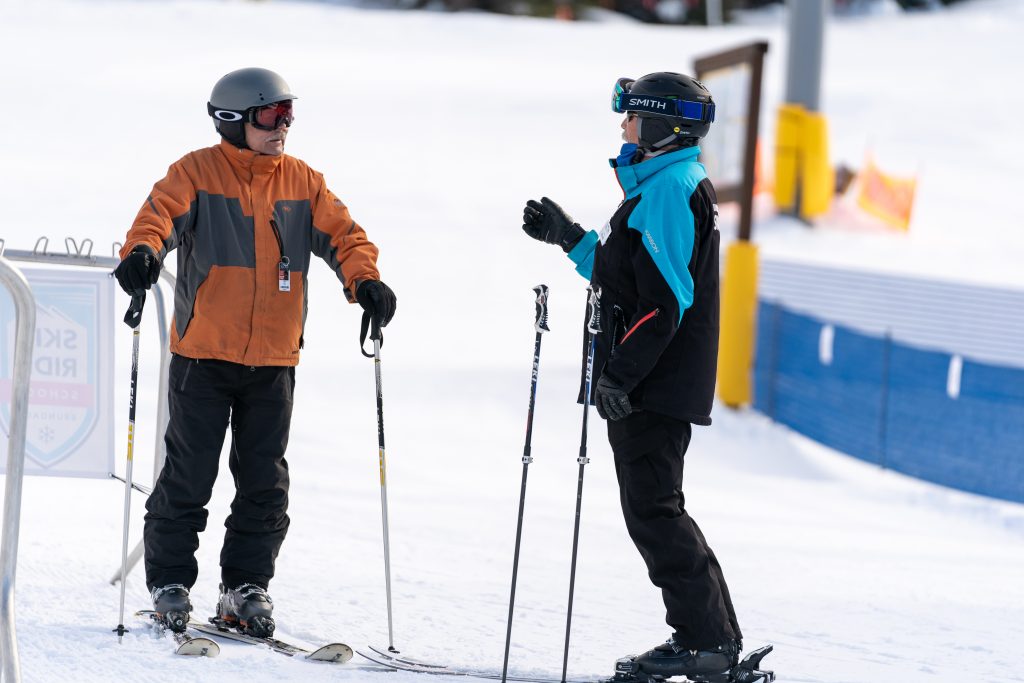 After you have booked that lesson and taken a first run down the bunny hill, the next challenge is equipment. Like a lot of other winter sports, skiing comes with some pretty specific, and sometimes expensive, equipment requirements. "My best advice for anyone starting out is to either rent equipment or do a seasonal equipment lease," says Morisihita. This gives you an opportunity to "try before you buy" and test out different options before you commit to any equipment investment. But if you want to buy something, start with ski boots. "Boots are the best investment you can make," says Morishita. "Everything else is interchangeable, but if your boots are uncomfortable, you won't have a good time." Even better, get your boots professionally fitted at Home Town Sports, McCall Sports or Gravity Sports for a customized, perfect fit.
Pro Tip:
Lessons aren't just for newbies. "As soon as you feel like there is something you aren't able to do or if you are sore when you shouldn't be or feeling exhausted after three runs, it's time to take a lesson," says Morishita. Don't wait. An instructor can help you continue learning and progressing so you can keep enjoying the sport. And as Morishita points out, "Michaela Shiffrin still has a coach!" You can, too.
Find a Lesson
Brundage Mountain Resort (Brundage.com)
For adults looking the learn, schedule a private lesson with an instructor or choose from one of the specialty lesson packages including the 50/50 Club and the 4×4 Learn to Ski + Ride program.
50/50 Club: geared toward skiers and riders over the age of 50(ish). Sessions are held once a week for a six-week period and include a 90-minute lesson.
4×4 Learn to Ski + Ride:  A multi-day program for beginners of all ages. The package includes four days of private lessons, four days of ski or snowboard rentals, four days of lift tickets…and at the end of your fourth session you get a season pass.
Little Ski Hill (payettelakesskiclub.org)
While this gem is best known for its After School Program teaching kids how to rip down the slopes, the Little Ski Hill also offers private lessons by the hour for all ages and abilities. Book an alpine lesson online and ride the T-bar to the top for one of our favorite experiences in the area.
Tamarack Resort (tamarackidaho.com)
Get paired with one of Tamarack Resort's certified instructors for and Adult Beginner or Adult Advanced Clinic. Each option is offered Fridays through Sundays plus holidays. Each clinic is an hour and half long to get you out on the snow then give you time to practice your new skills after the lesson. Rental options also available!