Find new adventures outside the McCall city limits!
DAY TRIP#1: DONNELLY
The population sign in Donnelly may only read 125, but make no mistake, this friendly community has much to offer. Near Donnelly you can see baby deer at the Black Pine Deer Farm, visit the historic community of Roseberry, get out on beautiful Lake Cascade at the Tamarack waterfront, and enjoy scrumptious food at Cougar Dave's.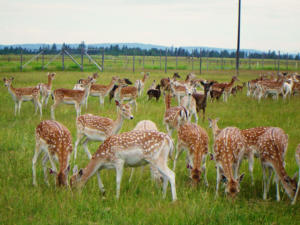 Black Pine Deer Farm
Whitetail deer may be the resident townies of McCall, but to the west of Donnelly along the idyllic Farm-To-Market Road, you can get up close and personal with European Fallow deer. These small deer are about the size of a typical whitetail fawn, complete with white spots. Experience a little slice of country life at the Black Pine Deer Farm, a "mom and pop" operation specializing in breeding deer for venison, hides, and antlers for almost 20 years. Farm tours are available from mid-May through Labor Day and are a great opportunity to learn about and to interact with these adorable creatures. Reservations with at least 24 hours notice are required as this is an active, working farm!
Historic Roseberry
From the Black Pine Deer Farm, continue making your way along Farm-to-Market Road to the townsite of Roseberry. Founded in 1888, Roseberry in its prime had a hotel, two blacksmiths, two general stores, a restaurant, a creamery, butcher shop, and a mill. When the railroad was established only a couple of miles to the west in present-day Donnelly, most of Roseberry's population and commerce relocated, too. Today, you can visit the town and tour more than 20 historic structures that make it easy to imagine life as it was in Valley County a century ago. We recommend making the Valley County Museum your first stop in Roseberry. The museum is open from Memorial Day to Labor Day, Friday through Sunday from 1 pm – 5 pm. Every July, Roseberry hosts the popular Summer Music Festival and celebrates the end of summer with an annual ice cream social over Labor Day. Roseberry is also a fabulous venue for a wedding!
Lunch at Cougar Dave's
Soaking up the local history can work up an appetite. Load the kids back in the car and head west on Roseberry Road to Donnelly for a delicious lunch at Cougar Dave's. Named after Dave Lewis, a hunter and trapper from the area, Cougar Dave's serves up tasty local favorites. You can't go wrong with their locally-sourced bison burger and large, golden steak fries. Interested in the lighter fare? Choose their steak salad tossed with fresh spring greens, pomegranate dressing, feta cheese and sundried tomatoes.
Tamarack Waterfront
Rubbing your bellies from a savory meal at Cougar Dave's, hop back in the car and head west to Tamarack Resort's Waterfront Cabana. The Cabana is located at the Poison Creek boat launch. The boat launch is part of the Idaho State Parks so be sure to use your Idaho State Park Passport sticker to waive this fee. You can also park at the Tamarack Resort Aspen Parking Lot for an easy two-minute walk down to the water. At the waterfront, choose from dozens of fun-ready items including stand-up paddle boards (SUPs), tandem kayaks, a wake boat, or a luxury pontoon boat that can easily accommodate a large group. If you are feeling extra adventurous try the Hobie Tandem Island Sailboat. Calm and uncrowded Lake Cascade delivers nearly 50 miles of warm water and scenery to explore.
On your way out to Tamarack, there is also Mountain Meadow Adventure Rentals at the Tamarack Falls junction. Choose from jet skis, paddle boards, UTV's and kayaks.
---
Add an Overnight Stay: Keep the fun going at Tamarack with a stay in one of the beautifully appointed cottages, townhomes, chalets, or hotel suites at the Resort. Visit tamarackidaho.com for pricing and reservations.