Find new adventures outside the McCall city limits!
DAY TRIP#4: BURGDORF
From the southern end of Payette Lake, you can see impressive granite peaks to the north. Beyond those mountains are millions of acres of wilderness and history just waiting to be explored! This day trip provides some easy, accessible options to exploring that wilderness with a scenic hike to Josephine Lake, a swim at historic Burgdorf Hot Springs, and a visit to a special peak made entirely out of quartz.
Josephine Lake Hike
Start your adventure on Warren Wagon Road, just north of Shore Lodge. Traveling west along this historic road will take you past nostalgic cabins on Payette Lake, past beautiful North Beach, along the North Fork of the Payette River, past Upper Payette Lake, and beyond Secesh Summit. Three miles after the summit, take a left on Forest Service Road 316, marked "Josephine Lake." The road to the trailhead is a bit bumpy so a vehicle with good clearance is recommended. The hike to Josephine Lake is easy and family-friendly, with just under a mile to walk each way. Greeting you at the end of the hike is a stunning 13-acre lake that hugs an impressive granite cirque at 7,400 feet above sea level. If you felt like fishing, be sure to make a stop at Ridley's Market before you leave town. Here you can pick up poles, tackle, and a fishing license in the store's outdoor section. You don't have to fish at Josephine Lake, but let's face it, nothing beats the joy on a kid's face after catching a fish with their Barbie or Batman pole.
Burgdorf Hot Springs
Follow your scenic hike to Josephine Lake with a relaxing soak at Burgdorf Hot Springs. Leave the trailhead and continue north on Warren Wagon Road to the well-marked Burgdorf Junction. Turn left onto French Creek Road and travel approximately 2 miles to the hot springs. Established in the 1860s, Burgdorf is a step back in time and an ode to the gold mining era. Present day, Burgdorf is still simple and rustic, but that is why we love it! Managers Caroline and Jim are exceptionally nice folks and are happy to fill you in on the history and the Burgdorf experience. The main pool is perfect for relaxing, but if you are feeling exceptionally brave, try soaking in the "crab pots;" the original small pools right at the mouth of the geothermal springs. But be warned…these pools top out at an impressive 113 degrees. Swims are $8 for adults and $5 for kids 17 years and younger. Clean towels and suits are available for rent if a few family members arrive unprepared to swim. Pool hours are from 10 am – 8 pm daily.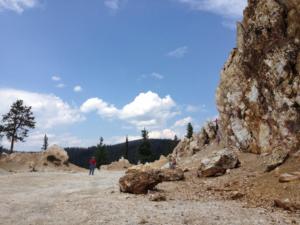 Crystal Mountain
Quartz has long been known as a healing mineral that can amplify energy and thought. We aren't sure if you will find total clarity by visiting Crystal Mountain, made of stunning white, yellow and pink quartz, but we are sure you will love this unique place. Crystal Mountain sits just above Burgdorf and is accessible by car or by foot with an easy hike. To drive to Crystal Mountain, turn right out of Burgdorf onto French Creek Road and take your first right at Forest Service Road #247.  Like many dirt roads in the area, it can get a bit bumpy so high clearance vehicles are recommended. Feel like stretching your legs? Remain parked at Burgdorf and walk up the road to Janette Campground. At the end of the small campground is a shaded, kid-friendly trail. At the top of the trail merge with FS Road #247 and follow a short distance to your destination. Hiking to Crystal Mountain is definitely our favorite way to get there. As you hike, the geology changes beneath your feet and the quartz rock are reminiscent of following a golden road to the stunning, jagged peak of Crystal Mountain.
---
Add an Overnight Stay: We can't say enough about the delightfully rustic cabins at Burgdorf Hot Springs. Built more than 150 years ago, these simple log cabins offer a unique experience the family will love. Visit burgdorfhotsprings.com for pricing and reservations.