You don't need to be a gravity hound to get active outdoors in McCall. The area has plenty to offer those who prefer to recreate on less precipitous surfaces. Before you head out for a day of Nordic skiing, snowshoeing, or fat biking, you'll want to make sure your human fuel tank is sufficiently full.
FoggLifter Café is a favorite fixture downtown. It opens at 7 am, and offers delicious food, friendly service and a cozy space to start your day. Another great option is Café 6 Three 4, where you'll find great coffee and unique eats in a charming and eclectic atmosphere.
If you want your breakfast to stick to your ribs, grab a bite at the Old Town Market. This under-the-radar spot is located inside the Shell Station, but it offers much more than your typical convenience store breakfast. Pro Tip: Don't shy away from the Moose Toast or what many consider to be the best biscuits & gravy in town.
NORDIC, 'CROSS-COUNTRY' or SKATE SKIING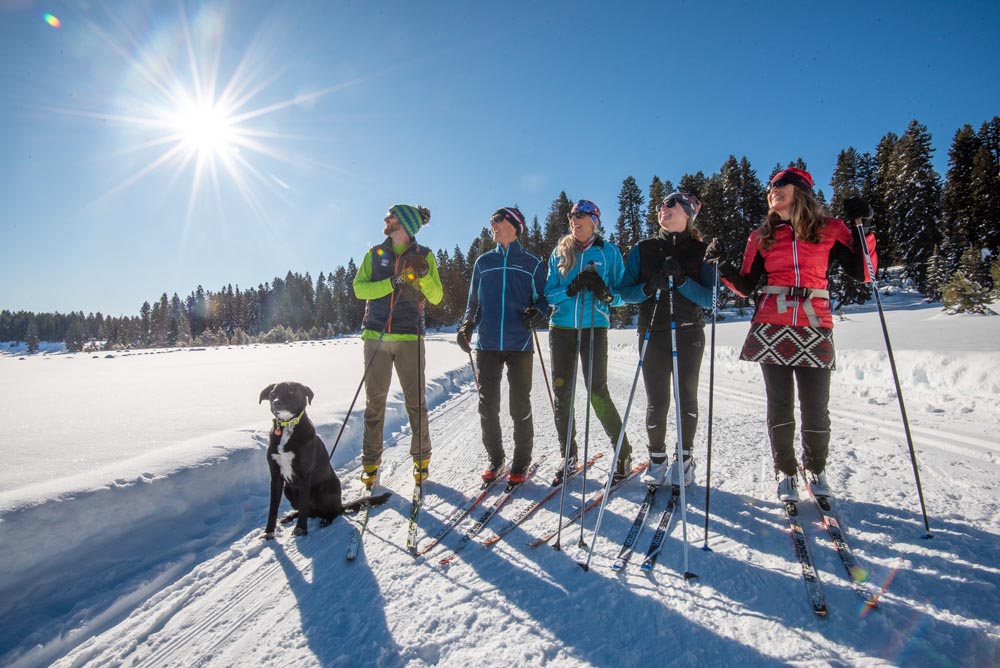 Nordic Skiing, aka cross-country skiing, has been around even longer than the downhill variety, and McCall is a mecca for those interested in the traditional form of the sport or the increasingly popular style, skate skiing! There's no shortage of groomed trails to choose from in and around the McCall area.
Ponderosa State Park is located on a 1,000-acre peninsula that splits Payette Lake just two miles north of downtown McCall. Ponderosa maintains more than 13 miles (21 km) of groomed forest trails that include level stretches, rolling hills and ridge top pitches offering spectacular views of Payette Lake. Ponderosa has a single, one-mile trail, Rover's Roundabout, that is dog-friendly, but those who prefer to recreate with Fido may want to head over to one of the next four locations:
Bear Basin Nordic Center, just north of McCall, provides access to about 19 miles (30 km) of groomed cross-country trails. ALL trails at Bear Basin are now dog-friendly. Bear Basin sits up at 5,280 feet elevation, which makes it a prime spot for early- and late-season outings due to the deeper snowpack. Beautiful scenery abounds at Bear Basin, on a clear day, you can't beat the vistas from Lyle's Loop.
Jug Mountain Ranch, just 10.5 easy road miles from McCall, maintains 16 miles (25 km) of groomed trails that offer splendid views of Long Valley and the iconic Jughandle Mountain. Trails are free and open to the public, and provide a mixture of flat, open stretches and short, gentle hills that cater to all levels of Nordic skiers. Dogs are welcome on all Jug Mountain Trails.
Another dog-friendly spot closer to McCall pieces together the North Valley Rail Trail with the Activity Barn. Together, these free, dog-friendly trails offer more than 5 miles (8 km) of easy-access trail close to town.
The 15-mile (24 km) Nordic trail system at Tamarack Resort, 8 miles outside Donnelly, offers a variety of trails that wind through open meadows and forested paths lined by towering pines, fir, larch and aspen. These free trails are dog-friendly, but leashes are recommended.
SNOWSHOEING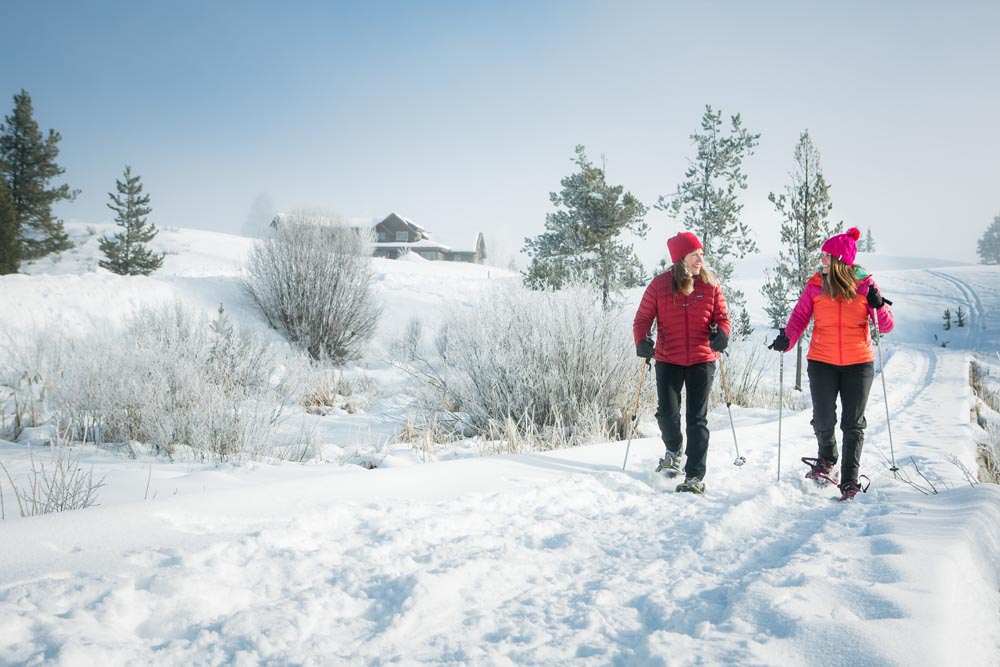 Perhaps the most accessible winter sport on this list, snowshoeing is exploding in popularity. Why? Anyone who can walk can strap on snowshoes and simply widen their gait to be a few steps away from mastery!
Snowshoeing is allowed in all the Nordic areas listed above, but there are a few things to keep in mind when exploring the Nordic areas. First of all, while skate skiers and classic Nordic skiers keep to their groomed tracks, shoeshoes are great for off-roading, especially after one of the frequent powder dumps hits the area. (Pro tip: We highly recommend poles for anyone heading into the softer snow.) Second, please be aware that snowshoes can muck up the groomed surfaces and especially the tightly-set classic tracks, so if you see two lines of track, be sure to steer clear or proceed off the side of the groomed surface.
FAT BIKING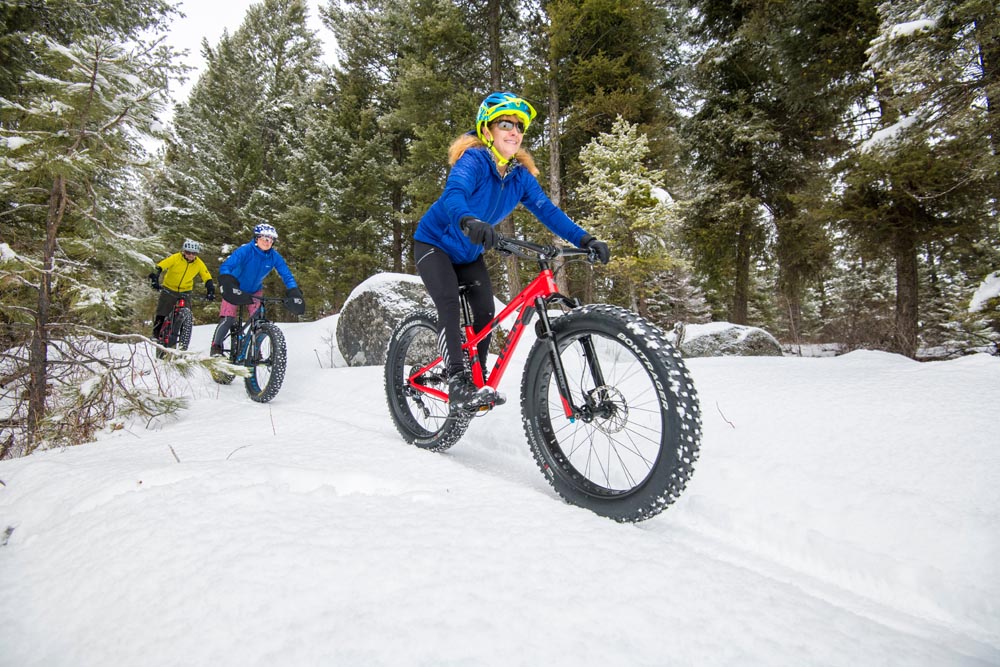 Gone are the days of stowing bikes away during the winter. Fat bikes have been gaining traction over the last few years in McCall for their ability to grip surfaces a traditional mountain bike would not be able to traverse. 
Groomed trails at areas like Jug Mountain Ranch and the Activity Barn/North Rail Trail are a great place for fat bikers to start. In fact, Jug Mountain Ranch was the first resort in Valley County to open up all of its trails to fat biking and now they boast a network of fat bike-specific trails. Tamarack is adding new trails this winter specifically tailored to fat bikers, so even seasoned visitors can have a fresh experience on two wheels.
Pro tip: Tire pressure can make a huge difference when you are fat biking. Hard-packed trails ride well at a PSI of 6-8, while softer trails might ride better at a PSI of 5 and below. It's easier to let air out then put it in, so we recommend starting high and letting air out as conditions warrant.
Please note: Fat bikes are not allowed on Nordic trails at Bear Basin or Ponderosa State Park.
GEARING UP
Several shops around the area rent snowshoes, classic and skate skis, and fat bikes on a half-day, full-day and multi-day basis. Pro Tip: some of the rental fleets listed are smaller than others, so if you have a large group, you'll definitely want to call ahead.
Gravity Sports: 503 Pine Street, McCall – www.gravitysportsidaho.com
Nordic – Skate – Fat Bike
Hometown Sports: 300 E. Lenora Street, McCall –  www.hometownsportsmccall.com
Nordic – Skate – Snowshoe
McCall Sports: 802 N. 3rd Street, McCall – www.mccallsports.com
Nordic  – Snowshoes – Fat Bikes
Activity Barn: 141 Moonridge Drive, McCall – www.activitybarn.com 
Snowshoes – Fat Bikes
Tamarack Resort Outfitters: 311 Village Drive, Tamarack – www.tamarackidaho.com
Nordic – Snowshoes – Fat Bikes
—-
Know Before You Go:
Check the grooming report for all trail systems at www.inidaho.com/xc/mccall_xcreport.asp