Winter may be here, but that doesn't mean we can't enjoy a taste of sunshine! When the cabin fever starts to set in, whip up a warm, sunny boost with these delicious recipes that will serve a crowd.
Frenchies on Third Chelada Yaya
Frenchies is a cozy neighborhood hangout and a convenient place to score a quick scratch-cooked meal or settle in to enjoy a cold drink and a game. Their specialties include Burgers, Po Boys, Southern Soups and Blue Plates with a special Sunday brunch as well! The Chelada Yaya sips perfectly with everything on the menu, but goes especially well with the Cubano Burger, Shrimp Po Boy, Crawfish Chowder and Sunday Morning Biscuits and Gravy.
Try the Frenchie's Southern spin on a classic Mexican Bloody Beer at home.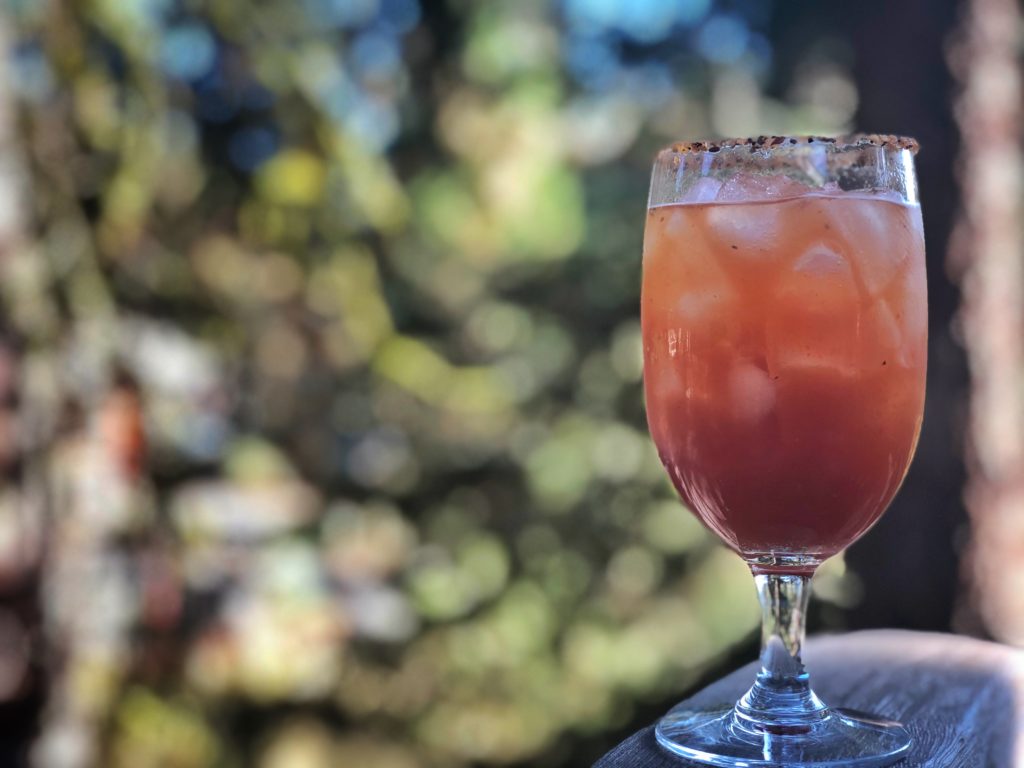 Ingredients:
For Rim of glass
Tajin (Can be found in produce and spice sections of grocery store)
Cajun Blackening Seasoning
Fresh Lime
For Chelada:
1 Bottle Clamato (or Tomato Juice)
6 Tablespoons Worcestershire
3 Tablespoons Soy Sauce
10 Dashes Crystals Hot Sauce (We choose a nice middle ground to satisfy most. By all   
     means, put some extra out for people to choose)
3 Tablespoons Key Lime Juice
1 Tablespoon Tajin-Blackening Seasoning Mixture
Directions:
Mix Equal Parts Tajin and Cajun Blackening Seasoning in a shallow bowl. Set aside 1 Tablespoon. Slice lime into wedges with a slit in the center. Run lime along the rim of a pint glass. Dip the rim into the seasoning mixture and coat liberally. Next, mix ingredients for the Chelada. Fill the glass ¼ full of the Chelada mix. Add ice to the rim. Slowly pour a Modelo or your choice of Mexican Lager to the top. Stir gently and garnish with a fresh lime wedge.
For more information on Frenchie's on Third, visit frenchiesonthird.squarespace.com or call (208) 630-6104.
Dutch Oven Den's Peach Cobbler
We tend to associated Dutch ovens with campout cooking and meals on a river trip, but Dutch Oven Den is bringing the tradition of camp style Dutch oven cooking – and the delicious, hearty meals that come with it – out of the campfire and into catered events. Their mobile commercial kitchen means that everything they prepare is hot, fresh and cooked from scratch on site. The menu is mouthwatering…Prime Rib, Country Style Ribs, Mac and Cheese, Dutch Oven Spuds, Stew and, our favorite, a huge variety of Cobblers. After 18 years in business catering weddings, company parties, family events and groups upwards of 1,200 strong, we couldn't wait to get our hands on one of their crowd-pleasing recipes.
Bake this recipe in a traditional oven or try your hand at a camp style Dutch oven. Either way, this Peach Cobbler is sure to have you licking the plate clean.
Ingredients:
Sliced peaches
1 1/3 cup Sugar
1 1/2 cup Flour
1/2 teaspoon Salt
1 teaspoon Cinnamon
2 cubes Butter
1/4 cup Dry Quick Oats (optional)
Directions:
Fill a 10-inch Dutch oven with sliced peaches (or a 9×13 pan if you plan to cook in a traditional oven) and sprinkle with sugar. Mix dry ingredients together and cut in cold butter. Sprinkle over Peaches.
In a traditional oven:
Layer ingredients in a 9×13 pan and bake at 375 degrees for 50 to 60 minutes.
In a Dutch oven:
Layer ingredients in a 10-inch Dutch oven. Ring the top of the lid with briquettes and put 2 in the center (approximately 16 to18 total). On the bottom, make a ring of 8 briquettes and 2 additional in the center of the ring (10 total). In 30 to 45 minutes, rotate the whole oven 180 degrees and the lid 180 degrees to aid even cooking. When the top is browned nicely the cobbler is ready to eat. Pair with your favorite ice cream (we like Vanilla Bean the most!).
For more information on Dutch Oven Den, visit dutchovenden.com or call (208) 949-3830.