By April Thomas Whitney
Whether you're coming all the way across the country, or just up the highway from the Treasure Valley, a winter trip to the McCall area is well worth the effort. Once you arrive, McCall is a pleasant surprise in so many ways, starting with the quality and variety of outdoor activities, but also in the amenities available for those moments when you'd rather cozy up inside.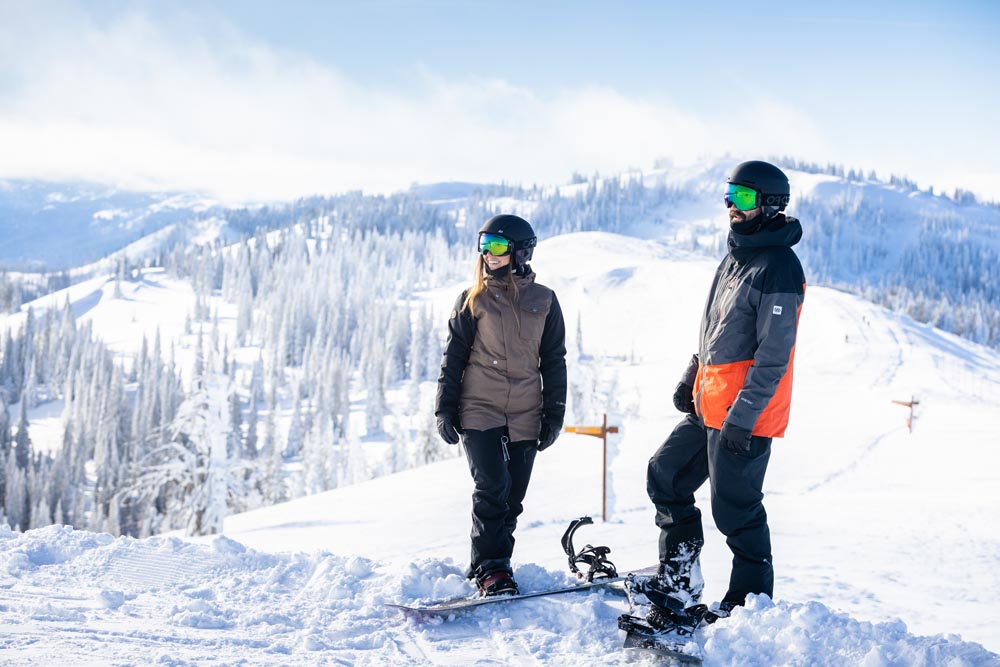 Skiing & Snowboarding
What was once a well-kept secret among powder-chasing purists, the skiing in the McCall area is most certainly getting noticed. Long before Brundage Mountain opened sixty years ago, skiing on the hills around McCall was part of the local mountain culture. Now, powder hounds have two major ski resorts to choose from, offering a tantalizing variety of terrain, scenery and amenities.
Skiers and snowboarders will want to dedicate an entire day (if not more) to exploring either Brundage Mountain or Tamarack Resort and a ski vacation here can easily offer up a whole week's worth of exploring.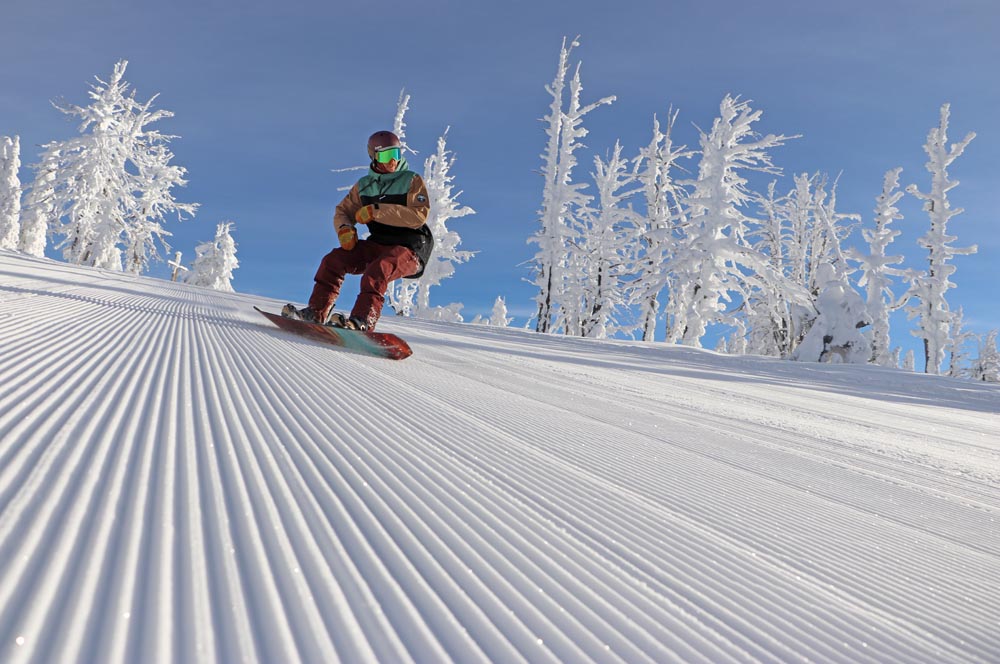 BRUNDAGE MOUNTAIN RESORT
Known for the Best Snow in Idaho, and recently recognized as the top resort in the U.S. in USA Today's People's Choice Awards, the charms of Brundage Mountain reach far beyond the meticulously groomed trails.
Powder hounds will love the easy access powder runs on the edges of the groomed Frontside trails. Look skiers left of North and Main Street for first chair powder laps, or head over to Meadow Bowl for some of the best low-angle powder stashes anywhere. The Lakeview Zone, on the mountain's south side, rides bigger than its four named runs would suggest. Pro Tip: It's unusual to find all Lakeview runs groomed on powder mornings, meaning there's always a good chance you'll get some great turns on what locals affectionately refer to as 'powderoy' (fresh powder on top of runs groomed the night before).
For beginners and families, the Beartopia Fun Zone provides a perfect progression, with runs that level-up gently from conveyor-served Tater Tot to the Easy Street Triple Chair's namesake run. From there, families with multiple skill levels in play can cruise over to the Bear Chair Triple. This area has a nice variety of green mid-mountain groomers, a couple of small terrain parks and lots of playful tree runs the kids will love. More experienced family members can take quick detours to a handful of blue and black runs. For lunch, hit the easy button and pop into the Bear's Den. Expanded deck seating gives grownups the option to relax with an adult beverage while the rest of the crew works off that youthful energy lapping the Bear Chair.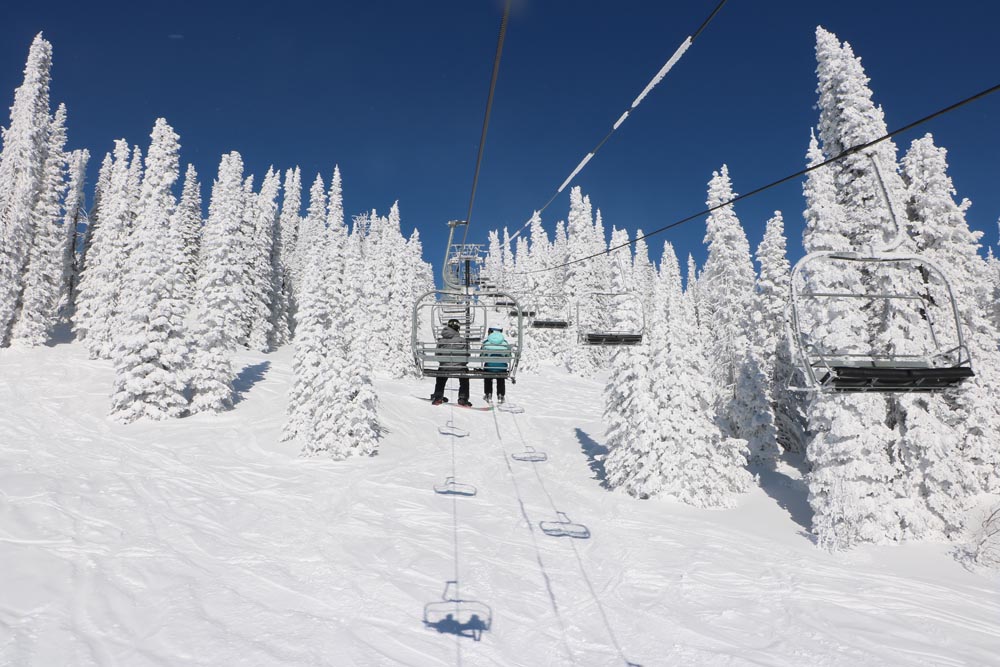 More advanced riders will appreciate the chance to explore the powder-packed lift-served backcountry adjacent to the ski area (make sure you are avalanche safety-savvy and equipped with shovel, beacon and probe before heading out). For those seeking the ultimate alpine experience on the Best Snow in Idaho, 18,000 acres of snowcat terrain sits just north of Brundage and is accessible by reservation via a guided Snowcat Adventure.
By the Numbers:
Lift-Accessible Terrain: 1,920 acres
Vertical Drop: 1,921'
Summit: 7,803'
Base: 5,882'
Average Snowfall: 320"
Brundage Mountain Resort – www.brundage.com
TAMARACK RESORT
If you like the convenience of lift-served skiing but long to leave the crowds behind, Tamarack is the place for you. Weekdays are especially chill, but lift lines rarely grow long even on weekends.
What IS long at Tamarack are the runs. With 2,800 feet of total vertical drop, the trails served by the combination of the Tamarack Express and the Summit Express can keep groomer riders satisfied for hours. Bliss offers up stunning views at the top and playful pitch variations that can make you feel like you're in an Olympic Downhill race. Less seasoned skiers and riders will enjoy lower Serenity, a favorite spot to build skills or work out the kinks.
Whether you're lapping the blacks and blues off the summit on a powder day, hitting the terrain features on Lower Showtime or building confidence on Waltz, the mid-mountain Mile High Cantina is a perfect stop for a grab and go meal or refreshing beverage.
The Wildwood Zone, served by a high-speed quad, is out of the main traffic flow but worth the detour for intermediate and advanced skiers. Pro Tip: Be sure to check out the namesake Tamarack grove for a fresh twist on tree skiing. The Tamaracks drop their amber needles each fall, causing these trees to develop less intense tree wells than evergreens and creating a unique off-piste experience that powder fans won't want to miss.
When the hunger pangs hit, head back to the base area and check out the impressive new offerings along the Plaza Walkway. The Rendezvous Food Hall is an open, indoor venue featuring an eclectic mix of four eateries. The Triple B Diner has a 50's vibe and offers a classic rib-sticking diner breakfast and burgers and fries at lunch. El Pueblo Taqueria features tasty burritos and street tacos to enjoy inside or to take away. Summit Bowls serves up rice and noodle options with meat, veggies and tasty sauces. Crusty's Pizza, a longtime staple of the Downtown McCall food scene, expanded to this second location to rave reviews. The food hall is also home to the new Rendezvous Beer Bar, which features an indulgent selection of craft beers on tap and will host live music and a lively 'apres' scene throughout the winter.
By the Numbers:
Lift-Accessible Terrain: 1,100 acres
Vertical Drop: 2,800'
Summit: 7,700'
Base: 4.900'
Average Snowfall: 300"
Tamarack Resort – www.tamarackidaho.com