Ninety-nine. There are 99 holes of golf to play between Cascade and Council. That is an impressive number on its own, but pair that with stunning scenery that ranges from lakefront tee boxes to fairways tucked into old growth forest and it is obvious the McCall area is a golfer's dream.
Even if you have played each course many times, there are still new approaches to try, new angles to play, and new memories to be made. Get to know our area golf courses then start packing that golf bag and get out there!
Cascade Golf Course
Tucked next to Lake Cascade, this 9-hole course may just be the most scenic in the area. Each hole offers beautiful views of the lake, but we love #6 for its exciting tee shot over the water. Starting on a bluff above this par 4, a solid drive is required to carry the water. Women can play the forward tee, but we recommend taking a shot at playing from the tips on this hole!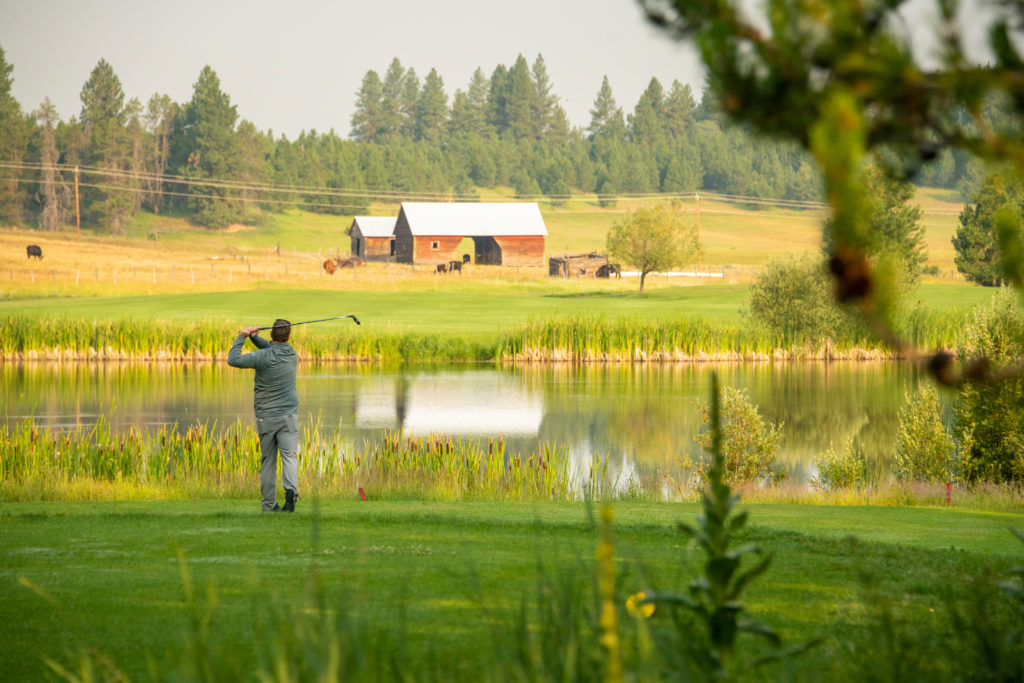 Jug Mountain Ranch
One of the things that sets Jug Mountain Ranch apart is the challenging mix of terrain that makes up the course design. From meadow to forest, natural water hazards to bunkers, Jug Mountain Ranch serves up stunning scenery and exhilarating play. Plus, it isn't uncommon to see a moose, elk, deer, or fox along the way.
Built within a private residential community, Jug Mountain Ranch is a public course that has a country club experience. In fact, the course was named by Golf Pass as one of the 25 courses for value in the U.S. in 2021. The Clubhouse serves as the Pro Shop and includes a full bar and restaurant with spectacular views of the course and valley below. A perfect place to relax after a round.
And the course is growing. In 2023, a brand-new par 3 course will open adjacent to the current practice facility at Jug Mountain Ranch. This six-hole course is being designed by Don Knott, the original JMR course designer, and will offer a fun way to mix up your game, play with the family, and reserve for private tournaments and events.
Local's Tip: The weekly Nine and Dine (dinner and 9 holes) on Wednesdays and the Thursday Scramble (9-hole scramble) are the place to be on weekdays!
Most Challenging Hole | #4
This long par 4 has earned the top spot for challenge for good reason. From the gold tees, it is 487 yards, usually into the wind. To carry the first bunker, it's 240 yards. Just be sure you don't go too far left or you'll drop into the rough. The second shot should err to the right as well to avoid the bunkers below the green. While the hole appears narrow, it is actually has a deceptively wide fairway. And don't let the straight orientation of this hole fool you. The elevation changes and subtle slopes have #4 rated as the most difficult on the course.
Most Scenic Hole | #12
The backdrop to this hole is idyllic and brings it all together – a barn, a lovely pond, a creek, a snow-capped mountain. Any direction you look has a view worth soaking in. It is also a fun hole to play! It is all about risk versus reward with a tee shot that takes you over a large pond. Be bold and go for the green at 310 yards or use a short iron to get you over the water down the left side with an easier second shot to the green.
Local's Favorite | #16
This hole has it all. Picture perfect views of Jughandle Mountain, a crisp mountain stream surrounding the green, elevation changes, a blind uphill, and a challenge. As a long par 5, this hole keeps you guessing. The tee shot is uphill with wetlands and out of bounds to the left and right of the fairway. The second shot is all downhill and while it is possible to get to the green in two shots, Boulder Creek has been known to steal a lot of golf balls in the attempt. Put simply, this hole embodies everything we love about golf and is hands down the most-talked about hole on the course.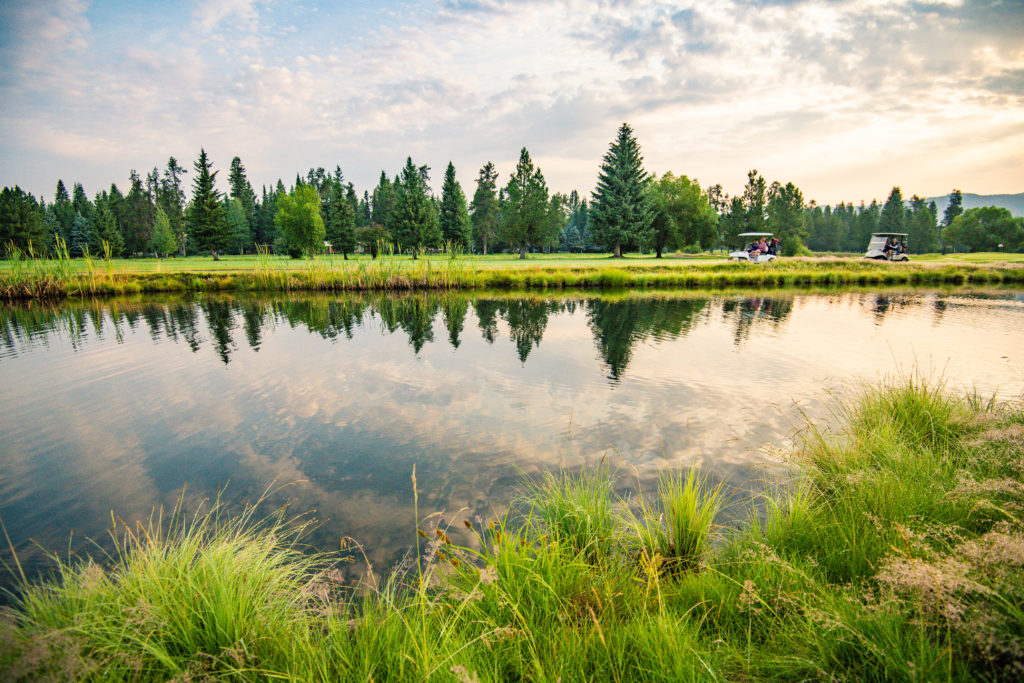 McCall Golf Course
Tucked right in the heart of McCall just a few blocks from Payette Lake and a few blocks from Ponderosa State Park, the McCall Golf Course is 27 holes of bliss. Wildlife is abundant, conditions are always good, and the course boasts a vibrant golf culture. Banyans on the Green restaurant and bar offers a place to meet and mingle as the central gathering place.
Originally built as an 18-hole course, the facility was expanded to add an additional 9 holes and now provides three 9-hole course options for players: Aspen, Birch, and Cedar. Play one or play them all. These 27 holes are also home to one of the biggest match play events in the Northwest…the McCall Amateur. The tournament is comprised of three separate competitions, junior, women and men, that takes place over the course of a week each summer and draws golfers from ages 5 to 85.
Local's Tip: McCall Golf Course offers a special, reduced family rate after 5pm. This is a great time to sneak in a round after a busy day or play a few holes with younger kids.
Most Challenging Hole | Birch #3
A bit of a challenge keeps you humble on the course. This par 3 has a blind uphill landing area and sits right in front of the restaurant deck. Between the elevation change and gallery watching your tee shot, Birch 3 is bit of a pressure cooker.
Most Scenic Hole | Aspen #1
With 27 holes to choose from, finding a favorite at McCall Golf Club is a tough choice, but Aspen #1 is a beauty. The 370-yard par 4 has a tree lined fairway with a stunning view of Brundage Mountain and water features to the left of the fairway and green, which was rebuilt in 2016. If you are lucky, you may also see some of the resident deer wander through your tee shot adding to both challenge and aesthetic appeal to Aspen #1.
Local's Favorite | Aspen #8
This fun little par 3 has received a lot of time and attention from the maintenance staff and has a green that plays like a dream. The hole has a slight uphill over water and you can always tell when someone hits a great shot on Aspen 8…it sits right next to the Snack Shack and is a bit of a gathering place that adds a bit of comradery and a lot of fun to this hole.
Whitetail Club
We can't talk about golf without mentioning the stunning Whitetail Club. This private course is primarily for homeowners, but they do have limited tee times for guests of Shore Lodge. Book your stay at this iconic lakefront resort by visiting shorelodge.com.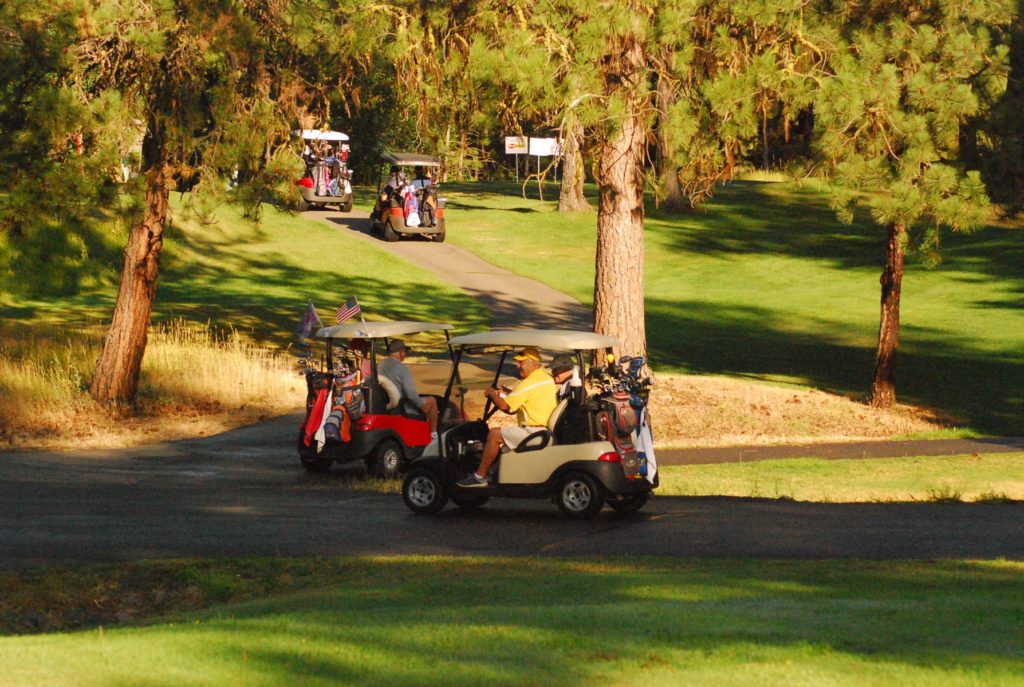 MeadowCreek
Located at the 45th parallel in New Meadows, this 6,696-yard course offers a thrilling round of golf. MeadowCreek was actually originally developed as "Kimberland Meadows" and named after local pioneer and trapper William Kimberland who lived in the valley in the 1870s. The 18-hole golf course opened in 1983 and has been a gem in Meadows Valley ever since.
Most Challenging | #12
This long, uphill par 4 is flanked by out-of-bounds areas on both the right and left sides of the fairway so your first shot needs to be nice and straight. The large, elevated two-tiered green is protected by a hazard that crosses the fairway and is protected on both sides by mature stands of ponderosa pines. While the setting is certainly scenic, the green slopes severely from back to front making your final shots a true test of your short game.
Most Scenic | #14
Dramatic is the only way to describe this hole. This par 4 has a blind tee shot and out-of-bounds along the left side of the fairway. At 200 yards, the fairway falls away dramatically downhill to the green. Picturesque Granite Mountain looms in the background for your second shot down the fairway making this one of our favorite scenic holes in the valley.
Local's Favorite | #15
We all live for that one great shot and hole #15 is a challenging Par 5 that teases the opportunity for a great golf story. From the tee, the rough looms to the left up to the bridge. After the bridge, there is a hazard that runs the length of the fairway changing to out-of-bounds at about 150 yards to the green. On the second shot there is a long pond on the right. Golfers have to decide whether to go over the pond or around it to a narrow opening to the slightly elevated two-tier green. Birdies are possible (hello, elusive great shot!), but so are double bogies or worse. This is a hole you want to play again and again to test your luck and skill.
Council Greens Golf Course
Located just south of Council on Highway 55, this fun 9-hole, par 37, 3,236-yard course is a staple for locals. The course opened in 1963 and has been delighting golfers with the views of the surrounding valley and its friendly, approachable vibe. This is a great stop for a quick nine or an outing with the entire family.