Between hosting family, wrapping presents, and trying to entertain the kids while they are on Christmas break, the holidays can quickly become a bit overwhelming. Why not break free of the holiday stress and escape to McCall? With beautiful snow-covered scenery at every turn and easy access to skiing, snowmobiling, tubing, and all kinds of magical Christmas adventures, McCall has everything you need to create a holiday to remember.
Day 1: Get to Know McCall!

Load up the car and head to your holiday home away from home. We recommend a vacation home or condo. Find a cozy hideaway to sleep two or twenty, all with modern amenities so you can celebrate the season together.
Get to know McCall on your first day by stopping by a few favorite local haunts! Start the day off at Stacey Cakes, where you can find a variety of savory and sweet pastries (make sure to grab a bag of gingersnaps for later— you'll thank us!) as well as coffee to start your day off right!
Next, walk downtown to catch a glimpse of our holiday tree, as well as breathtaking views of Payette Lake. Just a few blocks from Stacey Cakes you can find Manchester Ice & Events Center, where your next activity is scheduled! The whole family can head out on the ice for public skate— just make sure to wear your thick socks. Every fifteen minutes, catch a round of Ice Bumper Cars, a fun new favorite! If your feet get tired, stop by Big Country's Sports Pub right in the rink for a break to watch the game, grab a bite, or warm up.
Looking for a pick-me-up after your hard work on the ice? Head over to Mountain Java or North Fork Coffee Roasters for a selection of warm drinks like steamers and lattes as well as products from local artists like jewelry, merch, and coffee cups to take home as a great reminder of your new favorite spot!
After you've caught your breath at our variety of downtown shops, hop in the car for an exhilarating tube ride! The Activity Barn, located just south of McCall on Moonridge Drive, is the perfect stop for a whimsical, snowy afternoon. Take the magic carpet conveyor lift to the top while you sit comfortably in your tube, then let gravity do the work for you and slide down any of the five 800-foot tubing lanes late into the afternoon.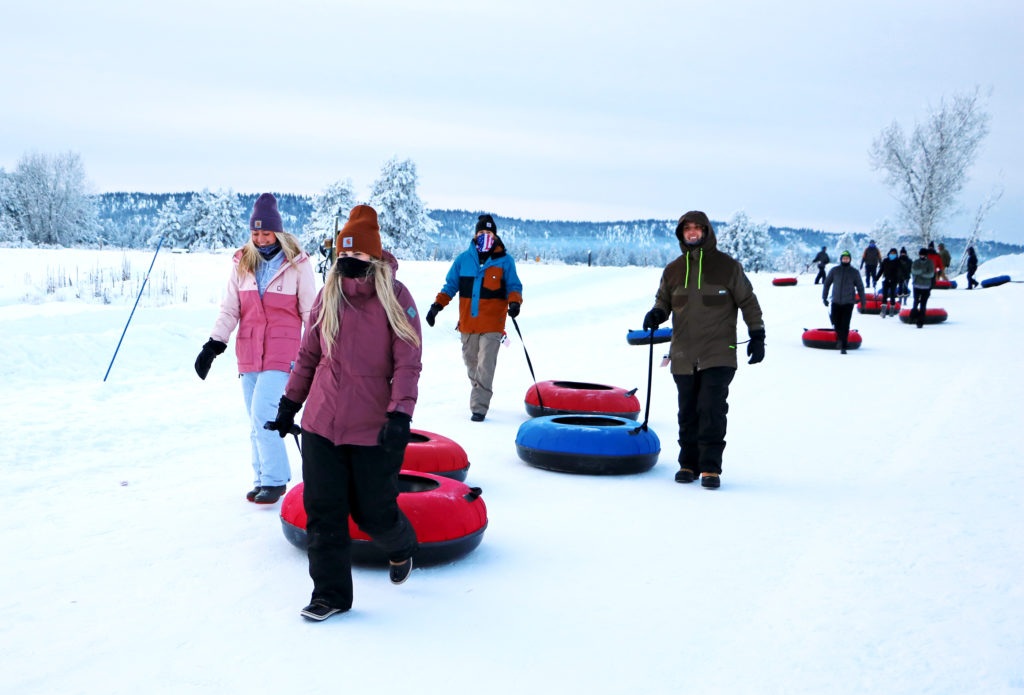 With  a busy first day under your belt, pick up a few pizzas for the crew on the way home from the rink. We highly recommend the Big Growler, the Payette Lake Supreme, or the Bruschetta Pizza from Growler's Pizza Grill or the Zesty Garden, BBQ Chicken, Mac and Cheese Pizza, or the McCall Special from Toll Station Pizza and Pasta.
Day 2: Get out and explore!
Wake up and get ready for a second day of winter fun! Fuel up for your adventure day at Cafe 6 Three 4, a cozy, peaceful spot on the main drag which serves a variety of unique twists on classic breakfasts like the Killer Maple Mustard Croissant Breakfast Sandwich, the Idaho Waffle, the Big J-Dub Breakfast Burrito and Mountain Blueberry French Toast. Check out art and gifts by local McCall artists as you enjoy the atmosphere and gear up for your next round of fun.
Today is all about getting out of bounds and getting a first-hand look at that stunning winter landscape that surrounds McCall. For those in the family looking for a high-octane adventure, we highly recommend a guided snowmobile trip. So what does a guided snowmobile trip entail? First, it means that a permitted, qualified professional rider will guide you into the Idaho backcountry, imparting knowledge and training so you can safely operate your machine. Depending on the experience you are after, this can mean a trip along groomed snowmobile trails, off-trail powder riding or a combination of both alongside your guide. You can ride your own machine or opt for a tandem snowmobile (please call ahead for a tandem machine as these are limited). As the guest, you determine what type of country and what type of riding you would like to do based on your level of comfort.
For newbies to the snowmobile game or intermediate riders looking to enhance their skills, a guided snowmobile trip is the way to go. Book your guided ride with CM Backcountry Rentals or Brundage Snowmobile Adventures.
Wanting a day of tranquil exploration? Strap on the snowshoes! Snowshoeing was historically a means of winter survival, but saw a transformation into a recreational activity in the 1970s. This easy way to enjoy the snow is ideal for families and kids. All you need is a pair of winter boots, snowshoes and trekking poles. Then just start walking!
Blaze your own trail or try a hike to Goose Creek Falls. While this route is popular in the summer, it is also a beautiful trail to take when the snow falls. The trail meanders through snow-covered Douglas fir and down Goose Creek Canyon along a clear mountain stream. The trek is about two miles out and back with a 650 foot elevation gain. To access the trailhead, head up Goose Lake Road like you are going to Brundage. Turn left into the Gordon Titus parking lot and find the trailhead at the northern end of the parking lot there.
After a day of exploring, cooking will be the last thing on your mind. Stop by McCall Brewing Company for a dinner the whole gang will enjoy. Beer cheese soup. Need we say more? McCall Brewing Company does soup right by combining smooth aged cheese with their fresh ales. It's delicious on its own or as a starter before your meal. Pair it with any one of the Brewery's craft beers and you have the perfect McCall feast!
Day 3: Corduroy Heaven
On your third day of holiday magic, some squeaky groomed runs are just the ticket to keep the fun going. Fuel up at a local favorite for a quick, hot breakfast. Fogglifter Cafe has just the stick-to-your-ribs meal you'll need before heading up the hill! Try their famous eggs benedict with homemade benny sauce, or their packed breakfast burritos. Their fantastic roasts and coffee are just icing on the cake at this downtown gem.
Once breakfast has settled, make your way to the mountain for a downhill rush. McCall is in the center of it all, so take your pick of resorts. Brundage Mountain Resort is best known for its powder-packed glades and luxuriously wide groomed runs. Down the road, the Little Ski Hill is an action-packed ski area featuring a T-bar with access to 405 feet of vertical terrain. It is also the only place in the McCall area to offer night skiing! This year will mark the 85th season of the Little Ski Hill, making it the third oldest ski area in Idaho. Near Donnelly, Tamarack Resort boasts 2,800' of vertical, 7 chairlifts, and 50 runs, making it the perfect stop for any level skier.
Groomers aren't only for downhill enthusiasts. McCall has several fabulous Nordic areas where you can get out on the corduroy. Bear Basin Nordic Center is host to 30km of beautiful trails that wind through open meadows and giant Ponderosa pines. During the holidays, Bear Basin will be offering group ski lessons. Classic lessons begin at 11am and skate lessons begin at 1pm.
In town, Ponderosa State Park covers most of a 1,000-acre peninsula that juts into beautiful Payette Lake. Nordic trails range from recreational to competition to accommodate all abilities and is one of only two USSA-certified cross country courses in Idaho.
For a great first-timers loop, try the Activity Barn. Five kilometers of trails are FREE and you can also opt for a ride on the conveyor lift to the top (lift ticket fee applies) of the hill and hook into the groomed trail from there. It also connects to the North Valley Rail Trail, so the options are limitless!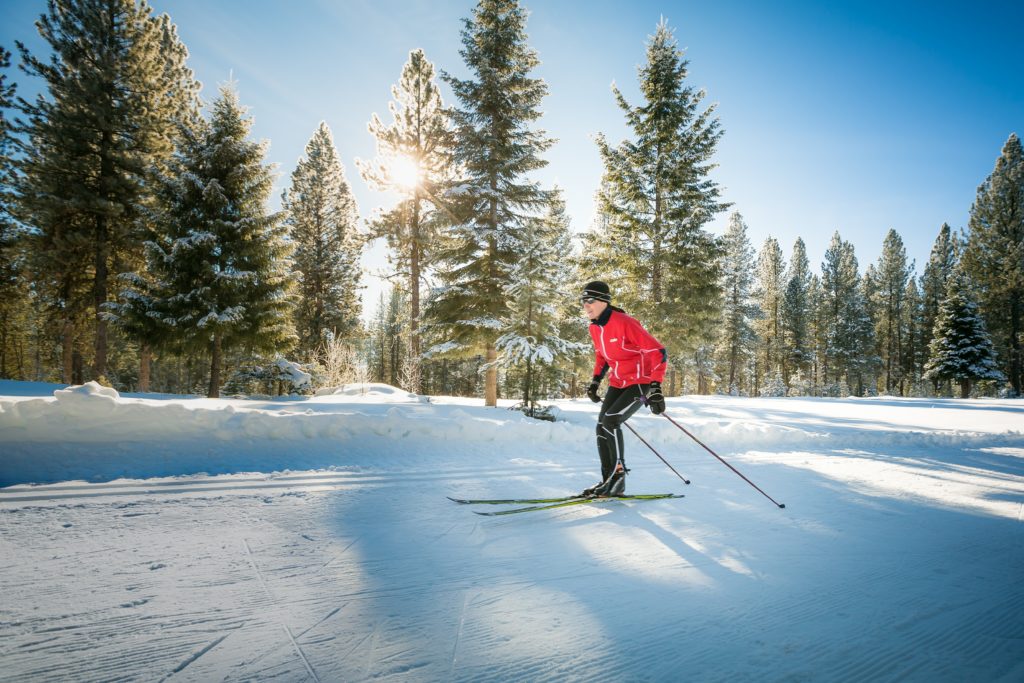 With terrain for every skill level that takes you across open meadows along Boulder Creek or up tree-lined climbs to the Upper Jug Reservoir, you are not likely to get bored at Jug Mountain Ranch. Trails are also dog and fat bike friendly!
As the last day of your holiday getaway in McCall comes to a close, it is a time to sit back and celebrate the season with a delicious family meal. Take in the beauty of Payette Lake in the winter at The Cutwater at Shore Lodge. Aside from the stunning lake views, we also love the Slow Braised Beef Short Ribs and the Pan Seared Pacific Wild Salmon.
Wishing you and yours a very happy holiday season!