id Theater and Seven Devils have been bringing professional plays to McCall since 2001. Every June, playwrights, actors, and directors, both amateur and professional, descend on McCall from all over the country.
What exactly is the Seven Devils Playwrights Conference? Seven Devils is a unique theatrical experience that allows national and local playwrights to submit their work, see their plays presented, and then get feedback from a live audience. Though it looks a lot like any other theater performance, actors do not memorize their lines, but instead read from scripts. At the end of a play, audience members are encouraged to participate in the process by offering their feedback. The company calls this risk-free dialogue "talkbacks."  The "talkbacks" provide vital information that helps the playwright refine their play.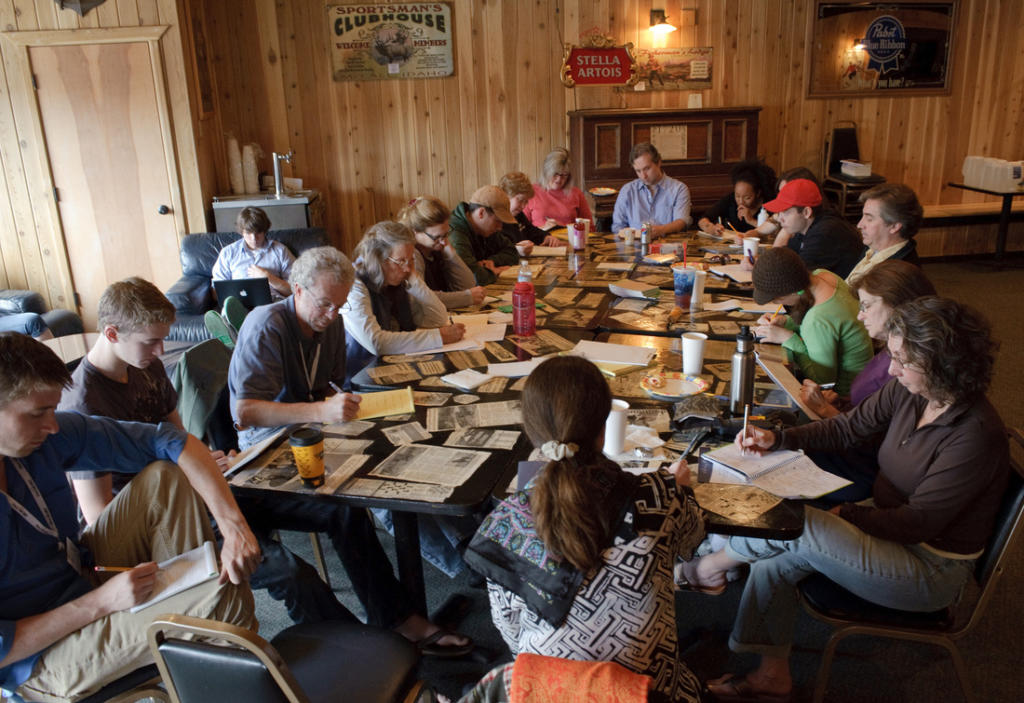 "In the beginning years, before people understood how important the conversation is for the playwright's process, they left before the talkbacks," said Producing Artistic Director Jeni Mahoney.  "Now, even if people are confused by a play or the story it tells, they stay to be a part of the conversation."
Every event is FREE and no part of the conference is off-limits. From rehearsals during the day, to the live performances at night, the public can attend. If someone is feeling extra brave, they can partake in an "Insta-Play." The "Insta-Play" is an event that invites anyone, from those with zero theater experience to professionals, to construct short plays together and then perform them. Side note, this creation process all happens in a matter of 90-minutes- what a rush!
To describe the overarching feel of Seven Devils, Mahoney says "We create a company that has everything in it from youth to award-winning playwrights, amateur, to emerging, to professional because we all make each other better. Audience engagement is a large component of that process."
The youth Mahoney refers to are local high school drama students who participate as playwrights, actors or stage hands. McCall native Ben Verschoor was one of the local playwrights featured in 2004 and is now pursuing a career in dramatic writing. When asked what impact Seven Devils had, he says "I don't know where I would be without id Theater and the Seven Devils. They have supported me every step of the way." Ben was selected as The Dramatist Magazine list of 50-to-Watch and is currently completing an MFA Writing for Screen and Stage program at Northwestern University in Chicago.
The conference attracts an influx of creatives from all over, who otherwise wouldn't likely come to rural Idaho.  The stunning region and its community often surprises people. "These creatives could be coming all the way from Broadway in New York City or fresh off a sitcom set in L.A. It is a melting pot of people and what makes Seven Devils so unique" Mahoney explains. This is a win-win: locals get to see professional theater and the participants get to experience true McCall by exploring Burgdorf Hot Spring, touring Payette Lake with McCall Lake Cruises, or even blowing-up local Karaoke night at Forester's Saloon.
Insider Tip
For true entertainment, attend Thursday night Karaoke at Forester's Saloon during the Playwrights Conference. You will not be disappointed you went out on a "school night" for this one. Or head on over to Bistro 45 after the plays conclude in the evening for the official "unofficial" after party spot for the cast and crew!
Schedule of Events
For a full schedule of events, please visit idTheater.org