Payette River Basin Water Trails
By: Roger Phillips
Look across the mirrored surface and feel the pleasant resistance as you pull your paddle through the water and hear the soft gurgle as you lift it and take the next stroke. You're surrounded by evergreen forests rising from the mountain slopes, and rocky peaks patched with snow looming above.
The white clouds high above look too perfect to be real, and a breeze turns the mirrored surface to shimmering quicksilver as you rhythmically cruise along with a gentle V-shape trailing behind you.
The North Fork of the Payette River connects McCall, its surrounding peaks and the chain of lakes and reservoirs along its course. There's water for placid flatwater paddling to white-knuckle, thrill rides capable of testing the world's best whitewater boaters. The North Fork is also the heart of the Payette River Basin Water Trail.
What is a water trail? It's a designated route using water as a pathway. But before we get into that, let's step back a little ways in time, and then a long ways. While the Payette River Basin Water Trail may be relatively new, the river's early use as a trail dates back to the early 1800s and the river's namesake, Francois Payette. He was a Canadian fur trader who traveled throughout the Payette River Basin representing the Hudson Bay Company.
A lot has changed since then, but some hasn't. The Payette River Basin still encompasses 3,000 square miles and ranges from the peaks north and west of McCall to the Sawtooth Mountains.
Due to a geographic quirk, North Fork of the Payette River's headwaters are surrounded on three sides by the Salmon River drainage, and while the North Fork flows south, rivers to the east and west, (Little Salmon and South Fork of the Salmon) flow north.
Dam building in the 1900s on the lower Payette River and in Hells Canyon blocked fish passage, so salmon and steelhead no longer migrate into the Payette River Basin. But development also had positive consequences. Building Idaho 55 on one side of the North Fork and a railroad on the other placed tons of boulders into the tight, steep section between Smiths Ferry and Banks and created some of the finest Class V whitewater in the U.S.
But hike into the mountains surrounding the North Fork's headwaters and you will see rugged, roadless backcountry that looks similar to what Francois would have seen when he first explored the massive Payette River Basin.
The water trail segments provide opportunities to see a variety of what the North Fork and its lakes, reservoirs and tributaries offer. Here's a sample of the diversity of boating and recreation the Payette River Basin Water Trail provides.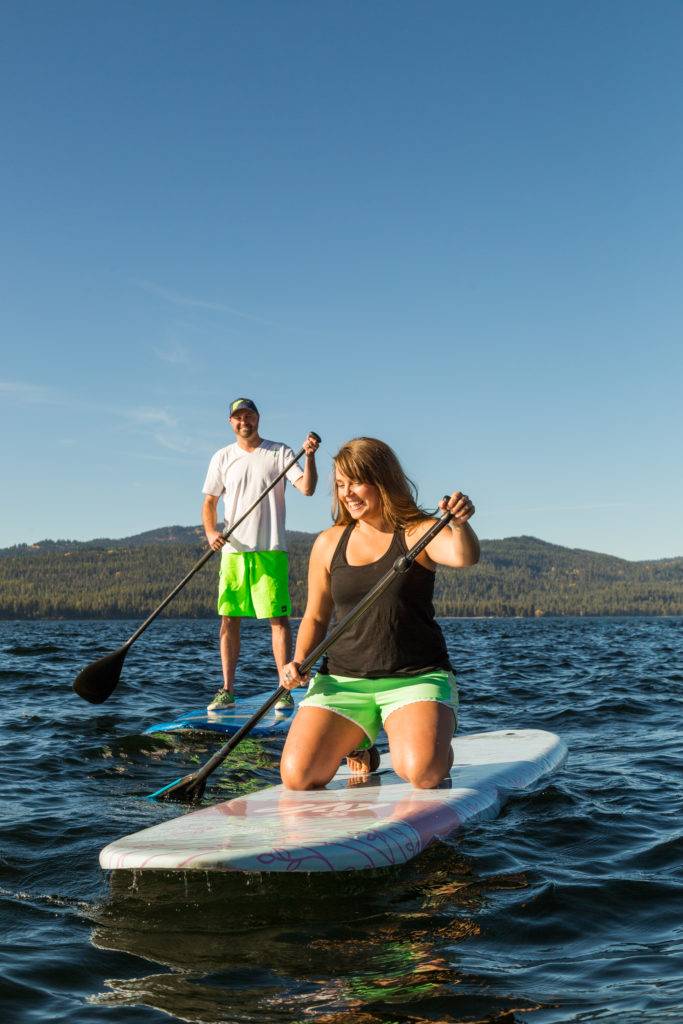 Payette Lake, Duck Bay to downtown: Sometimes you want to get away from the hustle and bustle, and sometimes, you want to be part of it. You can paddle this 4-mile stretch in either direction, but here's why you should consider north to south. You start at a boat launch in Ponderosa State Park's placid Duck Bay, a scenic spot midway up the peninsula that makes up most of the park. You don't have to go all the way to Duck Bay because there are several access spots so you can tailor your float to your time and energy.
After starting in Duck Bay, you paddle along the park's timbered shoreline, which is lightly developed, mostly with paved paths and campsites.
If it's a weekend or peak summer, don't expect perfectly smooth water. The lake is popular for powerboating and personal watercraft. There's a 300-foot, no-wake zone around the shoreline, but you may still encounter some rolling water.
As you progress, the shoreline gets more developed, with docks, homes, marinas, condos, etc. But take all that as a benefit. Want to stop for a beer or other cold beverage? Swing by Mile High Marina near Legacy Park, or paddle onto the sandy beach and walk to a downtown restaurant for lunch or dinner (or breakfast if you're one of those weird early risers). Most of all, just bask in the glory of a McCall summer day. It's an experience that never gets old.
City of Cascade float: Sometimes, you don't want to overthink it, you want to enjoy a relaxing float on a river, and this section of the North Fork is a prime candidate. It's 2.5 miles from bridge to bridge with a gentle current carrying you along. There's a path along most of this route, which makes a bike shuttle a hassle-free option. There's also a commercial shuttle available during summer.
Start your float below the dam where the Idaho 55 bridge crosses the river on the north end of Cascade. You can take nearly any watercraft that's suitable for moving water, including inner tubes. Try not to miss the second bridge downstream (spoiler alert: you can't). That's the take-out.
So why would this short, mostly flat float strike your fancy? It's relaxing and casual. If you want to add a quick thrill, float through the waves at Kelly's Whitewater Park, which has a series of man-made rapids and waves that are easy to navigate, or avoid by portaging. Have fun splashing in the waves? Get out, hike upstream on the path and do them again. Heck, do it as many times as you want. Not like you have hours of floating ahead of you, more like minutes.
When you get to the take-out at the bridge, you're within walking distance of cold drinks, burgers and other summer staples. This is what a casual float is all about, maximizing the fun on a warm summer day while minimizing the logistics.
Cabarton whitewater: The Cabarton stretch of the North Fork is a cool whitewater section because it's family friendly and great for whitewater rafters and kayakers. It starts west of Clear Creek store (near milepost 108 on Idaho 55). Turn west onto Cabarton Road to the put-in, and the float ends at Smiths Ferry. The 10-mile stretch has several Class III rapids, so it's not for rank beginners, but boaters with whitewater experience find it fun and friendly. If you don't know what Class III means, don't float it unless you're with an experienced whitewater boater, or an outfitter.
The Cabarton is a classic "splash and giggle" float with great scenery. Shortly after you launch, the road disappears, and you're floating through a forested canyon with a boulder-strewn shoreline for about 9 miles before crossing under the scenic Rainbow Bridge and the river flows alongside Idaho 55. The rapids are well spaced, so if there's an unexpected flip or swim, you have plenty of time to pick up the pieces before the next rapid looms.
The Cabarton also has a long floating season because during summer you get to ride irrigation water headed downstream from Lake Cascade to southwest Idaho agriculture fields.
Beware the river can run cold and swollen by snowmelt in June, so please take that into account. Even on a hot, sunny day, a cold, pushy river is more difficult to navigate, and a prolonged swim could be hazardous. A final word of caution: don't even think about floating below Smiths Ferry. The North Fork turns into one of the most challenging and dangerous whitewater runs in Idaho.
Explore the Payette River Basin Water Trails Interactive Map