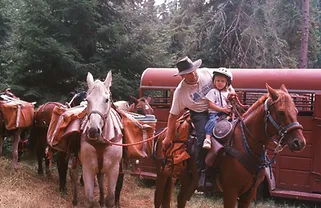 For Sky Wilson, taking care of horses is a labor of love. The daughter of two trail ride and rafting guides, she grew up on horseback, with guiding in her blood.
Wilson had spent five years guiding for Ya-Hoo Corrals before she and her father purchased the family-owned operation from its long-time owners in 2019. She shared their vision to provide a fun and memorable family experience and to share her passion for the outdoors, horses, and the western way of life.
"I love working with people and being able to share my knowledge and my experience with others," says Wilson. "It's satisfying to watch them learn and grow and enjoy something that I love myself."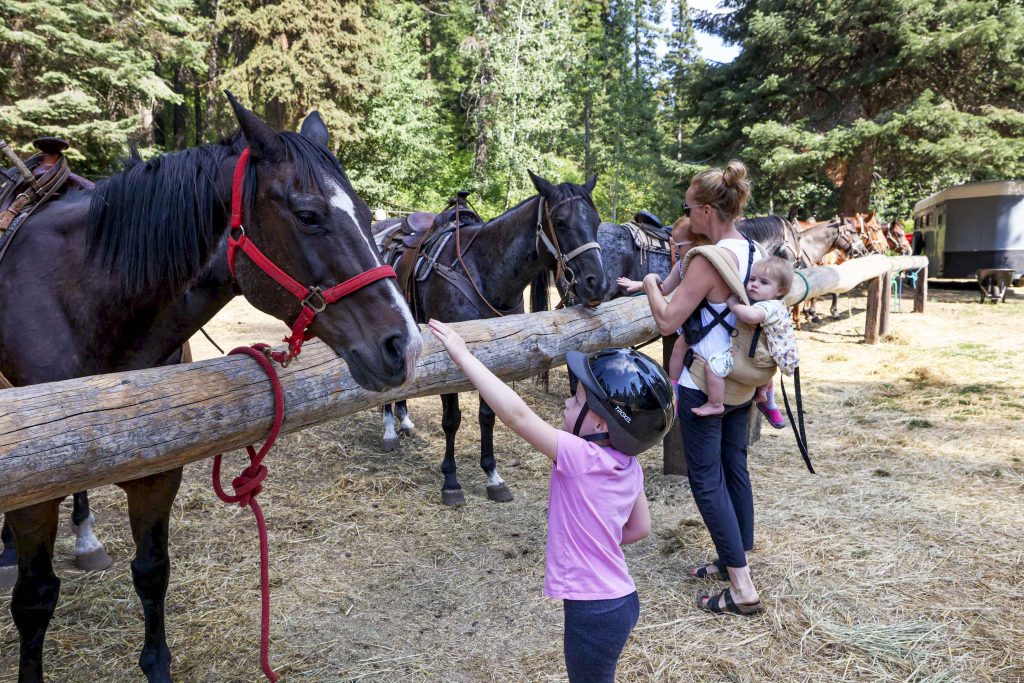 Ya-Hoo Corrals offers 90-minute trail rides – perfect for new riders or those looking to get back in the saddle again – as well as a four-hour option for those looking to make the experience last a little longer. The longer rides cover more terrain, offer more scenery, and boost the guests' chances of spotting local wildlife like moose or Sandhill crane.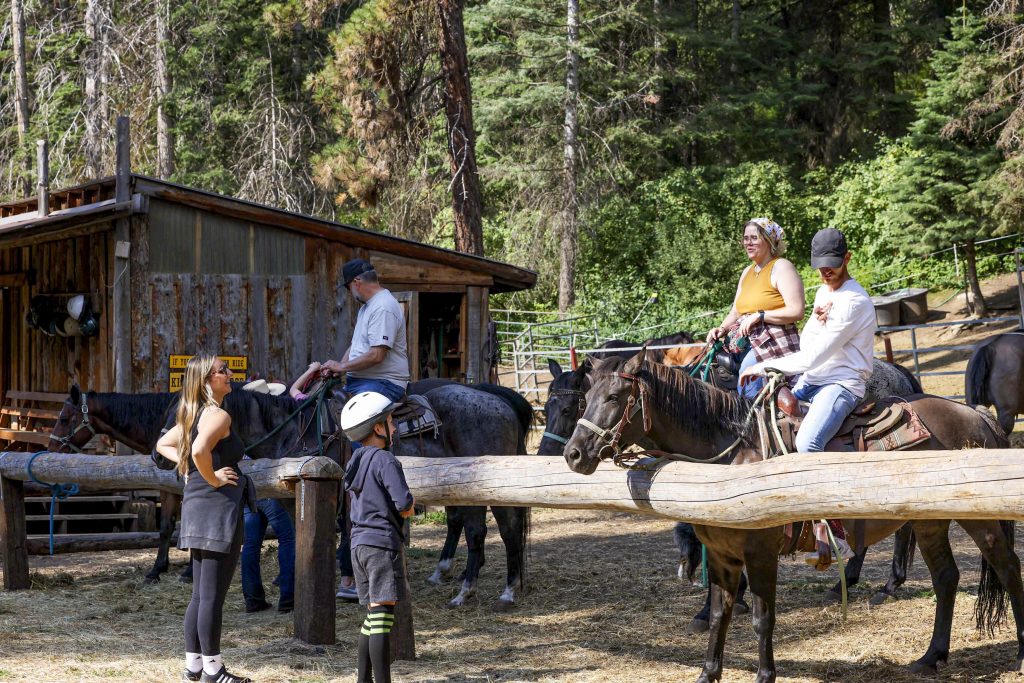 When Paddy Kinney hit the trails last summer with his school-age son and niece, it had been about 10 years since he'd been on a horse. He appreciated the ease of the experience and focus on safety.
"From showing up to letting the little kids ride on the pony before we left, to getting pictures in the wagon, getting a helmet, it was SO easy and super fun for everybody," said Kinney.
"The guides were really knowledgeable, and they teach you how to get in the saddle and adjust the stirrups," adds Kinney. "They give you some really good ground rules on how to rein the horse and how to let the horses pass. And then the horses themselves are really well trained and well suited for beginners so there was never even a moment where it was scary or felt out of control."
Seven-year-old Oliver Kinney agrees. He went on two trail rides with Ya-Hoo Corrals last summer and said his favorite part was feeding the ponies before the ride and getting to see Payette Lake from the trail. "I thought it was real fun," added Oliver, who plans to tell his friends, "It's not that scary on a well-trained horse."
Wilson says those well-trained horses are a more important asset than most people realize. The former owners of Ya-Hoo Corrals spent 25 years selectively breeding horses to be well suited for trail rides, and Wilson credits those well-built and sound-minded horses as a key part of the great experience she offers her guests.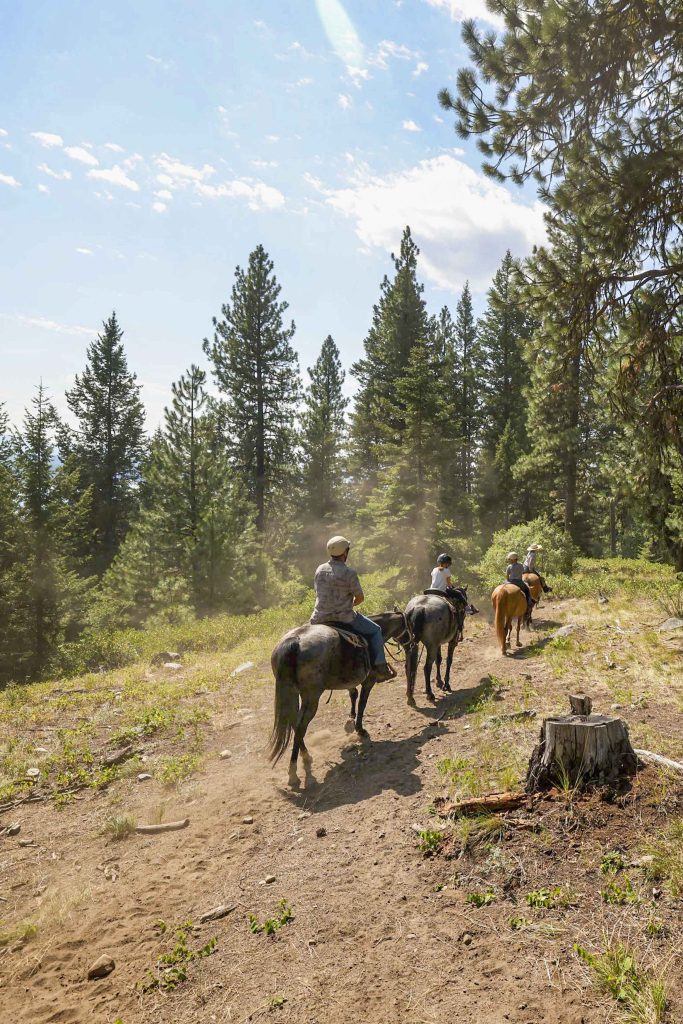 "With my history of having been there and done it for as long as I have, and knowing the horses the way I do, I can figure out how to match riders to the right horses and arrange the group to make sure everyone has a great ride," says Wilson.
Ya-Hoo Corrals offers trail rides for ages six and up, but there are still some fun options to get the little ones in on the experience. Pony rides at the corrals are available for children five and under, and little kids can hop on a horse-drawn carriage ride with their adults for no extra charge. Ya-Hoo also offers a horse-drawn carriage ride + BBQ dinner experience. (Again, kids 5 and under are free, including dinner!).
Ya-Hoo also offers private rides on an hourly basis that can include skill building or more advanced riding.
Paddy Kinney thinks a guided trail ride is a wonderful way to experience horses and would recommend the Ya-Hoo Corrals experience to anyone looking for a fun new way to adventure.
"Just being able to drop by, with no expertise — but a curiosity and desire to do something new — and to be able to go out and ride a horse up a beautiful ridge, and look out at the lake and just be 'in it'…and then jump back in your car and leave – without doing any of the grooming and de-saddling and brushing and feeding and cleaning – is an awesome way to get exposed to something like that."
Yahoo strongly recommends reservations 3-5 days in advance during peak summer months. Ya-Hoo is located at 2280 Warren Wagon Rd www.ya-hoocorrals.com 208-634-3360.