From the valley floor, endless granite peaks tower above. Standing on these peaks is a humbling experience, partly because getting there can prove so difficult. In the winter months, backcountry skiers and snowboarders summit these mountains on hi-tech equipment, expending considerable energy reaching the top. Snowmobilers, however, can reach these same elevations with more ease.

SnoWest Magazine has called the McCall area some of the West's premier snowmobiling country. According to the magazine, "with more than 500 miles of groomed trails, and the opportunity to jump off the trail anywhere along the way, there is unlimited riding potential."
Perhaps this is why McCall has become a destination for snowmobilers. The vast and diverse riding opportunities available in the region have brought world-class athletes and riders to explore some of the best winter terrain around. Make no mistake about it, world class athlete or not, snowmobiling is a doable sport for almost anyone. Whether you want to rent and ride your own machine or hire a seasoned guide to show you the ropes, the McCall area can now accommodate both options.
CM Backcountry Rentals set up shop in McCall in 2011, and immediately noticed an opportunity to expand the snowmobile market. Similarly, Brundage Mountain Resort, who has been shuttling cat skiers to backcountry locations since the early 1990s, saw an opportunity to reach a broader population of recreationalists. That opportunity was guided snowmobile service.
To obtain guide permits on Forest Service land, both businesses had to go through a rigorous permitting process to meet the high standards for training and safety, including Level II Avalanche Certification for their guides. Because of this immersive training, you can rest easy knowing your guide's number one priority is safety. In the winter of 2016, both CM Backcountry Rentals and Brundage Mountain Resort secured permits to begin offering guided snowmobile trips in the Payette National Forest, McCall Ranger District. Over the mountain from McCall, Seven Devils Guest Ranch also has a special use permit to offer a guided backcountry snowmobile experience in the Council Ranger District of the Payette National Forest.
So what does a guided snowmobile trip entail? First, it means that a permitted, qualified professional rider will guide you into the Idaho backcountry, imparting knowledge and training so you can safely operate your machine. Depending on the experience you are after, this can mean a trip along groomed snowmobile trails, off-trail powder riding or a combination of both alongside your guide. You can ride your own machine or opt for a tandem snowmobile (please call ahead for a tandem machine as these are limited). As the guest, you determine what type of country and what type of riding you would like to do based on your level of comfort.
For newbies to the snowmobile game or intermediate riders looking to enhance their skills, a guided snowmobile trip is the way to go. Along with improving your riding techniques, these trips also take you to some magical places. We asked CM Backcountry Rentals and Brundage Mountain Resort to share their favorite routes to provide a sneak peek at what you can expect on your trip. Both trails are also great options for independent snowmobile owners or renters to explore!
Brundage Mountain Resort's Featured Trail: Burgdorf Hot Springs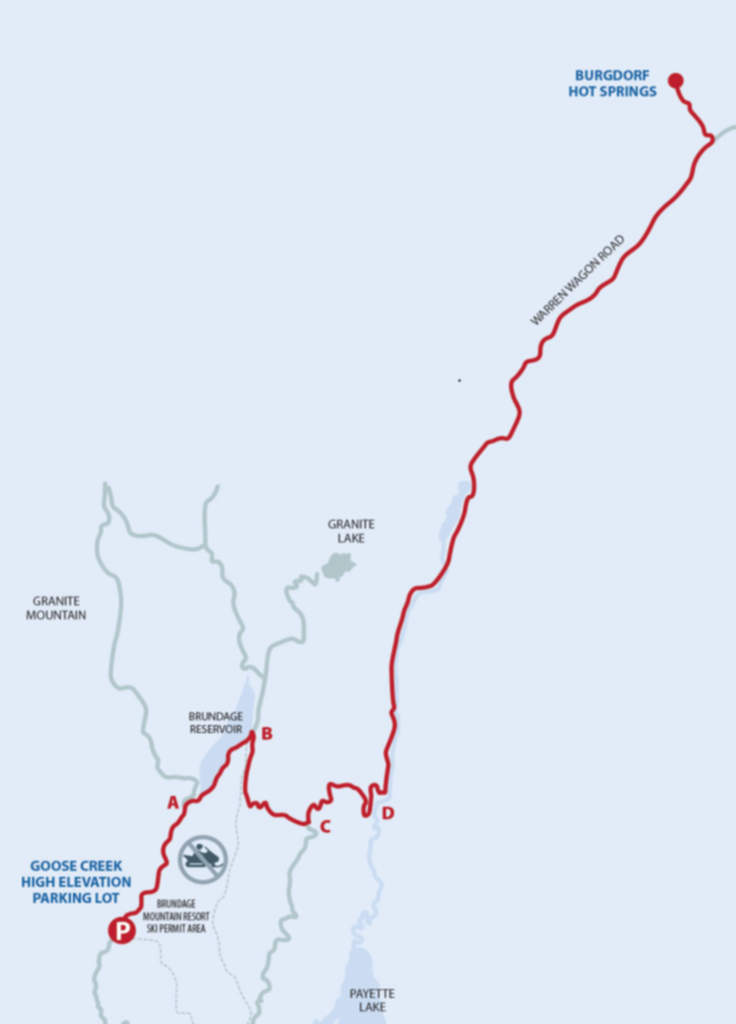 Historical Burgdorf Hot Springs is one of the ultimate winter destinations for our region. There are two ways to access the hot springs, either by the Warren Wagon Trail starting at the Francis Wallace parking lot past North Beach or the more scenic, less traveled path up and over Copet Creek to the west. This is the route Brundage uses for their guided snowmobile trips to Burdgorf. It takes you on the road less traveled with several scenic overlooks to stop and admire along the way.
The trip starts from the Gordon Titus Parking Lot, also known as Goose Creek Falls High Elevation Parking Lot, located up Goose Creek Road half mile before you hit Brundage Mountain. From the parking lot, head up Goose Creek Road Trail past scenic spots like Clowe Point and Brundage Reservoir. At the Brundage Reservoir intersection, take a right turn, heading east over Copet Creek Summit. This route ultimately takes you down to meet the well-trafficked Warren Wagon Road Trail and to the Burgdorf intersection twenty miles from where you meet the main trail.
Once you arrive at Burgdorf, soak your chilled bones in the hot, healing waters of Burgdorf while watching the steam rise out of the snow. When you feel like you have had your hot water fix, filled up on water and snacks and dried-off enough to put your helmet back on, you will return the way you came.
"Venturing into the backcountry can be intimidating if you've never done it before," says April Whitney, communications director at Brundage Mountain Resort. "Many of our guests tell us having the option of sledding with an experienced guide was what made them feel comfortable trying something brand new."
MAP ROUTE: Follow the trail from the Goose Creek High Elevation Parking lot, turn right at X, turn right at V, turn left at T and turn left at U that points you north on Warren Wagon road. Twenty miles up the Warren Wagon Road, you will come to the Burgdorf Junction, where you turn left to the hot springs approximately 2 miles down the road.
CM Backcountry Rental's Featured Trail: Granite Lake
North of Brundage Reservoir lie dozens of additional trail miles and country to explore. CM Backcountry owner Cody Monroe loves this area for its sweeping terrain, much of which has opened-up over the years from past fires. The scenic views along this route such as Black Tip Point, Fisher Creek Saddle, and of Granite Lake once you reach your destination, make this ride worth every minute.
The direct route is groomed, but this area offers plenty of powder stashes for more advanced riders to play in. If you choose CM Backcountry's guided trips, they include eight hours of guided service. That leaves plenty of time to jump off the main trail and explore some of the epic scenery or try out some of your new skills. "Be open-minded," says Monroe. "Expect to be challenged in a new way and that you will receive some feedback on how to ride safely and correctly. At the end of the day, you will learn more than you realized." And have a lot of fun, too!
MAP ROUTE: Follow the trail from the Goose Creek High Elevation Parking lot, turn right at X, continue north through the X intersection past Brundage Reservoir, keep right at W until you reach Granite Lake.
Book a Guided Trip
CM Backcountry Rentals
Cost: $300 for a full day
What's Included: 2-up snowmobile, fuel, gear, trail map, transportation of machines to the trail head, 8 hours of guide services (9am – 5pm)
Contact: (208) 634-0017 or cmbackcountryrentals.com
Brundage Mountain Resort
Cost: $295 for a full day (10am – 4pm) or $235 for a half day (Noon – 4pm. Minors ages 6 to 17 can ride as passengers on an adult's sled for an additional $35.
What's Included: Gear including jacket, pants and helmet), lunch. All sleds have handwarmers.
Contact: (208) 315-3080 or reservations@brundage.com
Seven Devils Guest Ranch
Cost: $175 per rider per day, minimum of four riders for guided trips
What's Included: all inclusive
Contact: (208) 253-3014 or sevendevilslodge.com
Rent Snowmobiles
CM Backcountry Rentals
Cost: starting at $130 for a four-hour rental or $180 for an eight-hour rental
Contact: (208) 634-0017 or cmbackcountryrentals.com
Brundage Mountain Resort
Cost: $190 for a four-hour rental or $250 for an eight-hour rental
Contact: (208) 315-3080 or Brundage.com
Cheap Thrills Rentals
Cost: starting at $130 for a four-hour rental or $180 for a full day rental
Contact: (208) 634-7472 or cheapthrillsrentals.com
Riding Clinics
CM Backcountry Rentals
Offered for both advanced and beginner riders who want to expand their riding knowledge. They also offer a special ladies riding clinic each winter. For more information, visit cmbackcountryrentals.com.