Huckleberries may quite possibly be the best thing about summer in McCall. These round purple berries have a tart kick that make them the perfect addition to pies, ice cream, pancakes, syrup and more. While you can purchase fresh or frozen Idaho huckleberries at some farmer's markets, the best way to get your huckleberry fix is by picking them yourself.
Finding a bountiful huckleberry patch can require a bit of adventure. Start by getting to the right elevation (between 4,000 and 6,000 feet). Forest Service and old logging roads are a great way to access these high country areas. Huckleberry shrubs range in size from 2 feet to 6 feet and some of the best patches can be found in shaded areas. Keep in mind that huckleberries are a favorite food of bears. While it is rare for a bear to attack, be sure to make some noise as you work your way through a patch and always carry a canister of bear spray just in case!
The leaves of a huckleberry bush are deep green with thin stems while the berries are small with blue-black skin. When picked, juice from the berries can run from purple to red. Huckleberries typically ripen between July and September in the McCall area.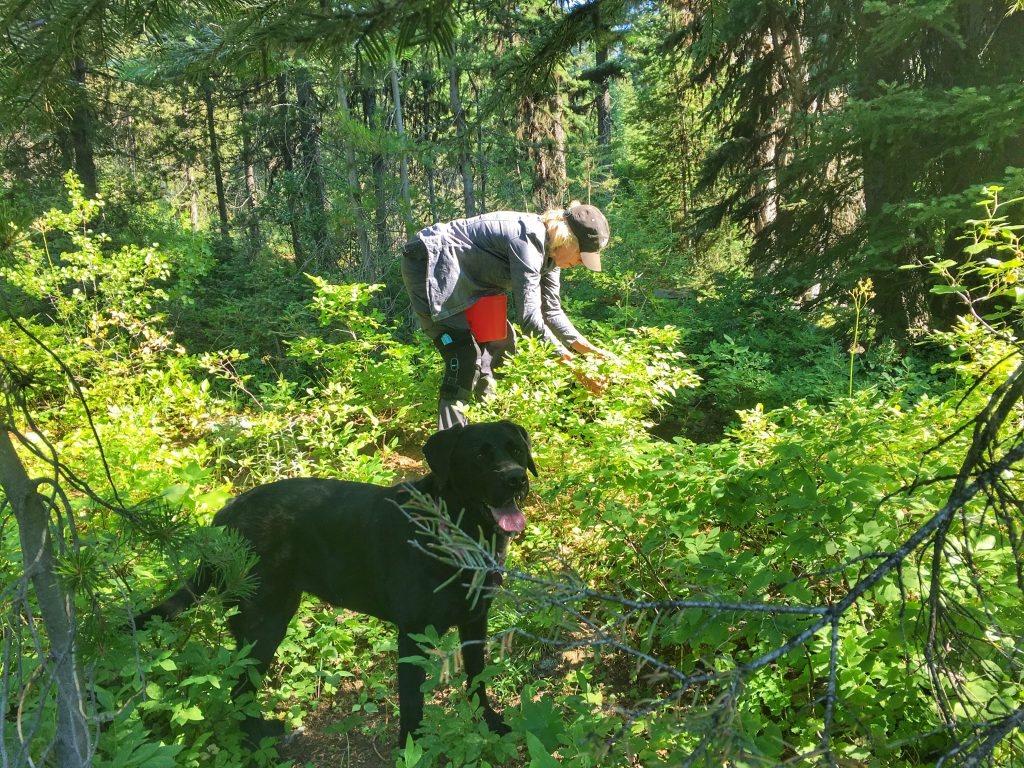 To clean your huckleberries, pour them in a large bowl and cover them with water. Any stems and leaves that may remain will float to the top and be skimmed off. Drain in a colander then spread them on a towel to dry. Once dry, huckleberries can be frozen and preserved. For the best results, pack the berries into bags and vacuum seal.
Huckleberry Dutch Baby from Café 6 Three 4
Ingredients:
4 Tbsp Salted Butter
2 Eggs
1 cup Milk
1 cup. Flour
2 cups Huckleberries
Directions:
Preheat oven to 400 degrees.
Place the butter in a 12-inch cast iron pan. Place in the oven for 5 minutes to melt the butter.
While the butter melts, combine the flour, eggs, and milk in a blender. Blend on high until the mixture is thoroughly combined and no lumps remain, about 2 minutes, stopping the blender to scrape down the sides if needed.
Remove the pan from the oven and carefully pour the batter into the pan. Top with Huckleberries. Return the pan to the oven and bake until the sides are puffed up around 35 min.
When the Dutch baby is cooked, remove from the oven. At the table, sprinkle confectioners' sugar on top to garnish. Serve with syrup (or dare we suggest huckleberry syrup?!).
Huckleberry Tart from Stacey Cakes
Ingredients:
1 frozen pie crust
8 oz cream cheese, softened
¼ cup powdered sugar
4 oz white chocolate, melted
Zest and juice of 1 lime
1 cup huckleberries
½ cup sugar
½ lemon, juiced
1 Tbsp cornstarch
Directions:
Heat oven to 400 degrees. Prepare pie crust and directed on package for a one crust baked shell using a 9-inch tart pan with removable bottom. Place crust in pan and press in bottom and up the sides. Bak at 400 degrees for 10-12 minutes or until golden brown. Cool completely.
While the shell is cooking, make the filling. In a large bowl beat the cream cheese and powdered sugar until creamy. Beat in melted white chocolate until blended. Stir in salt, zest, and juice from one lime and stir together until incorporated.
Spread the filling in cooled, baked shell.
Make the huckleberry compote. In a saucepan combine the huckleberries, sugar, cornstarch, and lemon juice together. Cook over medium heat until it thickens slightly (10-15 minutes, stirring as needed).
Cool compote completely. Once cooled, pour compote on top of the cream cheese filling. Refrigerate tart for at least one hour before serving.
Pan Roasted Duck with Huckleberry Demi from Tamarack Resort
Ingredients:
2 duck breasts
1 cup huckleberries
2 shallots rough chopped
4 garlic cloves
½ cup red wine
1 sprig rosemary
2 tablespoons balsamic vinegar
2 cups beef stock
1 Tbsp butter
Directions:
Duck:
Score the fat on the breast and season with salt and pepper.
In a cold pan place the duck fat side down and render the fat until crispy.
Roll the duck breast over and cook until your desired temperature.
Huckleberry Demi:
In a saucepan add the shallots, red wine, garlic, rosemary, and balsamic vinegar and reduce by half.
Add the huckleberries and beef stock and reduce by half.
Strain the sauce back into the pan and whisk in the butter. This will give the sauce a nice sheen and rich flavor.
Serve the duck topped with sauce and a side of your favorite vegetable.
Homemade Apple-Huckleberry Juice from Deez Squeeze
Ingredients:
32 oz apple juice
4 oz. huckleberries, juiced in a hand lemon squeezer)
Lemon
Directions:
If you have a juicer, juice 4 lbs of apples – but 32oz of the store-bought juice works great, too! Crush the huckleberries and strain the juice. We like using a hand lemon squeezer for the job. Add a dash of fresh lemon juice and mix well. Garnish with a few huckleberries and a sprig of mint!