Morel mushrooms are basically the unofficial food of McCall. They are easy to identify, widespread, and give us all a reason to get out of the house come spring. If you are headed out to find your own batch of Morels, we have a few tips to get you started.
Morels love the spring temperatures in McCall. Keep an eye on the thermometer; when daytime temps get to be around 60 degrees and nighttime temps hover around 40 degrees, you know you are in the right season. To find these gems, stay on the sunny side of the mountain — they often pop up on south-facing slopes, though can be found on north-facing slopes later in the season. Morels also love trees. While these mushrooms often grow wherever the wind blows them, you can usually rely on finding a few beneath the shelter of trees and along the edge of forested areas. Don't discount dead or dying trees – they can often be a haven for Morels.
While picking, cut off the dirt end of the stem before placing them in your bag. This way you won't add a lot of extra work for yourself when you get them home! Don't clean them until you are ready to cook them. To clean fresh morels, rinse full mushrooms in cold water. Once rinsed, lay in a single layer on a towel to briefly dry. If you are trying to use up older morels, give them a quick soak in warm, salted water. This will help to pull out any bugs or debris that may be lurking. After soaking, lay in a single layer on a towel to briefly dry.
Morel Steak Sauce from Cross O Meats
Ingredients:
1 Tbsp olive oil
½ cup Heavy Whipping Cream
1 Tbsp Beef Paste Bullion (Better than Bouillon)
¼ Bundle Green Onion Chopped
¼ Bundle Parsley Chopped (no stems)
1 Tbsp Garlic Minced
¾ cup whiskey of choice
¾ cup wine of choice
4 cups Morel Mushrooms
Directions:
In a small pan, add olive oil and green onions and sauté.
In a large saucepan, add whiskey and beef paste. Cook down for 5-8 minutes until the whiskey smell is not as strong. Add the onions.
Add wine and cook down until sauce thickens.
Add garlic & parsley, keep cooking down. Sauce should be thick.
Once the parsley is soft, add mushrooms. The sauce will get watery because of the mushrooms.
Cook down until sauce thickens.
Add salt and pepper to taste.
Add heavy whipping cream until the sauce is thick and bubbling.
Pour over a delicious Cross O Steak and enjoy!
Morel Rangoons from Frenchies on Third
Ingredients:
1 Package Wonton Wrappers
1 Package Cream Cheese @room temperature
1 Cup Goat Cheese
2 Cups Cleaned & Sliced Morel Mushrooms
1/2 Sweet Yellow Onion Diced
2 Cloves Garlic Minced
2 Tablespoons Butter
1 Tsp Dry Italian Seasoning
1/2 Tsp Smoked Paprika
S&P to Season
Optional: Crumbled Bacon
Olive Oil Spray or Pam
Directions:
In a sauté pan over medium heat, spray or very lightly oil the pan. Cook mushrooms alone to allow excess water to release and evaporate.
Add butter and onions. Let sweat for about 2 minutes. Add garlic and allow to become fragrant— about 2 minutes. Add seasoning and let cook 2 more minutes stirring to ensure nothing burns. Lower heat if necessary.
Pull mixture aside and allow to cool.
In a mixing bowl, whisk the cream cheese. Add goat cheese and whisk briefly to incorporate.
Once mushroom mixture is cool, fold into the cheese mixture. At this point, taste the mixture. Add any preferred bacon, salt, or pepper (taste with bacon before adding any seasoning).
Place mixture in the fridge to let cool, as this will make for easier handling.
Set up a station for rolling rangoons: 1 cutting board or clean work surface, cup of warm water, towel for finger tips, 1 ounce "ice cream" scoop or teaspoon, wonton wrappers, mushroom mixture, sheet pan for finished rangoons with either spray, liner, or rack.
Working in small batches: Place wrapper flat and add approximately 1 oz. mixture in the middle. Use fingertips to dampen all edges of wonton wrappers. Pinch opposing corners together and then pinch the sides to seal the wrappers tightly. Add more water as needed.
Place completed tray in the fridge.
Preheat Oven to 425. Spray rangoons with olive oil Spray. Cook 12-15 minutes until crisp and center is warm.
Serve plain or add an optional sauce. We love a quick mix of Mae Ploy and Peach Jam. Feeling motivated? Huckleberry Jalapeno Jelly would be lovely.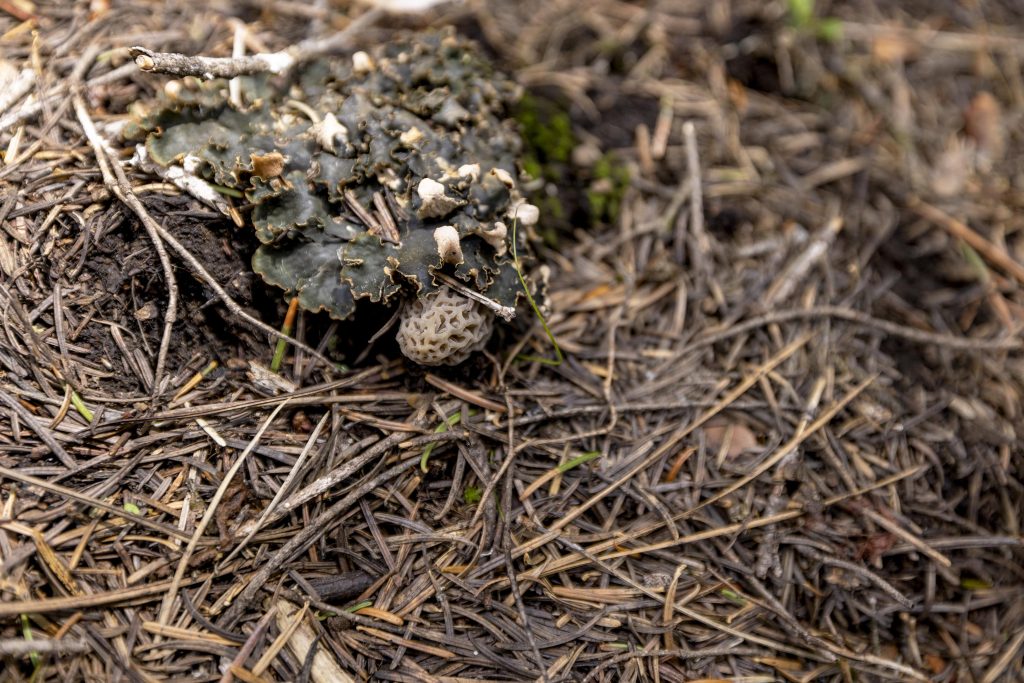 Roasted Morel Mushroom and Asparagus Breakfast Strata from Rupert's at Hotel McCall
Ingredients:
3 Tbsp olive oil
1 lb thick asparagus, cut into 2" sticks
1 lb morel mushrooms, cut into halves or quartered
½ cup chopped prosciutto or bacon
½ cup chopped green onions
3 Tbsp chopped fresh herbs (parsley and thyme)
12 large eggs
3 cups half and half
1 ½ cups shredded Havarti
1 ½ tsp kosher salt
½ tsp cracked black pepper
12 oz brioche or French bread, torn into bite-size pieces
Directions:
Grease a 9×13 baking dish and set aside.
Toss cleaned morels and asparagus pieces together with olive oil, salt, and pepper. Place on a cookie sheet in one layer and bake at 375 degrees for about 10 minutes. Remove and allow to cool.
In a large mixing bowl, add the eggs, half and half, salt, pepper, and herbs. Whisk well. Stir in cheeses, prosciutto/bacon, and green onions.
Tear the bread loaf into 1-2 inch chunks and place them in the baking dish with the cooled mushrooms and asparagus.
Pour the egg mixture over the top of the bread. Use a spatula to fold the bread over, gently, to make sure the ingredients are evenly distributed. Cover and chill until ready to bake.
Let the strata mixture rest for at least one hour (or overnight for an easy make-ahead recipe).
Preheat oven to 350 degrees. Bake, uncovered, for 50-60 minutes until the top is golden-brown and puffy in the center. Insert a sharp knife into the center to check that the eggs are set. If not, bake another 5-10 minutes. Cool 5 minutes before cutting. Serve warm!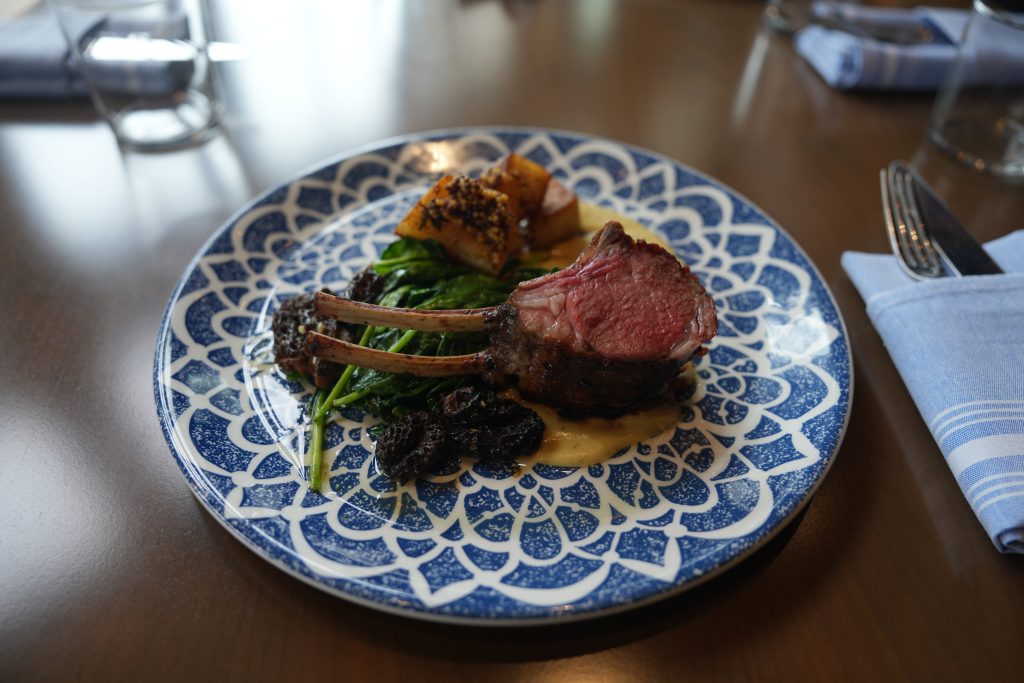 Herb Roasted Lamb Chops with Morels from Tamarack Resort
Ingredients:
1 lamb rack cleaned and frenched
1 lb potatoes, peeled and cut into 2" pieces
1 cup spinach
1 tsp minced garlic
½ cup white wine
½ cup morel mushrooms
Olive oil
Directions:
Season potatoes with salt and pepper then toss lightly with olive oil and roast in the oven at 250 for about 15-20 mins.
Season the lamb with salt and pepper and fresh herbs of your choice.
Heat a cast iron pan and sear the lamb until nice and golden. Transfer to oven at 400 degrees cook until your desired temperature.
In a sauté pan heat some olive oil and butter. Toss in spinach and add garlic. Deglaze pan with white wine. Remove from pan and set aside. In the same pan add morel mushrooms and sauté for about 3-4 minutes.
Pull the lamb from the oven and let it rest for 5-10 mins before carving. Serve with potatoes and enjoy.