Find new adventures outside the McCall city limits!
DAY TRIP#3: RIGGINS
Located 50 miles north of McCall along the impressive Salmon River, Riggins is known as Idaho's whitewater capital. This small town nestled in the river canyon boasts a remarkable number of whitewater adventures that are sure to produce some famous family tales that only get bigger with each retelling.
Between McCall and Riggins, the elevation changes form 5,200 feet to 1,800 feet. Why is this important? The drop in elevation makes Riggins a prime place to enjoy hot, sunny days on the river and along white sandy beaches that rival those found in the Caribbean.
To really experience Riggins, we recommend getting an early start from McCall and choosing from two amazing options: whitewater rafting or a jet boat tour.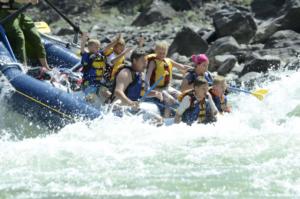 Rafting
To make the most of the awe-inspiring canyon walls of the "River of No Return," being on a raft is the way to go. Experienced rafting guides can take you on everything from a relaxing family float to an adrenaline-pumping whitewater adventure. Choose from half day or full day rafting trips down the Main Salmon with outfitters Salmon Raft, Mountain River Outfitters, or H20 Idaho. Pick up some river knowledge from your guide, meet fellow visitors from around the world, "ride the bull" through the Time Zone rapid, and enjoy lunch on a secluded white sand beach.
Scenic Jet Boat Tour
For those looking to see more of the Salmon River Wilderness at faster speeds, a jet boat tour is a great option. Most outfitters offer a half day and full day tour, but we recommend going all in with the full day tour. The jet boat ride starts 28 miles from Riggins at the Vinegar Creek boat launch and takes you into the heart of the Frank Church River of No Return Wilderness area. Explore historical homesteads like Polly Bemis and Shepp Ranch, hike to a hot spring, and cool off with a swim in the river at one of the many beaches along the way. Find your perfect jet boat tours operated by the seasoned guides at Rapid River Outfitters, Mountain River Outfitters, or Salmon River Tours.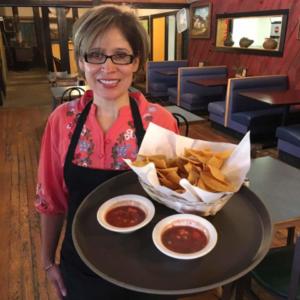 Dinner at Pueblo Lindo
After a big day on the water, feed your hungry crew with some of the best authentic Mexican fare around. Pueblo Lindo Mexican Restaurant is conveniently located at the north end of McCall, right as you come back into town. Not only is the food delicious, the casual setting, impeccable service, and friendly staff are a perfect way to end a long day of adventuring. Try the crowd favorites including the Chile Verde, Pollo a la Crema, and Carne Asada tacos.
---
Add an Overnight Stay: Extend your stay in Riggins with a night at the Salmon Rapids Lodge. This family owned gem overlooks the Salmon River right in the heart of Riggins. For pricing and reservations, please visit salmonrapids.com.