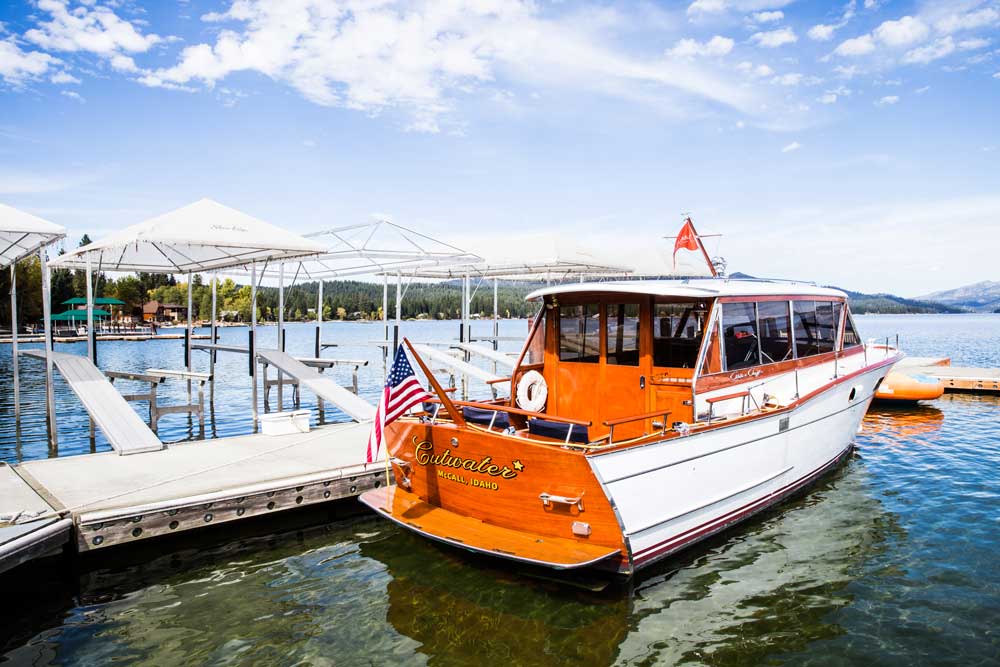 Each summer the docks at Shore Lodge are filled with the stars of the boat world at the Classic and Wooden Boat Show. The public is invited to stroll through these beautiful boats, enjoy a boat parade and even have a chance to ride along on a wooden boat. What you may not see at first glance is the hard work, attention to detail and craftsmanship that goes into the restoration of an antique boat.
We talked with Don Hardy at McCall Boat Works to get an inside look at what it takes to make one of these beauties shine.
Don Hardy founded McCall Boat Works in 2002. A native of Meridian, Idaho, he started his own construction company in Sun Valley, Idaho at the age of 17 and became a large-scale commercial builder and contractor, eventually employing over 200 people with his company in California. In the late 1990s, Hardy and his family moved from California back to the Boise area to escape a fast-paced, stressful lifestyle.
Hardy began coming to McCall as a child, where he would spend time at his grandparents' house in Valley County.  When he started restoring antique wooden boats, Hardy chose McCall as the best location for his business. His younger three children (of five) attended McCall schools.
McCall Boat Works has won dozens of awards at judged shows over the last several years. His most recent project, Jelly Bean, won First Place In Class and Best of Show under 23' at the 2018 Concours d'Elegance Wooden Boat Show at Lake Tahoe. Jelly Bean is a 22' 1946 Chris Craft, the same model used in the movie, On Golden Pond, and was found in a barn in Washington that was slated for demolition. This was the 12th year Hardy has brought a boat to compete at the Tahoe show.
What Does McCall Boat Works Do?
We take old, dilapidated boats – called barn wood or pattern boats – that have been left outside and rotted away and restore them to right-out-of-the-factory specs. That's our specialty. A lot of research goes into it with a lot of parts to find. The wood series boats are anywhere from 1922 to 1967. We bring them in and patternize them, then take them apart and replace all the existing factory wood with new. We put a new bottom on first and then we flip them over. We do complete restorations: all new wiring, new chrome, new interior, new everything. We don't like to leave too much of the used wood in there because most of it is 60 to 80 years old and it has exhausted its life and its strength. We do a complete duplication of the original; we take the hull numbers and stamp the hull numbers into the new wood and it remains the same boat.
We do a lot of research on the boats: what year it was made and all the places it was sent, and we call the Mariners Museum in Newport News, VA, and the archivists' collection sends us a packet for each Chris Craft ever made. The hull card they send us includes where it's ever gone, who's ever owned it, so we can get complete histories on the Chris Crafts. We work mostly with Chris Crafts because we can attain this information.
When you get into the Centuries and the Garwoods, it gets more complicated because we don't have these hull packages to go from. So we start calling places back East and looking for people that have owned the exact boats and asking for pictures of certain areas of a boat or for documentation of being authentic and real. The reason we go back East is because a lot of these boats have stayed in the same family for almost 100 years and they're still taking care of them in boat houses or storage and many people will still have the original factory boat in their family's name.
Why Wooden Boats?
People love the nostalgia. We'll take a boat down to the Marina and we'll park it or launch it and people will just follow it. It just draws people in. You've got architectural design floating on water with a mechanical aspect. How much better does it get?
The best part about working with these boats is the wood: cutting the wood, shaping and steam bending the wood, fitting it into place. Everything's got a roundness to it or a twist to it. You've got to manipulate that piece of wood that's going to fit. You've got to be selective in your material and understand the characteristics of the wood.
What Are These Antique Wooden Boats Made Of?
They're all made with mahogany. Chris Crafts are made with Phillipine mahogany, Centuries used African mahogany, and the Garwoods used either Honduran or Phillipine depending on the year.
Mahogany has the ribbon and color and texture when we're finished like a piano material or guitar building material. And also it has strength characteristics and particular oils that prevent rot. The aesthetic finishes can't be beat. They did a lot of research on the woods in the 1920s and 30s and that's why they used them — and we match the factory originals so it has to be the exact same type of wood.
You can't go to a competition show like Tahoe with a boat built originally with Phillipine mahogany and have rebuilt it with Honduran mahogany. I'm not going to win if I use the wrong species of wood on the boat.
How Did You Become A Boat Builder?
When I was a commercial builder and contractor, I always got Architectural Digest. They put out an issue with the 100 greatest designs of the century and one of them was a 1925 20' Chris Craft wooden boat, Miss Belle Isle – one of the oldest Chris Crafts in existence – which is in a museum now, and I was just intrigued.
I remembered that when I was young a childhood family friend had a wooden boat in their barn, and, sure enough, I asked and they still had it there.  
I bought the boat and spent all summer restoring it and when I was done I knew right then and there that what I wanted to do was to go the boat direction and reinvent myself.  I was looking for a new career because mine was so stressful at the time and I'm very glad I chose the wooden boat scene. I think I chose well. I have a lot of fun and my passion is so deep for these boats. Through many years of study my knowledge is immense now.
I was a carpenter all my life before this and everything was all plumb level and square, everything was box. You go to a boat and you've got round and tumblehome, all these baselines, half breadths and full breadth to do measurements and that was all just about two feet above my mentality. I just had to feed my head and figure it out.
I worked two years full time by myself to learn the chemicals, the environment, all hands on. I taught myself everything, mainly through a very large library I have and from calling people who have 40 years more knowledge and experience than me.
And so for the last 15 years, we've restored 8 to 18 boats a year for people all over the world. I have incredible, dedicated employees and I could not do this without them.
What's Your Favorite Boat?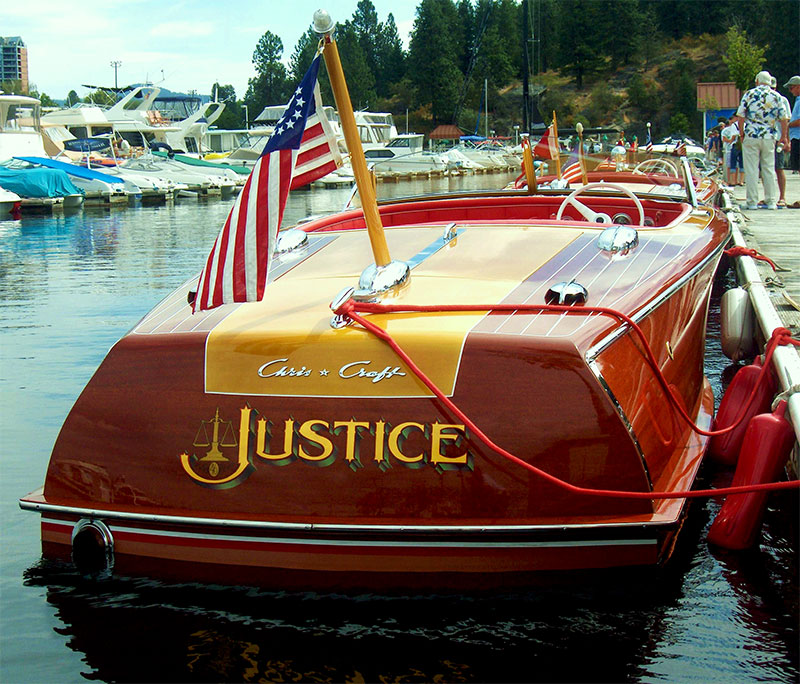 Justice, a 1946 Chris Craft Custom 20.  They called it a Custom 20 because it's a 20' boat and it was the first year of the blonde deck. It's called Justice because the owner's dad was a federal judge. They were the first customers to take me to the Tahoe show to compete.  They drove out here on a road trip from Seattle, put a down payment on a boat they wanted me to restore, and said they wanted to build the boat with the idea of competing at the boat show in Tahoe.