Spring Fever has a unique twist in McCall. Do you hit the slopes for a Brundage Bonus Weekend, dust off the mountain bikes for some low altitude riding, pack up the family and hit the beaches in Riggins or trailer your sleds to the high country for spring riding? Play in the snow or play in the dirt?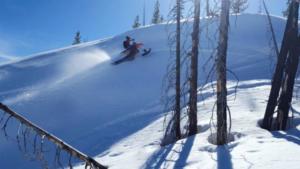 With so many conflicting options, it isn't any surprise that a new sport is emerging that modifies a traditionally "summer" activity and makes it winter-worthy…and offers up a perfect solution to Spring Fever.
Enter the snow bike. Relatively new to the motor sports game, snow bikes were largely pioneered by Idaho companies Timbersled and 2Moto in the early 2000s. Today, technology and design improvements are making snow bike conversion kits accessible to the masses. These kits transform most modern motocross and off-road dirt bikes into agile snow machines.
And that's not all. Women are finding snow bikes to be a great way to "level the field" in the snowmobile world. Sarah Whipple of Ride McCall explains that for an average woman, a 430+ pound snowmobile, despite innovations that make today's machines much more responsive, still require a lot more energy from a woman to control than that of their male counterparts who have more body weight.
Snow bikes "take flick-ability and responsiveness to a whole new level for a 'snowmachine.' They might not have the power of a 600cc or 800cc snowmobile but after experiencing far less fatigue, a much faster pace and discovering all the other fun lines I can take that I can't or wouldn't on my sled, I'm thinking the snowmobile might start taking the backseat," says Whipple.
So where do you ride a snow bike? Pretty much anywhere! Snow bikes do well on both groomed trails and in powder. In fact, the narrow tracks of a snow bike allow you to get off track sooner. Another plus? Snow bikes are great for spring riding when the snow pack starts to melt. The narrow, lighter weight design means you can extend your backcountry riding season! Find trail maps to plan your riding adventure at the McCall Area Snowmobilers website or at Ride McCall.
Want to learn more about snow bikes?
Ride McCall gives a great description about what it is like to ride a snow bike (especially as a woman!) here.
Explore snow bike conversion kits at Timbersled
Want to demo a snow bike? Check with Mile High Power Sports for planned demo days.