A gardener is an eternal optimist. There is so much hope and expectation that comes with putting a seed in the ground. That optimism is coupled with a healthy dose of determination and grit when it comes to gardening in a high-altitude climate like McCall. Every flower that blooms here, every berry that ripens, every bean or pea or squash that is picked feels like a little victory.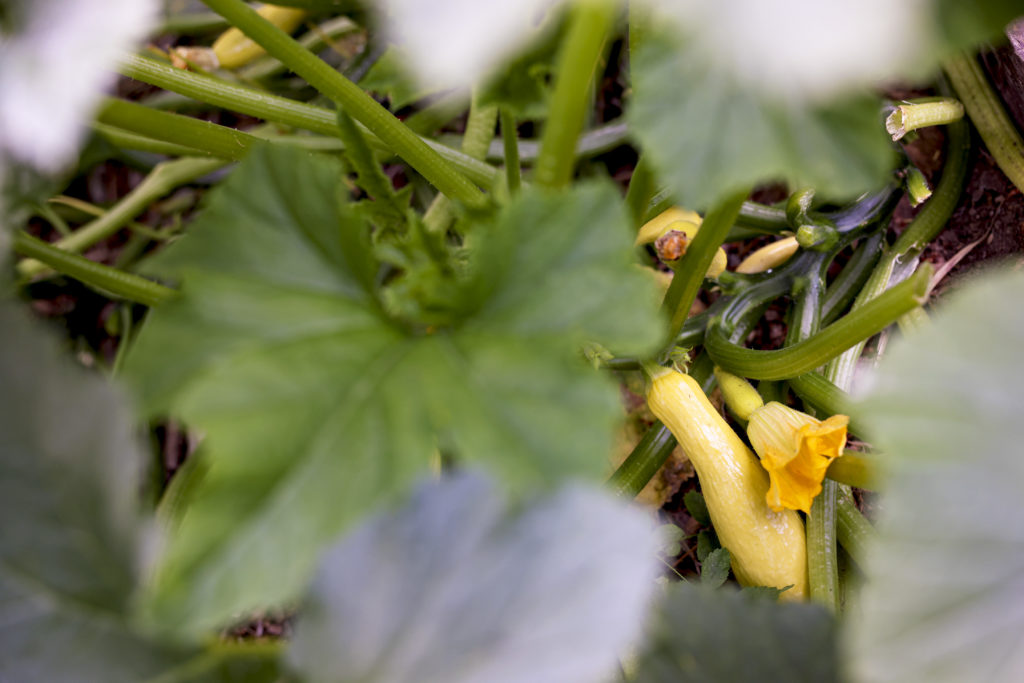 It isn't that high-altitude gardening is impossible, it just takes a bit of know-how. Selecting plant varieties, finding ways to extend the growing season, and a lot of trial and error as to what works in this valley's particular micro-climate can make gardening here a creative endeavor; an endeavor that is well worth the effort.
From the flower baskets that hang on the lampposts in downtown McCall to the fresh produce available at the local farmers' markets, there is ample opportunity to enjoy and appreciate the successes of a high mountain garden…and indulge in a little sunshine and hope of your own.
I have a very vivid memory of picking raspberries with my grandpa as a kid. I remember running across his lawn to the garden and plucking the big red berries, rinsing them in the hose water, and sneaking a few before putting the rest into a bucket. Looking back, I imagined that I was probably about four or five years old. I am not sure when memories start, but I found a photo of my grandpa and me on that day- it is exactly like the experience in my head. The date stamp on the back of the photo puts me at about two and half years old; this might just be my very first memory. And maybe that is why gardening is so fascinating to me.
Growing up, my mom always had a garden. My sister and I would pick snap peas, strawberries, and beans. We would help weed. We would squeal when little garter snakes would speed across the rows. My mom has carried that tradition on to this day- now her garden is here in McCall and my kids are old enough to help grandma pick those snap peas, strawberries, beans…and monster zucchini. Maybe one day my children will look back and find that their first memories are of vegetables and garter snakes. Gardening spans generations, differences, and taps into a caring, nurturing part of us that we carry on through the rest of our lives.
And while we love grandma's garden, I decided last year that I needed one in my own backyard. I want to create the full experience, so my kids have ample opportunity to get dirty, grow things, and pick raspberries.
And that is when I realized I had no idea what I was doing. The idea of gardening is a lot easier than the action. So, I started simple, started paying attention, and started asking a ton of questions. Here is what I learned from a some amazing local gardeners:
The Timber Garden
"Sometimes I wonder if it hadn't already been a hobby and both my husband and I hadn't grown up with it…I wonder if we would have been as set on trying to garden?"
But garden they do! Samantha and Tobin Orient have what can only be described as "garden goals." As part of the Master Gardener program, Samantha is a wealth of knowledge when it comes to getting things to grow in this crazy climate. Her insight is invaluable and her ease in the garden is reassuring. "It isn't that everything goes well all of the time," she says. "We have definitely had our fair share of fails and panicked tomato covering episodes – but more things go right than you would think."
And those successes show. What started out as four raised beds and a 30 x 60-foot fenced area has now grown into a stunning 120 x 200-feet- and that doesn't include the orchard. They have 26 fruit trees including peaches (yes, really!), sweet cherries, pears, and hybrid plumbs, as well as an impressive selection of berries including black raspberries, yellow raspberries, red raspberries, blueberries, and honeyberries. They also have powerhouse garden beds where they grow asparagus, carrots, beans, beets, Bok choy, broccoli, broccoli rabe, buckwheat, garlic, kohlrabi, peas, potatoes, radishes, rhubarb, strawberries, even peppers and tomatoes! They also grow herbs they use in their kitchen every day like mint, oregano, and thyme. Interlaced with all the delicious food are delightful sunflowers, dahlias, gladiolas, hardy hibiscus and more. The layers of trees, shrubs, bushes, and plants in combination is nothing short of breathtaking.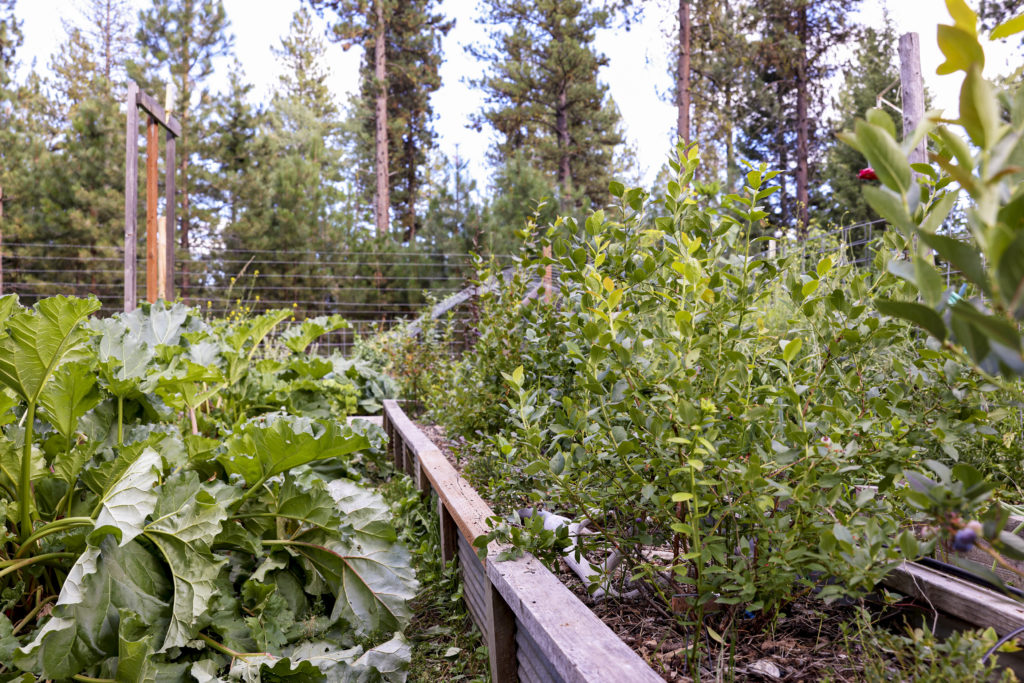 But getting to this point has been a labor of love. "It is all about the long game here," Samantha says. "There are so many things you only have to do once," things like building raised beds or putting in gravel paths. She also puts a lot of focus on perennials – both for beauty and food production. Establishing things like blueberries, raspberries, strawberries, rhubarb, and asparagus mean that you plant once and with a little bit of love, they come back year after year.
"The most successful part of gardening is kind of like raising kids," she says. "You teach them and help them along with the goal of getting them to thrive on their own." Her garden does just that. And she still finds joy each spring watching her garden come to life. "It is honestly like a moon scape in the winter and then out of nowhere, the rhubarb and garlic will start popping up in the spring."
It hasn't all been sunshine and roses however, and it is nice to know even the best gardeners have some major fails every now and then. "I will try and make literally anything that could possibly grow here work," she says. "But hardy kiwis were a total flop. I have also tried so many times to grow hazelnuts but have killed every one of them." On top of the short growing season, there is also wildlife to contend with. Even the hardiest varieties are no match for Bambi looking for a snack.
For newbies such as myself, Samantha has some practical tips to get started:
Use the space you have.
Start small if you need to and pay attention to companion plants. For example, garlic and onions do well when planted under an apple tree. They each add something different to the soil and help one another be more resistant to disease. Strawberries work great under trees as well – they are natively an understory plant!
Manipulate microclimates
"It is amazing how there can be so many different microclimates in one space – even within my own garden," she says. "At one end of my garden I can't plant squash because the temperature dips just enough in the fall that they will freeze…but they do just fine in the front area of the garden."
Knowing your garden is important, but you can also manipulate it to make it work better for you. Create your own microclimates through "heat sinks," created by utilizing fences, structures or adding rocks. "Rocks and walls are amazing heat sinks," she says. "Even with short days, they hold in the heat and help extend your growing window." This is where trial and error really shine!
It's all about plant variety
Hardy. It's a buzz word around here, but the high altitude and short growing season make it all but required. While most of the area lands in zone 5 of the USDA Plant Hardiness Zone rating, that usually won't cut it. Samantha strives for zone 3 or 4 varieties to ensure her plants can thrive. When selecting rootstock for things like fruit trees, she recommends finding a variety that has a later bloom time.
The dreaded freeze
"Our last freeze date is never." Samantha's words of wisdom may just become our new favorite bumper sticker. But it is the truth- in McCall it can snow in July (and has!). So it is good to be prepared. Know that tropical plants like tomatoes take a lot of work here, though it isn't impossible. Keep some frost cloth (or a sheet) handy for those unexpected freezing nights and give plants a good water ahead of a freeze. "It sounds counterintuitive," she says, "but watering before a frost can save your plants as the water generates heat during evaporation."
And while Samantha does have a greenhouse, she says it is not a requirement here. "You can grow a ton of food without one," she says, "but if you are after tropical plants like peppers and tomatoes, it is really nice to have."
Take notes
Each year Samantha relies on a map of the garden to help her plan. "My garden map is huge. I am a visual person and I need to see how things are laid out. Then I note any updates, plants that need replacing in the spring and such." On top of that, she keeps a garden journal with notes about plant varieties, what worked, and what didn't. Keeping a record of things helps you find those go-to varieties and learn from trial and error!
Ask a gardener
One of the best ways to learn more is by asking another gardener. If you have ever done so, you know that gardeners love to talk plants! The University of Idaho Extension and the Master Gardener program are also great resources for those wanting to learn more about high altitude gardening. As Idaho's designated agricultural college, the U of I receives funding to do all sorts of research- some of which is geared toward home gardens. As a bonus, they share research with other similar states like Oregon, Minnesota, Maine. The Master Gardener program is a free resource for anyone – you can call or email any of the gardeners in the program and ask a question to get personalized, local feedback and information. There is also a wealth of knowledge to be found on the U of I Extension website with high-altitude specific information on plant varieties that do well (remember all that research?), season extending ideas, and so much more.
It may seem a little daunting to start, but, as Samantha reminded me, plants will do better than you think. "Things are resilient and so many plants will surprise you." And that gives me the encouragement I need to just dive in and try to carve out my own little high mountain paradise. So, cheers to sunshine and hope. Time to go plant the garden.
Follow Samantha's "The Timber Garden" on Instagram (@thetimbergarden) or visit her website at thetimbergarden.com.