This summer, the stars appear to be aligning for a lively music season, with favorite local festivals and concert series' making a strong comeback for Summer 2022!
Although we have all missed live shows, the artists who perform at them are even more eager to get back in the act. West Mountain Takeover, a local band that played at several outdoor concerts last summer, is particularly eager to get back to performances. This three-piece, bluesy, grassy, rockin' band – with country flair – performs an equal mix of covers and original songs, and has quickly become a top local draw, no matter where they take the stage.  
FREE SUMMER CONCERTS SERIES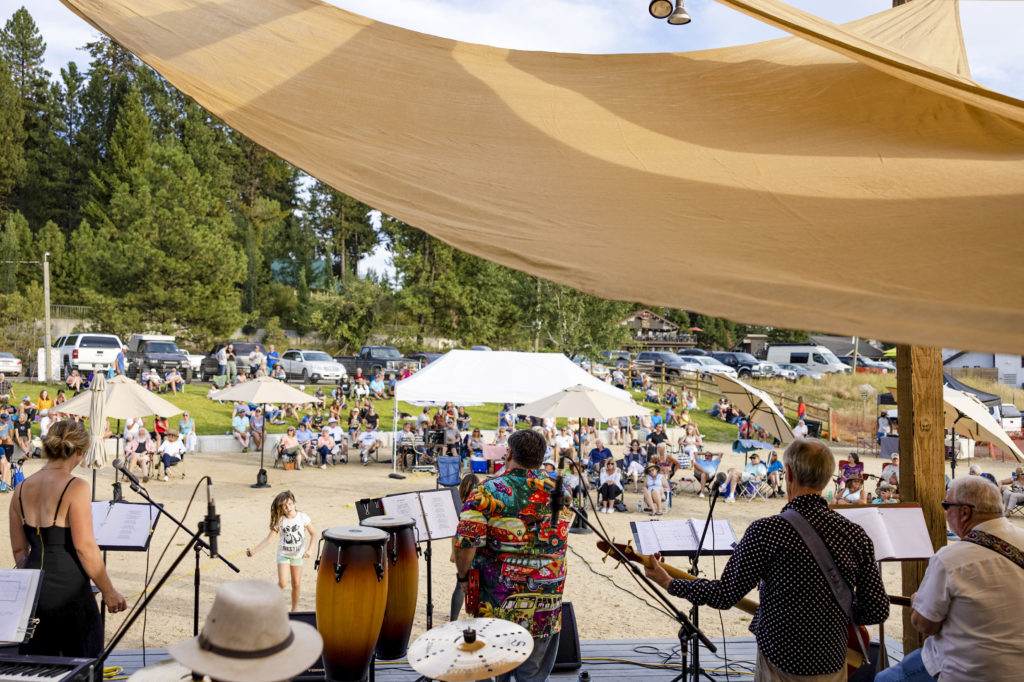 Ponderosa Center Ludwig Terrace – Tuesdays at the Terrace – June 21 through September 6
Tuesday concerts at the Ludwig Terrace are FREE. Spread out a blanket in the grass, bring a low chair, or get out on the Ponderosa Center's sprawling dance floor. Food and beverage is available for purchase on site, no outside food/drinks allowed. Well behaved, leashed dogs are welcome.  ponderosacenter.org/events
The Venue Vibe from WMT: At the Ponderosa Center, the audience gets the BEST views. Payette Lake is the backdrop, with the south side of Brundage Mountain on the far side. As the bands play, the sun dips down toward the west and frequently lights up the sky with a colorful sunset during the show. The members of West Mountain Takeover agree that one of the coolest things about this venue is the location right in the heart of McCall. Sometimes, people who weren't even planning to go to the show will be downtown, hear the music, and wander over to see what's going on.
They may stay for a few songs or for the rest of the show, it's very inviting and accessible. According to Jon Umbdenstock (the chicken picken' electric guitar player), when it comes to live shows, "The audience is a crucial, integral member of the band." 
Tamarack Resort – Thursday Night Sunset Concert Series – June 30 through August 18
Weekly concerts at Tamarack take place at 6 pm on the grassy amphitheater just above the resort village. The series features regional acts from a variety of musical genres. Tamarack Resort's food truck will be on-site serving food and drinks weekly (please no outside alcohol). Bring a blanket or low camp chair and enjoy the free shows. Well-behaved, leashed dogs are welcome.
In addition, the Crusty's Pizza summer concert series takes place from 5-8 pm each Tuesday in the Village at Tamarack and is free and open to the public. tamarackidaho.com/event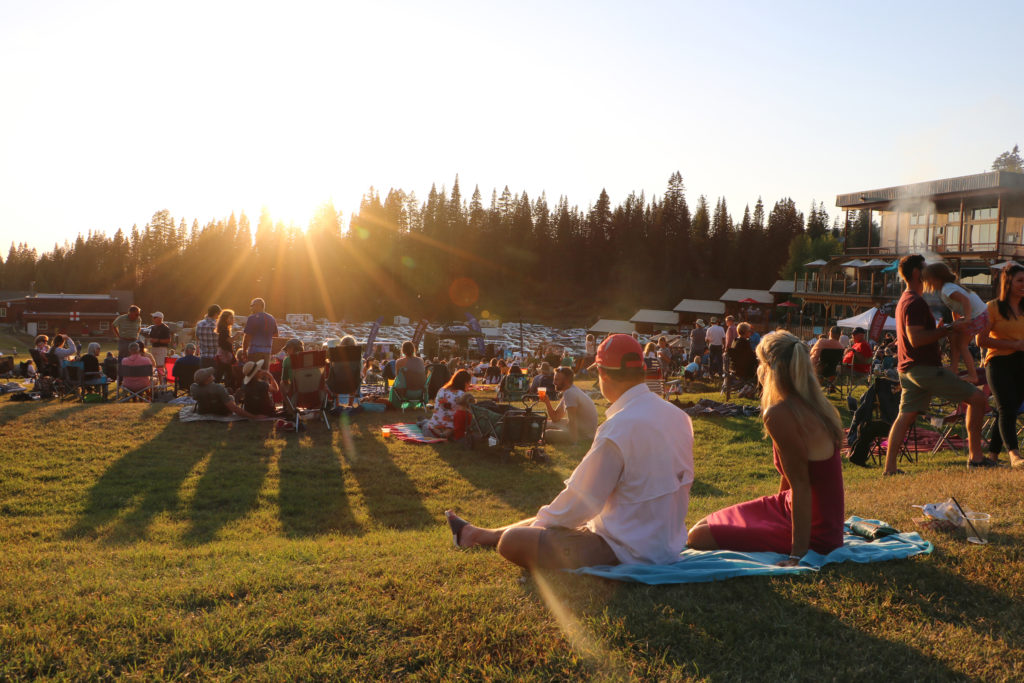 Brundage Mountain Resort – Free TGIF Concert Series, Fridays from early July through Labor Day Weekend
Friday concerts at the Brundage Mountain amphitheater are free and feature regional acts, including a popular annual show with hometown favorite, Jeff Crosby. There's plenty of space to spread out a blanket or low chair, and Brundage sets up "dog free" and "dog friendly" zones so those with well-behaved dogs (on a leash) can bring their furry friends to the shows. No outside food or beverage is allowed at Brundage, but several outlets are open during concerts to purchase snacks, food, soft drinks, beer, wine, and cocktails. brundage.com/events
The Venue Vibe from WMT: Playing at Brundage is great because it's such a beautiful, iconic location; the crowds are larger and it's got good natural outdoor acoustics. There's plenty of convenient parking which helps facilitate the crowds, and bigger crowds tend to bring great energy. "Dancing is the highest form of flattery for a band," according to Umbdenstock, and at Brundage, concertgoers of all ages love to kick off their shoes and dance on the grass.
MUSIC FESTIVALS
The Venue Vibe from WMT: Members of West Mountain Takeover admit they got a little starstruck when they were invited to open for headliner, Yonder Mountain String Band last summer.
"One of the coolest things for me was when I showed up there, I walked in the back of the barn to check in, and as I'm walking through those doors, I start to hear a fiddle playing, and there's a mandolin player, and they're fiddling around and warming up in the back of the barn," says lead singer, Mark Stoeckl. "The barn itself has amazing acoustics, and the vibe of being backstage in that setting was pretty cool and very nostalgic."
They were also blown away by the quality of sound, as well as the view from the stage, which includes part of Jughandle Mountain and "the Pins." "It's easy to space out on the view," says Sean Gould. "To have professional, experienced sound techs is really fun."
Yellow Pine Harmonica Festival – August 4, 5, 6
The Yellow Pine Music and Harmonica festival is a family-friendly, harmonica-focused music festival held outdoors in the Idaho backwoods. Parking and camping are free. This is a festival experience you MUST experience at least once in your lifetime. yellowpinefestival.org
ONE-OFFs & POP-UPs 
McCall's live music vibes are strong. So strong, in fact, that you'll find music events popping up at a mix of venues like the new Glass House, the classic Bistro 45 Wine Bar courtyard, outside the Mountain Java coffeehouse, and even at world-famous Ice Cream Alley. Broken Horn Brewing hosts freeform jam sessions on Monday evenings while Salmon River Brewery typically hosts live music at the Taphouse on Thursdays. Musicians need to sign up in advance, but music lovers can just show up and enjoy some Bluegrass/Americana jams along with tasty craft brews.
Foresters Club 
Freshly remodeled and reimagined, Foresters' new set up is getting rave reviews from the WMT crew. "A small crowd can feel big and lively in a compact space," says Gould, who enjoys the eclectic crowds that show up in the heart of downtown McCall. "I like to think they were seduced off the street by the sultry sounds of the bass guitar," adds Gould. forestersmccall.com/happenings
Café 6-Three-4
Another favorite of the WMT trio was a small indoor show at Café 6-three-4, which the band says had "a cool speak-easy vibe". The intimate venue pulled in a crowd that really responded to their musical style.
"If you get teenage dudes to dance you know you're doing something right," says Umbdenstock. cafe6three4mccall.com
No matter where you enjoy live music this summer, WMT offers these final words of advice, "Don't drink and drive. And…tip the band."
You can keep tabs on the shows at all the top local venues at www.mccallchamber.org/events/.