McCall is in a unique position being central to some of Idaho's most wild and scenic rivers. Flowing right through town is the Payette River. Starting high in the mountains, the North Fork flows first into Payette Lake then south into Cascade Reservoir before meeting up with the South Fork in Banks. Eventually, the Payette River joins with the Snake River near the town of Payette.
To the west, the 1,078-mile Snake River winds along the border of Idaho, Oregon and Washington where it empties into the Columbia River. The crown jewel of the Snake River is Hells Canyon, North America's deepest river gorge. The terrain in Hells Canyon features dramatic changes in elevation, climate and vegetation and is set below the dramatic peaks of the Seven Devils Mountains.
To the northeast is the longest free-flowing, undammed river in lower 48 states, the Salmon River. Also known as The River of No Return, the Salmon runs through 85 miles of the Frank Church River of No Return Wilderness Area. The river is divided into three sections: the Middle Fork, the Main, and the Lower Salmon. Each is unique and each attracts recreationalists from across the country who want to experience this untamed water.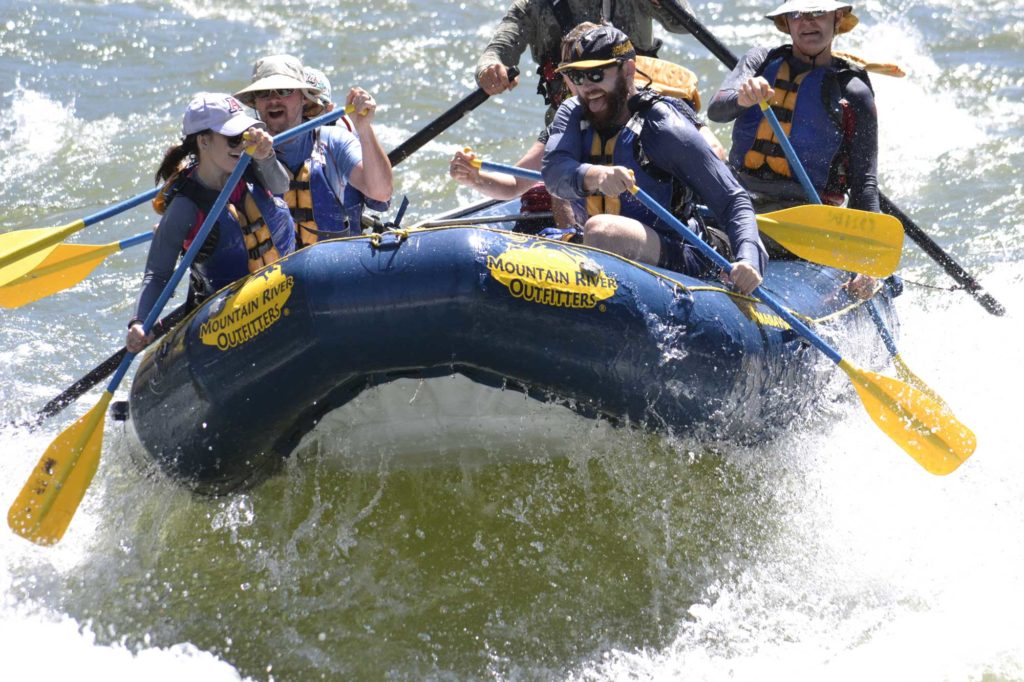 One of the best ways to experience all of this amazing water is on a raft. Idaho is known as the Whitewater State and for good reason. There is certainly no shortage of rapids to satisfy thrill seekers around the McCall area. "We have the highest concentration of different rivers you can run all within an hour of McCall," says Chris Demo of Salmon Raft. "You can find everything from meandering water all the way up to Class 5 water people from all over the world come to run." From half day trips to week long adventures, the Payette, Salmon, and Snake Rivers offer countless ways to experience the adventure of a lifetime.
With all the variation in water and terrain, rivers are always changing. "The river is at the whim of Mother Nature," says Lauren Curtis of Salmon Raft. "Rapids are exciting all year long, they just change with each season." Because of the variable nature of the river, we recommend working with a licensed outfitter to make the most of your experience. "The benefit to going with a guide is that they have seen the river at every flow," says Demo. "We have extensive river logs to reference which helps ensure that there are very few surprises and that everyone stays safe on the river."
Get your feet wet with a single day trip. If you want to stay close to McCall, try a guided day trip on the Cabarton stretch of the Payette River with Tamarack Resort's guided service. The float starts off nice and easy before flowing into Class II and III rapids. Single day trips are also available on the Salmon River leaving from Riggins, Idaho. Mountain River Outfitters and Salmon Raft both offer half and full day trips that take you through Class I, II and III rapids with stops at pristine white sand beaches.
If you are looking for a more immersive experience, a multi-day whitewater trip is your best bet. Multi-day trips range from two days to five days, but in each case, the trip is a fully catered experience. "We provide hearty river cuisine, rafting equipment, and camping accommodations including tents, sleeping pads, and freshly washed sleeping bags," says Curtis. "We even do the dishes!"
There are plenty of options for multi-day adventures. The Salmon River is divided into three sections: the Middle Fork, the Main, and the Lower. Mountain River Outfitters and Salmon Raft both offer a wide variety of trips along the Salmon. On the Snake River, Hells Canyon is the stretch of choice. Trips through Hells Canyon are available from Hells Canyon Adventures and Mountain River Outfitters. Every section takes you into some of the most untamed terrain in Idaho where you can expect to see ample wildlife, scenic canyons, untouched wilderness, and even historical artifacts from Idaho's early inhabitants. And the best part? No cell phone service. "The best feedback we get from our guests is that they are able to connect with their families without the distractions of day-to-day life," says Curtis.
When it comes to choosing which river trip is right for you, Brenda Baugh with Mountain River Outfitters recommends considering what you want out of your trip, how much time you have, and who will be in your party. No matter what trip you choose, we can promise it will be an experience to remember. "I love it all," says Baugh. "There is nothing like being able to raft rivers with white sand beaches and 70 degree water temperatures in July and August."
Pro Tip:
As a general rule, most outfitters will not take kids under seven years of age on a whitewater trip.