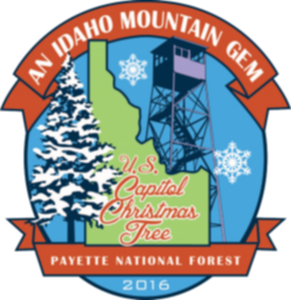 For almost 50 years, the US Forest Service has provided the US Capitol Christmas tree and over 70 "companion trees" to the Capitol in Washington D.C. We are incredibly proud to have this year's tree come from our very own Payette National Forest!
To make this occasion even more special, the 80 foot Engelmann spruce that will travel to Washington D.C. and be placed on the West Lawn of the U.S. Capitol will come from the Little Ski Hill, McCall's own gem!
While many people may not know it, the Little Ski Hill is partly located on the Payette National Forest. Since 1937, the Little Ski Hill has been operating under a Special Use Permit from the Forest. For the past 79 years and into the foreseeable future, the Payette National Forest and the Payette Lakes Ski Club have had a great relationship that benefits the public by providing a winter recreation opportunity. Downhill and cross-country skiing have long been a mainstay of the McCall economy and helped to produce winter Olympic athletes who all spent numerous hours at the Little Ski Hill in their youth.
To celebrate the cutting of the tree, the Payette National Forest and the Little Ski Hill will host a "tree cutting" event on Wednesday, November 2nd from 11am to noon that will be open to public to attend. Members of the public that would like to attend the event are encouraged to arrive early in order to help avoid traffic congestion along highway 55.
Following the tree cutting, a Kick-Off Celebration will be held on Saturday, November 5th in downtown McCall. The fun starts at 4pm on 2nd Street with vendor booths, activity booths and the Chili Cook-Off by Alpine Village for Mountain Life School. At 5pm, watch the parade featuring local kids, Smokey the Bear, Santa, the BIG Idaho Potato and (of course) the Capitol Christmas Tree! Stick around downtown for the City of McCall Tree Lighting at 6:45pm – a wonderful time for the whole family!
This event is the start of a long progress for the tree from Idaho to Washington D.C. where the tree will be lit in early December. To see the full tour schedule, visit www.capitolchristmastree.com.