The modern, DIY version of learning to fly fish is fairly straightforward: Watch some YouTube videos, take notes on what gear to buy and how to cast a fly rod. Maybe you even Google "Fly fishing near McCall" and find some tips on which flies to try in a handful of nearby locations.
So, you pack up your new gear, head to your waterway of choice, and…now what? What part of the lake or river do you fish from? Where do you cast your fly? How long do you stick with one spot – or fly pattern – before trying another? This is the specialized, localized, internalized, optimized knowledge that you can only find in a seasoned angler. If you don't have a knowledgeable friend with the time to show you the ropes, a guided experience can really help you get off on the right foot.
A smart first move is to pop into Drift West. Your first steps inside will reveal what looks like a typical fly shop with gear and apparel on display, but operations manager Franklin Dyer says the most important "products" they offer include local knowledge and a knack for truly listening to their guests.
"We're going to probably ask you more questions than you are ready for, but we want to figure out what it is you really want to do – because you might not know," says Dyer.
Questions might range from how much physical activity a person is capable of, whether they like the idea of a motorized adventure like Jet Boating, or whether they prefer more of a quiet, wilderness escape that allows them to learn more about the local area and its history.
Drift West is a concierge service — a consortium, of sorts — for outdoor outfitters, so they have a bead on all the guided adventures offered in the area and can recommend the best excursions for different types of people.
For the true first-timer, Drift West might set you up with a three-hour workshop with all gear provided. These sessions cover the basics on equipment, knots, insects, which flies match up to the insects in the wild, and casting lessons. They also focus on what to do with your fly once it's on the water, which Dyer says is actually more important than the cast itself, "We want to teach you how to get a drag-free drift with a good presentation where the fish will actually eat it."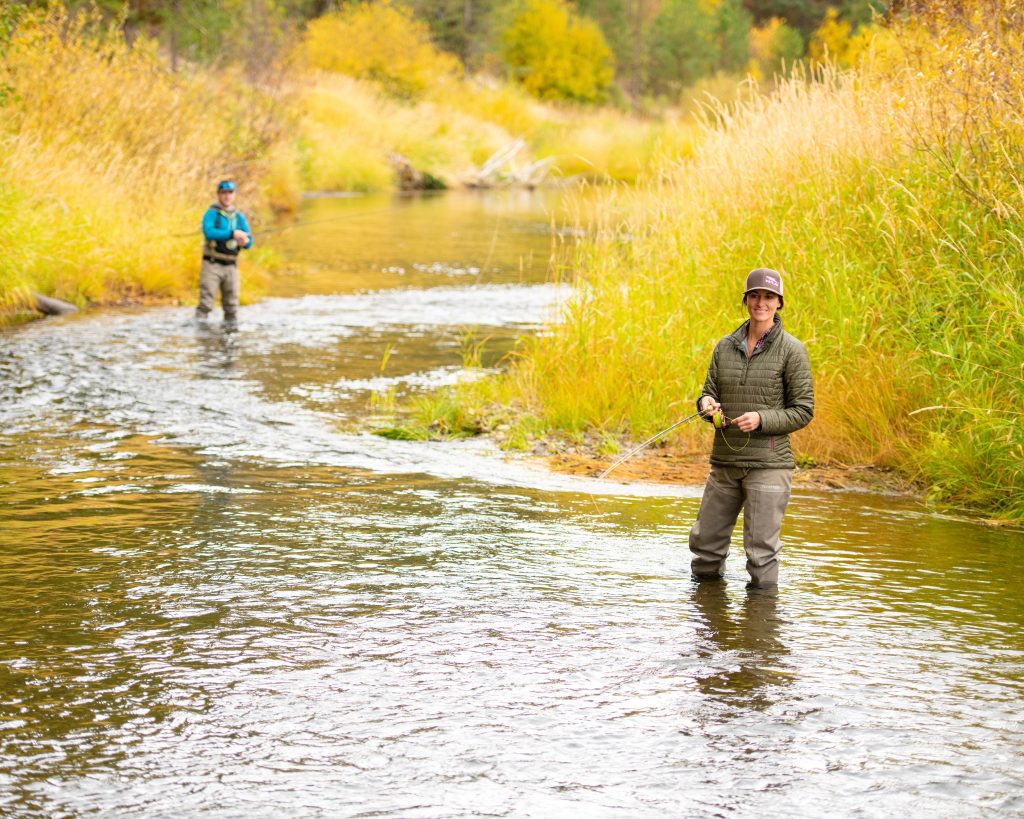 For those who'd prefer to dive right into a fly fishing excursion, the guides at McCall Angler will incorporate that same teaching into a Half Day (four hour) or Full Day (eight hour) Guided Float.
"If you've never fished before, what you're going to get on a guided trip is: you're going to have somebody who is a professional at what they do, they're going to give you casting lessons, they're going to teach you those knots, they're going to teach you about insect life, and you're hopefully going to catch some nice fish in a beautiful area."
Dyer admits a person can do that all by themselves, but their learning curve will be steeper and their success rate likely a lot lower.
"The amount of learning you can get done in a half a day trip would probably take the average person a week of going out and doing it every day by themselves."
Drift West can hook you up with trips guided by a broad range of local and regional outfitters. Options include high mountain lakes and pristine rivers where you'll fly fish for brook trout and native rainbows, single-day steelhead and bass trips on the Salmon River, drift boat tours in the lower Salmon River canyon, whitewater rafting on the Salmon River, Hells Canyon and Lower Salmon jet boat tours, and scenic canoe tours on the meandering section of the Payette River just below McCall.
Drift West will be open seven days a week during the summer season (10 am – 6 pm Monday through Saturday and 10 am – 5 pm on Sundays). Drift West is located at 122 E Lake Street, right next to Albertsons. drift-west.com