Whether you're looking to soak your weekend away or earn it after an adventurousday on the mountain, we've got you covered. There are lots of natural springs off the beaten path (stop by our sporting goods stores to find books dedicated to the hunt for a great hot spring), you can get soaking with these four easily accessible springs:
---
#1 Gold Fork Hot Springs
Donnelly | 6 Pools | Accessible by Car
Six crystal clear pools offer a perfect setting for a family soak. The top pool starts with 110 degree water which spills down into each subsequent pool, the temperature cooling with each tier. One pool offers a sandy bottom with shallow water perfect for the little ones. Bring a picnic to enjoy on the umbrella covered tables set along the surrounding decks. Changing rooms and restrooms are provided. Cost is $8 for adults and $6 for children 11 and under (cash only).
Directions:
From McCall, drive south on Highway 55 for 17 miles. Past Donnelly, turn left at the marked blue sign. Follow the road for 8 miles to the resort. Open year round (road is plowed in the winter).
---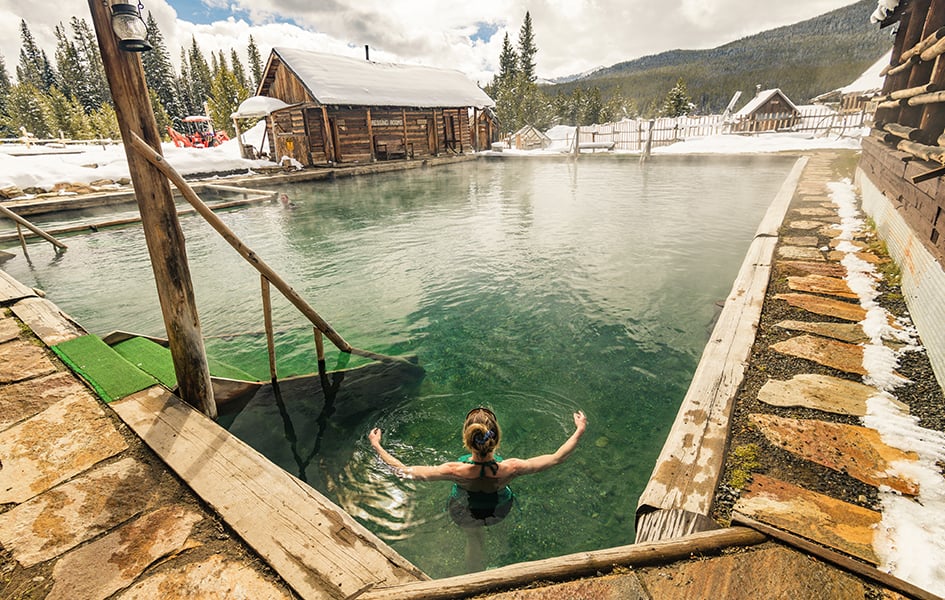 #2 Burgdorf Hot Springs
Warren | 3 Pools | Accessible by Car
Step back in time at this rustic resort surrounded by the Payette National Forest. Natural mineral water flows into large sandy-bottom pool about five feet deep. You can also enjoy two small "hot pools," a shallow area for the kids and a bathtub for one overlooking a meadow. The pools are open from 10am to 8pm for day guests, but open all day to guests who stay in the cabins at the resort. Cost is $8 for adults and $5 for those under 17 years of age.Open year round, but accessible only by snowmobile in the winter.
Directions:
From McCall, drive north on Highway 55 and turn right on Warren Wagon Road. Continue along Warren Wagon Road for approximately 28 miles. Turn right on Burgdorf Road / NF-246 (asign marks the turn). Burgdorf is about a mile up the road on the right.
---
#3 Mundo Hot Springs
Cambridge | Pool and Spa | Accessible by Car
Set along the Weiser River three miles north of Cambridge, Mundo Hot Springs is a natural mineral hot springs that feeds into a beautifully hardscaped pool and spa. An entry ramp provides wheelchair access to the pool which is temperature controlled to keep soakers happy in any season. Pool admission is $7 for adults and $6 for seniors 60+, active military and veterans, and kids ages 6 to 13. Kids under 6 are free. Plan an extended stay in several onsite cabins, at the RV Park or in a tent site. Please visit mundohotsprings.com for hours and lodging rates.
Directions:
From McCall, drive north on Highway 55. At New Meadows, travel south on Highway 95. One mile north of Cambridge, turn right on Bain Road at the sign. Mundo Hot Springs is located on Bain Road and signs direct you to the resort.
---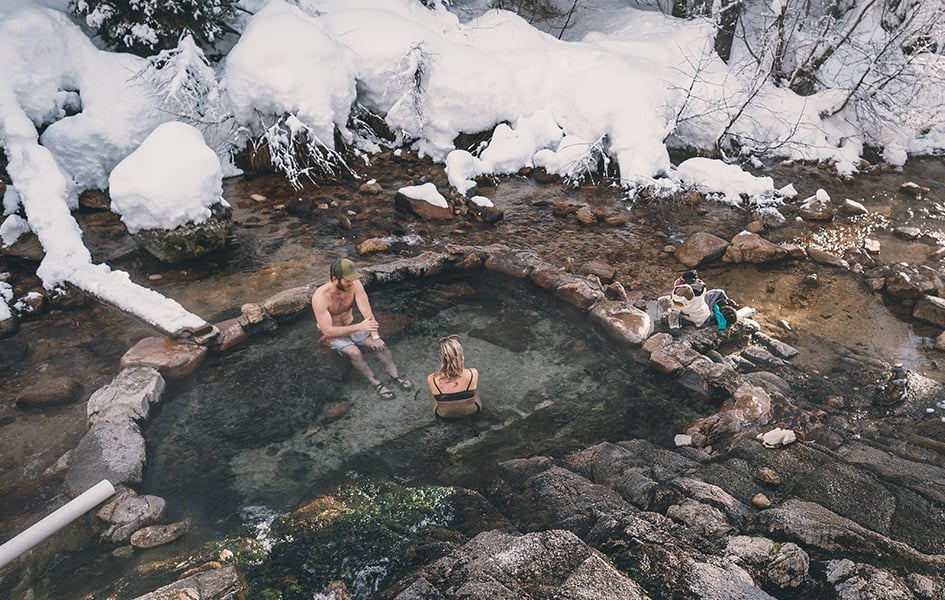 #4 Trail Creek Hot Springs
Warm Lake | 2 Small Pools | 60-foot trail from road
Two rock and sand soaking pools are situated at the bottom of Trail Creek just off the paved road. Hot water flows from a fissure in the rocks and down to the pools along the creek. Cold creek water helps to control the temperature of the pools. The first pool is approximately eight feet by twelve feet and the second is about six feet in circumference.
Directions:
From McCall, drive south on Highway 55 to Warm Lake Road just north of Cascade. Turn left on Warm Lake Road and travel 19.2 miles. Look for a large parking area on the south side of the road. The hot springs are accessible by a 60 foot long trail near the west end of the parking area.
Check Out All Our Hot Spring Articles
---
[sabai-directory-map category="•-hot-springs" height="250″ zoom="50″ style="Subtle"]
Local Resources
[sabai-directory-photo-slider hide_nav="0″ category="•-hot-springs" photo_size="thumbnail" slider_controls="1″ slider_pager="0″ slider_border="1″ slider_slide_margin="25″]